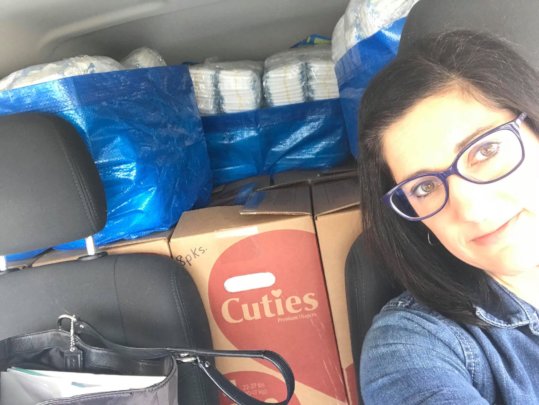 "The diapers have been so helpful to our family. Thank you all!" ~ Green Bay Diaper Recipient
When we think of basic needs, we tend to think of food, clothing, shelter, and water. Unless there's a person in your life who relies on diapers, diapers tend to be overlooked. But not you! You have done an amazing thing by supporting our work in Green Bay.
Right now, we have one active community partner, Family & Childcare Resources of Northeastern Wisconsin (FCRNEW). We've been providing them with diapers every month for four months now. The impact of diapers is so much more than a diaper, and our recipient surveys are verifying this fact!
For our recipients through FCRNEW, the top impact of diapers is making children happier. Over half of our recipients report this as the most important benefit of receiving diapers. As a Mom myself, being able to change a diaper as needed definetely kept my littles happier! The second most important benefit reported is the reduction of stress. Unhappy babies definetely can increase stress levels, and with happier babies, it is nice to hear stress levels are following suit and declining. The third most common impact is the ability to buy food.
With the success we are seeing at FCRNEW, we are preparing to expand and add on additional community partners. Would you consider sharing our story with a friend or perhaps becoming a monthly donor? Just $13 a month provides a supplemental supply of diapers to one Green Bay baby.
Thanks for helping babies!
~ Stephanie
Links: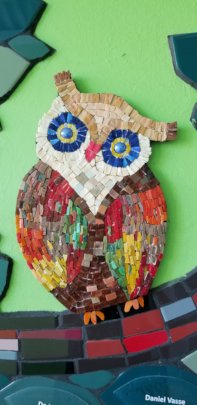 "Graci, muchas gracias!" ~ Judith

It is an amazing thing you have done! We delivered the diapers you helped to fund to the Children's Shelter. At the children's shelter, there are 14 children, aged infant to seven, and they live there. The children either have parents that are imprisoned, or they were removed from abusive homes. The average stay is about eigtheen months. Some of the children return to their parents, and others are adopted by families here in Puerto Rico.

The shelter was a little tricky to find, as the address is not shared to protect the children. We were given the address of a taco shop, and then from there were led to the shelter via special instructions. Getting to the taco shop was also an adventure, as the traffic lights are still not working because power is still not restored from the hurricane.

Judith, a caregiver at the shelter, met us excitedly at the gate. She gave us a tour, and for the safety of the children, we are not allowed to share shelter location or photographs of the childen. When we were there, they were having a special party in celebration of the upcoming Three Kings Holiday. The children were clean, well cared for, and happy.

When Hurricane Maria hit, the shelter was lucky and received little damage. Just a tree on the corner of the roof, and a lot of trees knocked down the play area fence. It's been three months since Hurricane Maria, and the shelter still relies on a generator. The road to the shelter had many broken trees, and power lines just layed on the ground or dangling from trees. They expect to perhaps have power in a few months, maybe by March or April.

The shelter relies on private donations to care for the children, and through your generosity we were able to give them cloth diapers. Judith was so excited and so thankful! Her reaction was pure joy. She's excited not only at the financial savings, but also at the environmental benefit too.
Thanks for helping babies!
~ Stephanie
Links: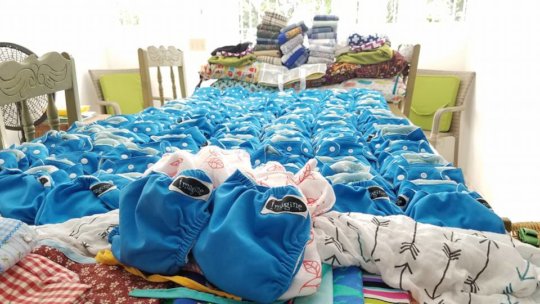 Have you ever wondered how many Tiny Blue cloth diapers you can fit in two suitcases?
While you may not have thought of this question, your generosity & support allowed Katie to find out the answer! Katie's in Haiti now, and she was able to bring along 260 Tiny Blue Diapers. These diapers are helping babies just like Woodanika stay clean, dry, and healthy.
Woodanika is 7 months old, and weighs 9 pounds, four ounces. Her mom brought her to the medical clinic at our Diaper Drop Real Hope for Haiti. Woodanika's mom has been sick for about four months, and hasn't been able to breastfeed her during this time. They tried to purchase formula, but could not afford it. Instead, they've been feeding her meals of bean sauce or bananas. She has been losing weight for several months, and had a fever for about a week before she went to the clinic. At Real Hope for Haiti, Woodanika was admitted to the Rescue Center, and started on the malnutrition recovery program. She is doing well.
It truly takes a global community to raise a child, and we are so thankful for your help in diapering children in need of diapers. Thank you for the hope you bring Woodanika and the other children we are called to serve.
~ Stephanie
Links:
WARNING: Javascript is currently disabled or is not available in your browser. GlobalGiving makes extensive use of Javascript and will not function properly with Javascript disabled.
Please enable Javascript
and refresh this page.