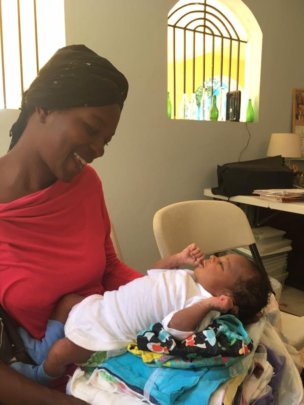 This is the day the Lord has made, let us rejoice and be glad in it!
Ah, one of my favorite phrases. It makes me take a moment to pause and reflect in joy. I am joyful today to share with you that 50 cloth diaper kits are headed to Haiti! These kits are for the Maternal/Baby Healthcare program at Real Hope for Haiti. one of 3 programs we provide diapers for (the Rescue Center and Intensive Care Unit are the other two) at this Diaper Drop. The Maternal/Baby Healthcare program reaches over 800 new Moms each year! We've taken on an impressive goal to provide diaper kits to these new Moms, to help them keep their babies clean, dry and healthy. The diaper kit also helps motivate the Moms to make the long trek (4 hours or more on foot!) to Real Hope for Haiti, to get a postpartum check-up. Sadly the maternal mortality rate in Haiti is 1 in 80. Access to care is a challenge, and by getting these women to participate in early postpartum checkups infections can be caught and treated quicker, thus reducing mortality risk. We are excited to be part of this initiative aimed at reducing maternal and infant mortality!
While it's too soon to tell impact on maternal and infant mortality, the first Moms are reporting how much they like the diapers! They find them not only stylish, but truly impacting quality of life! Take Jon Pierre's Mom for example. She's excited to be able to go to church and not worry about a wet lap!
I thank you for your continued prayers and support. I am continually in awe of the deep impact we are having with diapers. We have an amazing opportunity coming up on April 4-7th, the Little by Little Matching Campaign. This campaign focuses on the power of change, little by little. All donations will be matched up to $50, and the organization with the most donors wins amazing bonus prizes! Together, we can help even more Moms and babies, just by adding up little amounts of change. Please prayerfully consider supporting this campaign, and join our Litttle by Little Event for reminders! Feel free to reach out to me at stephanie@jakesdiapers.org, I'd love to hear from you!
With gratitude,
Stephanie BowersCo-Founder & Executive Director Jake's Diapers, Inc. stephanie@jakesdiapers.org"A nonprofit diaper ministry, providing the basic need of diapers to babies, children, and adults in extreme poverty, whose caregivers have to choose between food & diapers."