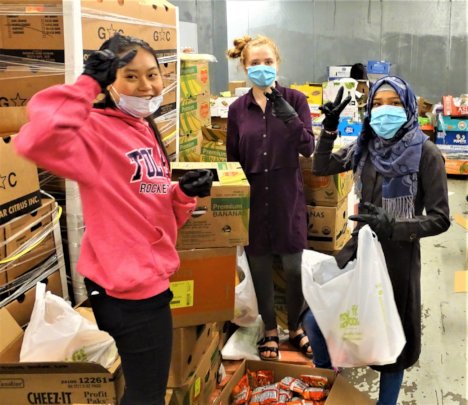 John is one of many volunteers working the front line in these challenging times. He's our lead contact at one of our community partners, and shares the following:
It is a challenge to sort, pack, and deliver fresh vegetables, fresh fruit, day old bakery, frozen seafood and meat, trail mix and snacks to 140 addresses in Oshkosh and Appleton twice a week, more than 6000 lbs weekly. The referrals keep coming in.
It is a challenge to deliver diapers by the hundreds every week. Each week we deliver more diapers than the week before. Thank you, Jake's Diapers!
The fresh produce comes through the USDA. It is excellent. For a long time supply was an issue. Not any more.
The Department of Agriculture bought up the stock of large family farms and is now trying to get the produce to those who need it most. The least we can do is make sure the produce does not go to waste. Thank you, Oshkosh Area Community Pantry for being Chaos Central in this time of need!
Knock and go delivery of food and now diapers to families is an initiative that grew out of a felt need among Oshkosh Area School District staff and teachers to reach families currently without any secure income or living paycheck to paycheck many of whom have no reliable means of transportation or organizational capacity to go to a food pantry or a school site.
We also deliver to the elderly and infirm. It is a humbling experience to deliver food to someone who is bedridden, in a wheelchair, or who has not left their public housing unit for more than three months. The sense of isolation is tremendous.
It is a humbling experience to deliver to a homeless family holed up in a hotel room waiting for affordable housing to become available. It can be a very long wait.
I have a great team of helpers. My sorters and packers are mostly of refugee background. In several cases parents are not letting their children leave the house but make an exception for helping with this project.
Many families greatly welcome the food distribution and it is an honor for them to give back and not just receive.
My sorters and packers make the Green Bay Packers look like slackers. We do work our tails off. I am working muscles I forgot I had.
My deliverymen and women interact often with those to whom they deliver. I cannot speak highly enough of their ability to connect and make new friends.
The weather has been good and it is easy to have a conversation out of doors at more than 6 feet of distance. I am not the only one who is offered beautiful smiles and baklava or some other treat when delivering.
Many are starting to go back to work. This is great.
Some of us have worked through the entire last few months.
I am happy to say that many of the teenagers of color I support are getting their first job ever. Safer at home is a luxury not everyone can afford.
But it pays to take precautions. A store that opened recently stayed open just two days. By the third day the owner had come down with COVID and ended up in the ICU.
Teenagers are going to work, getting sick, and testing positive. At which point their coworkers and family members are supposed to get tested and quarantine in the meantime. But let's be clear: this is happening on a hit-and-miss basis.
The risks are real. But in such a time as this, it is still possible to sing with Mister Rogers: "it's a wonderful day in the neighborhood."
If you are in Oshkosh or Appleton, even if you cannot help sort and pack or deliver, feel free to sing that song any Tuesday or Thursday knowing that a strong team of sixteen people are living that song by going door to door with basic necessities in a neighborhood near you.