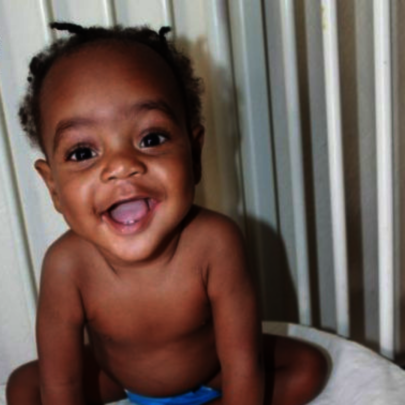 It's a joy to introduce you to Big, one of the many babies we're blessed to serve at our Diaper Drop Real Hope for Haiti. Thanks to you, Big and the other children at Real Hope for Haiti have an ample supply of diapers to stay clean, dry, and healthy.
Big's mom died when he was 2 months old. After his mom died he was being cared for by his grandma. The dad had just been to visit him twice since the mom died. When his Dad visited him last summer, he was doing well. When he visited him again a month or so later, he found that Big was very sick. They decided that he needed to go to a hospital quickly, and Big and his dad traveled 4 hours by motorcycle and taxi to arrive at the clinic at Real Hope for Haiti. He was 10 months old and weighed 11 pounds when admitted. Over the past few months, Big has been staying in the Rescue Center, being treated for malnutrition. We're excited to share that Big has now graduated from the Medika Mamba program, which means he has overcome his malnutrition. The picture above shows him now at graduation! What a happy, healthy little guy Big is!
Thanks for helping Big!
~ Stephanie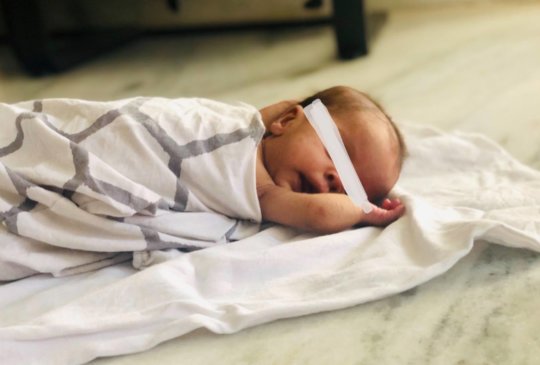 We have incredibly exciting news to bring you: Our Diaper Drop Sarah's Covenant Homes has welcomed Danny into their care, joining the Anchor Navy Home family. Danny is five months old, and has spent most of his life in the hospital. Thanks to your continued support, Sarah's Covenant Homes has an ample supply of cloth diapers to keep Danny clean, dry, and comfortable.
His caregivers are filled with joy to get to know him and celebrate his precious life! He's a super happy little guy who rarely cries and has big dimples when he smiles. He loves being swaddled.
"Being able to be a part of something like this everyday is such a gift. Being able to see God do some amazing transformations in so many babies, kids, and young adults never gets old. This never gets old" ~ Director of SCH

Thanks for helping Danny and the other children we're blessed to serve.
~ Stephanie
Executive Director, Co-Founder of Jake's Diapers
www.jakesdiapers.org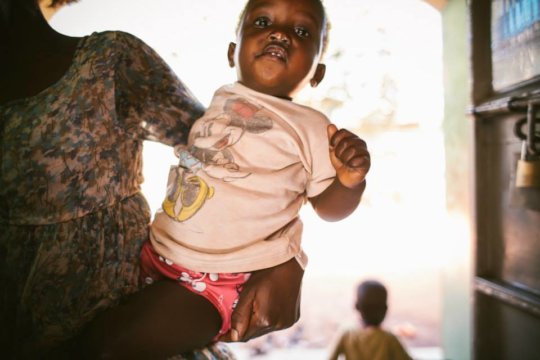 From the beginning, Jake's Diapers has leveraged partnerships with established organizations already serving people in need. It's made it possible to easily connect with populations living in poverty, and create a wide-reaching impact around the world.
It's also a source of inspiration, to realize the stories that come from the ripple effects our partnerships are creating.
HEAL Ministries in Uganda is one of our Diaper Drop partners. The organization's aim is to "empower vulnerable, abandoned women and children in Christ-centered programs that teach sustainability and family preservation," according to its website.
Here's an example of the lives they are saving, as summarized from HEAL's website:
Imagine a 14-year-old mom kicked out of her family and village. She wants to end life because she is pregnant from rape but doesn't. She chooses hope and family and love. That same 16-year-old, two years later, skips joyfully through HEAL's gates with her 2-year-old child to drop her off in childcare, because she has to hurry off to High School — choosing education and hope.
HEAL Ministries considers this a success, and we do, too, thanks to your generous support. With diapers, her child can attend childcare, and she can attend school.
Thank you for making moments like this possible.
~ Stephanie
WARNING: Javascript is currently disabled or is not available in your browser. GlobalGiving makes extensive use of Javascript and will not function properly with Javascript disabled.
Please enable Javascript
and refresh this page.