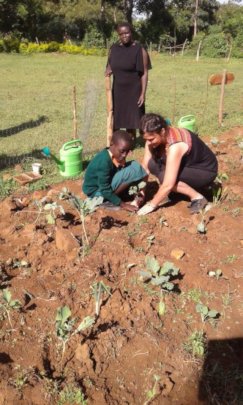 Before beginning this report all the Tumaini team and the school board want to gratefully THANK EVERY SINGLE donors and volunteers for their generous contributions. Every single cents and sweat drops have made this idea come true!
INTRODUCTION OFTHE PROJECT
Siaka special school for blind and deaf is receiving currently 20 children blind or deaf. The school faces some financial challenges as the parents from poor and rural area struggle paying the school fees and the few incomes have to go to the food budget before school kit. But still it happens the incomes don't meet all the needs and this special children end up not accessing to a nutritious and healthy diet in a daily basis. In April 2018 we had the idea with the school board to launch a kitchen garden in order to complete even a bit of the daily diet with fresh vegetables and fruits. Tumaini team started a micro project on GlobalGiving to help us to fund all the material needed for a good kitchen garden.
NEWS OF THE PROJECT
Only after 2 months we managed to collect 250$ thanks to the numerous GlobalGiving donations! The 7th of June Tumaini team went to the school and launched the project. Alice Luscher, one of the Tumaini international volunteers stayed 3 weeks in the school to monitor the project and budget.
Here is the summary of all the goods we bought:
Seeds seedlings and trees:
Carrot seeds= 0.50$
Coriander seeds = 0.70$ 200
seedlings of " sukuma" (local cabbages') = 3$
30 seedlings' of spinach = 1$
10 seedlings of green pepper= 1$
2 passion fruit =1.5$
1kg of cow peas=1$
50 seedlings of "perpetual onions" =1$
6 seedling of garlics= donations
Water melon seeds = donation
10 seedling or tomatoes= donation
1 seedling of aloe Vera= donation
2 mango trees = donation
2 avocado tree= donation
1 orange tree= donation
1 lemon tree= donation
TOTAL 10$
Kitchen garden tools:
3 buckets (For seeds nursery) 6$
1 glove pair= 4$
2 water cans= 7$
Jembe =3$
Sprayer =7$
Gumboots ×3= 9$
Shovel ×1=5$
Rake ×1= 2$
Rope= 1$
Wheelbarrow= lent by neighbors' when needed= 0
Plastic layer for handmade manure = donation
TOTAL=45$
Fences: Wooden post = donations from neighbors'
Chicken wire 30m× 3 =53$
Bending wire =10$
Nails= 3$
TOTAL = 66$
Other Transport:
town- school + Lorry location= 11$
Sign post for Tumaini =10$
Fertilizers DIP=6$
Extra air times = 3$
TOTAL = 29$
Total of expenses = 150$
Thanks to donations from local neighbors' and volunteers we managed to have a total of 90$ below of our plans. We decided to use the extra money to fix the bathrooms which have been sadly destroyed few weeks ago by heavy rain as it was an emergency for the safety and health of the children and staff.
Result and success of the project after 2 weeks:
It is incredible and wonderful, international donors and neighbors' but also local volunteers and the children managed to stand up for this project and be fully involved! In 4 days the first part of the garden was finished and the seeds planted. Local volunteers sweat a lot to plough the ground and plant carefully every seeds. We are glad to 'see our vegetables growing small by small every day. We will be able to harvest our first cow peas and sukuma wiki in 3 weeks' time. As for the children, Blind, deaf or not, no matter their conditions it is always impressive to see how they want to help and how they manage to organize themself to fetch the water from the borehole and supplying the watering team ( don't worry also grown up volunteers belongs to the watering team!). We are still working on the second part of the garden, but at the end we will have in total around 110m2 of useful surface 70 lines of vegetables and 6 fruit trees.
CONCLUSION AND NEW IDEAS
We are conscious that this garden is not big enough to sustain entire school feeding program. Nonetheless it will be of good help, it will bring fresh and nutritious food to complete the menu. Even once or twice a week would be already a success! We also see it as an opportunity to involve the children in its maintenance as it is a good educational activity, and they will probably need this skill to sustain themself in their near future. We are currently thinking about making a budget to buy a cow and a shelter in order to collect around 4ltr of milk/ day.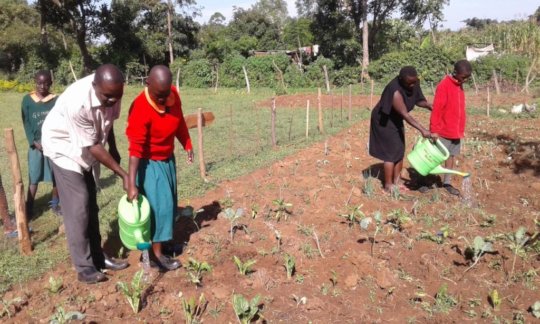 Links: