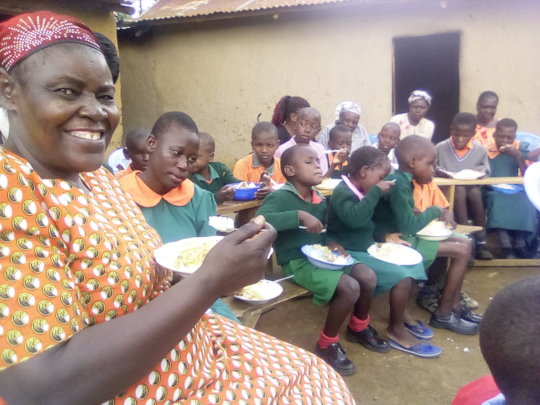 I ENVIRONMENT OF THE PROJECT
Siaka school is a boarding school located in Bungoma County and receives 21 deaf and blind children aged 5-18. Most children are orphans and some were abandoned by their parents due to lack of finance to support the children.
Siaka school is only one year old, we thank all the donors who have so far helped this dream come true. Thanks for your help through Siaka school, those lovely children will not feel stigmatized when they grow up and will find a proper place in the society. Disability is not Inability!
III FOCUS ON THE 3 PAST MONTH
Thanks for the tremendous support from GlobalGiving donors and local volunteers. We managed for the last few months to provide the children with:-
- Food program
We try to feed 21 children 3 times per day from Monday to Sunday. We usually use 8kg of maize, 5kg of beans and 3kg of rice per week without a delay
=> For now we are able to feed them with meat/fish and fruits once a week. We hope to provide them at least twice a week soon.
- Decent clothes
We have also managed to give some of the children and few teachers some clothes since most didn't have enough clothes.
=> we hope that soon we will be able to give others who didn't get
On the 3rd of April the team of Tumaini Fund for Economic Development International (NGO supporting the school) came to visit the children, we offered them sweets for Easter, shared a complete meal, songs and great moments with this lovely children, (see pictures attached)
IV CHALLENGE AND UP COMING EVENTS
The school depends entirely on the support from local volunteers (teachers, cooks, and other school assistants) and our generous donors. Still we have a lot of work to do to make this school able to support more vulnerable children.
In order to give them a full education we are still missing :-
15 Braille books/Braille papers
14 white cane
Feeding program to continue without any financial constraints in future
Supplying electricity
Finishing the current classes being built but stopped due to financial constraints.
We are also currently thinking on creating a kitchen garden in order to give the school free food and make it more independent and sustainable. We would receive any suggestions with lots of joy.
Let's stand with the special children of Siaka School for the Blind and Deaf.