I ENVIRONMENT OF THE PROJECT
Siaka School is a boarding school located in Bungoma County and receives 20+ deaf and blind children aged 5-18. Most children are orphans and some of them were abandoned by their parents due to lack of finance to support the children.
Through your help those lovely children will not feel stigmatized when they grow up and they will find more easily a proper place in the society! Thanks to all the donors who have so far helped this dream come true Disability is not inability!
II FOCUS ON THE 3 PAST MONTHS
In the last quarter of this project, we have helped Siaka school in many ways. Apart from this main project we have also fundraised additional 250$ (also through Global Giving) for a micro project named Kitchen Garden. Additionally, they are fighting with heavy rains in the area; these rains are corrupting the statics of the school buildings. Following paragraphs are in detail describing Tumaini's activities at Siaka school:
Kitchen garden
In April 2018 we had the idea with the school board to launch a kitchen garden in order to complete a bit of the daily diet with fresh vegetables and fruits. Tumaini's volunteer, Alice Luscher was coordinating the work on this project with the local staff and pupils from the Siaka school for the past three weeks (from 9th June to 31st June). Thanks to her diligent work, the Kitchen garden is now finished plus, we have managed to save some of the money for rebuilding the bathroom.
Destroyed bathroom
We decided to use the extra money to fix the bathrooms which have been sadly destroyed few weeks ago by heavy rains as it was an emergency for the safety and health of the children and staff. These are the things we used for the re-construction of the bathroom:
Cements x5 = 29$
Iron sheets × 2 = 11$
Sanitary pipe ×2 =10$
Sands =14$
Ridges =6$
Nails= 2$
Work labor (7$/day x2pers× 2days)= 28$
TOTAL= 100$
The construction was successful therefore now everyone is able to bath; which was impossible to do so for the last few months.
Food supplies
Before the micro project kitchen garden was started we went to school to visit them in order tosupply highly needed food. For $25we purchased 10kg of rice, 8kg of beans and small amount of onions, tomatoes, carrots and cabbages.
III CHALLENGE AND UPCOMING EVENTS
The school depends entirely on the support from local volunteers (teachers, cooks, and other school assistants) and our generous donors. Still we have a lot of work to do to make this school able to support more vulnerable children. Because of the Kitchen Garden the school is becoming more self-sufficient. Nevertheless, they are still facing plenty of challenges. Most of all the presence school Dormitory is too small to accommodate all the pupils. That means that every child has to share a bed with other two pupils. As a reaction to this state we are launching a new micro project and to build a first new dormitory for the pupils.
Let's stand with the special children of Siaka School for the Blind and Deaf.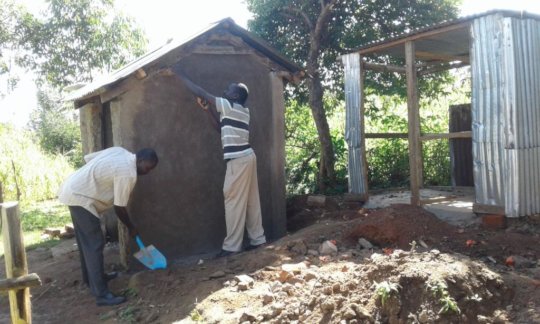 Links: