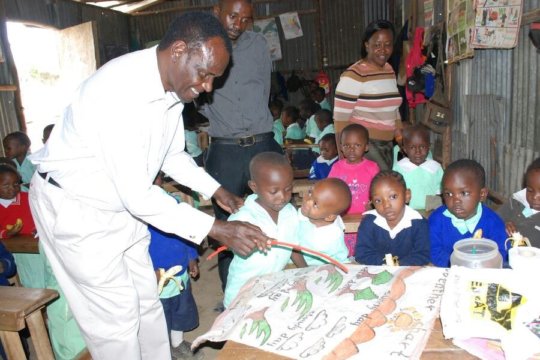 The Vulnerable Children of Kiambiu have benefited from the food program since this project started. Most of the children at least 30 of them were not coming back from school due to lack of food. Thanks to most of our donors now we can provide food to the vulnerable children.
We were also visited by one of our donor who provided the children with some fruits and talked to them by giving them a word of encouragement. The donor also brought some food stuffs to the children.
We thank all our donors for keeping the walk to help the children and providing stationery, foods, uniforms and sports kits to the children without you nothing could have move.
Since the project started we can confess that most of the children have been attending the classes regularly and also coming to class very early due to food program and the school uniforms which they have been helpful.
One of teacher by the name Mrs Jane thanked the GlobalGiving for the tremendous work done in uplifting the Glory Education Centre. On her speech she said, "Asanteni sana kwa kuja na Mungu awabariki na muendelee na kazi ya kusaidia watoto." In English the teacher was saying, "Thank you for coming and may the Lord Bless the good work which you are doing in helping the children."
In summary:- Success story
Food program continuation
Regular class attendance by the children
Our success in helping the children of Kiambiu had many challenges and the challenges are still on because of lack of latrines to the children and also conducive environment for the children to learn on. This is the biggest challenge which if we can put our hands together we can make a big impact #we_work_to_make_a_change_together me and you in making a life better
In summary:- Challenges
Few teachers
Lack of school toilets
Lack of conducive environment for the children to learn in.
Thank you for your support our donors/churches/partners and also friends who came up to make a change in food program and providing school uniforms to the Glory Education Centre.