I am pleased to present this report pertaining our progress in the last 3 months which highlights our previous achievements as well as areas for further work in in helping the 80 women to sustain themselves into the Organization's policies, programmes and activities.
First is a pile of appreciation to you our generous donors who have showed your tremendous support in our projects.We look forward to a continued relationship.
Within the three months period we have embarked in the following activities:
In July we had a meeting with the vulnerable women which we developed a group project to help generate money that will sustain the women.We founded a project on production of washing detergents,which has not started yet due to financial challenges.
We did indivudual home visit to some of the members where we shared ideas and adviced the members on the positive living,interacted with them and took goodies.Since the start of this initiative 2 months ago we have been able to visit 8 members since the visitations occur weekly.We are looking forward to increasing our weekly visitations inorder to visit all members in a short span.
We have established a panel of specialised counsellor who are demoted to offering their services to the women at their time of need.The team aims on helping the members cope with stress and make positive decision on personal matters.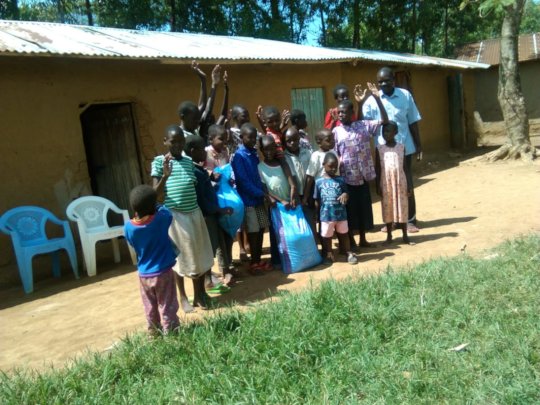 ENVIRONMENT OF THE PROJECT

Siaka School is a boarding school located in Bungoma County and receives 20+ deaf and blind children aged 5-18. Most children are orphans and some of them were abandoned by their parents due to lack of finance to support the children.

Through your help those lovely children will not feel stigmatized when they grow up and they will find more easily a proper place in the society! Thanks to all the donors who have so far helped this dream come true Disability is not inability!

II FOCUS ON THE 3 PAST MONTHS

In the last quarter of this project, we have helped Siaka school in many ways. Apart from this main project we have also fundraised additional 280$ (also through Global Giving). Additionally, they are fighting with heavy rains in the area; these rains are corrupting the statics of the school buildings. Following paragraphs are in detail describing Tumaini's activities at Siaka school:

STAFF QUARTERS

We decided to use the extra money to build a house for a resident teacher who will be living at the school. These are the things we used for the construction of the house:
Cements x15 = 87$
Iron sheets × 6 = 33$
Sanitary pipe ×2 =10$
Sands =28$
Ridges =18$
Nails= 10$
Work labor 7$/day x2persons per day

TOTAL= 186$
The construction is still ongoing hence we didn't add the work labor in the total amount.

FOOD SUPPLIES
We visited the school in order to supply highly needed food. For $25 we purchased 10kg of rice, 8kg of beans and small amount of onions, tomatoes, carrots and cabbages.

III CHALLENGE AND UPCOMING EVENTS

The school depends entirely on the support from local volunteers (teachers, cooks, and other school assistants) and our generous donors. Still we have a lot of work to do to make this school able to support more vulnerable children. Because of the Kitchen Garden the school is becoming more self-sufficient. Nevertheless, they are still facing plenty of challenges. Most of all the presence school Dormitory is too small to accommodate all the pupils. That means that every child has to share a bed with other two pupils.
Let's stand with the special children of Siaka School for the Blind and Deaf.
Links: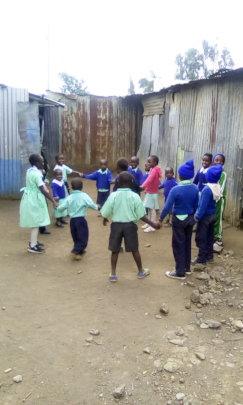 ENVIRONMENT OF THE PROJECT

Glory Education Center is a school in the Kiambiu slums of Nairobi. Today the school receives 98 pupils from 3 to 10 years old children coming from the surrounding slums. Our primary objective is to provide them with good quality and free education, as it is the first step to going out from rough poverty they are struggling with.

This school is entirely funded by the parents of the pupils and the support from our NGO Tumaini through the generous donors from GlobalGiving. The fundraising pays the three teachers and all the resources (books, uniforms, pen, tables, board and so forth) we managed to get in past two years.
Thank you to all the donors/churches/partners that have been making the children of Glory Education Centre to forget about the stress, hardship in life and to bring them a smile which wasn't there for a long period of time.

FOCUS ON THE 3 PAST MONTHS
FOOD PROGRAM
Our visit to the school we prepared a healthy break time snack for the pupils and shared the meal together. Each child had a cup of tea and chapatis. They loved it so much and we shall continue supporting them with the food program. Our main goal is to see that the children receive their daily meal day in day out without any problem hence minimizing absenteeism.
CHALLENGE AND UPCOMING EVENTS


Since the relocation to the new school most of the pupils skip classes this is because their parents lack school fees and some find that the distance from their homes to the new school is a bit big, hence we are looking for methods to curb this challenge so that they can be able to study once again.
HEALTH TO A CHILD
Even though we keep the food program on, the children health is always the first priority because no child can come to school if he/she is sick therefore we try to keep the health of children by buying medicines in case of emergencies. Keeping measures to prevent a child from missing school due to sickness start with us is always the best. Therefore, together we can make the children healthy in the school.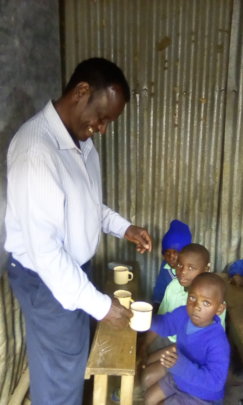 Links:
WARNING: Javascript is currently disabled or is not available in your browser. GlobalGiving makes extensive use of Javascript and will not function properly with Javascript disabled.
Please enable Javascript
and refresh this page.