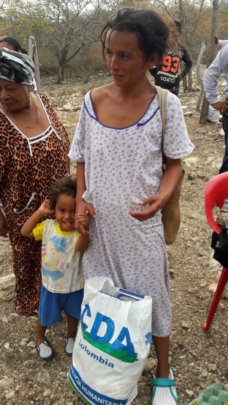 Dear Friends,
It was April 18th, and the CDA team was up at the crack of dawn. This was going to be a full day. Have you ever gone shopping for 300 families; this is the week that Beatriz, Mirtha, Jhon and Carlos, would have that opportunity. Rice, pasta, beans, lentils, eggs, plantains, potatoes, onion, carrots, sugar cane, powdered milk, cornmeal, oatmeal, canned tuna and sardines, cooking oil and bread. A shopping list to sustain Wayuu families struggling with severe drought.
The CDA Team was joined by Pedro Carillo, leader of the Wayuu settlements and Alvaro Ipuana, governor of Nuevo Espinal. With food parcels in tow, they set off for the various villages of Barrancas: Nuevo Espinal, Barrancon, Tamaquito, Wagirero, La Granja, La Granjita, El Cerezo, Trupiogacho, San Francisco, Cerrodeo and Zahino. It would be a long, but amazing day; so many families, so many stories.
We met Jose Carlos, only 22, yet a remarkable and dedicated young man. At a young age he recognized the precarious conditions of the community that he lived in, and set about to do what he could to make a difference. As an adolescent, he met with the mayor, the governor of the department, and various institutions in order to bring services and capacity to the community. Two years ago, the leadership of the Wayuu community chose Jose Carlos to be the governor for the settlement of Tamaquito, and he continues his dedicated work to improve the conditions for the families of his community.
Milan is three years old. At seven months his family noticed delays in his development. Milan does not speak or walk. His eyes have involuntary movements. He responds to stimuli and laughs. Doctors in the region have not been able to diagnose his illness. His grandmother, Maria, who appears in the photo, very much loves little Milan, as do his parents Jose and Inez.
The following days included visits to deliver food to children with disabilities under the care of the Wayuu child protection services, and then to Palomino Guajira to visit two families who have children with low birth weight and malnutrition issues.
In Palomino we met Marini, only 15 years of age. Marini suffers from developmental disabilities. She completed the 3rd Grade, and had her first child, a daughter, at the age of 12. By the age of 13 a second child was born. In this picture she holds in her arms her third daughter; the last two children a product of abuse by a 50-year-old man. She only receives one meal a day through support from her father, who struggles to do what he can to sustain his daughter and family.
Gina and Maikol are both 22, proud parents of their children Adriana Lucia (6 years), Maribella (4 years) and Luz Adriana (1 ½ years). Maribella suffers with low weight, and Luz is in a critical state of malnutrition. The parents work in various crafts, when the opportunity arises. They are only able to eat one meal per day, two when times are better. Lucia goes to public school, but Maribella goes to the Colombia Institute of Family Welfare, and Luz, because she is malnourished, is not able to attend either.
The Wayuu families expressed their deep appreciation for the assistance received from our compassionate donors in the United States, and to CDA for having traveled to this corner of Colombia. They ask that you pray for the sick in their families, and for rain and fertile land.
God bless each one of our donors; our prayers are with you
Beatriz Amparo Diaz SanchezBasic Needs and Humanitarian Assistance Programs OfficerCORPORACION God is love - CDA COLOMBIA.Terry L StiermanExecutive DirectorConviventia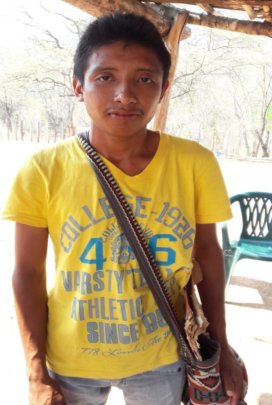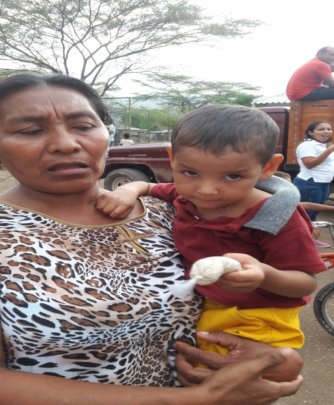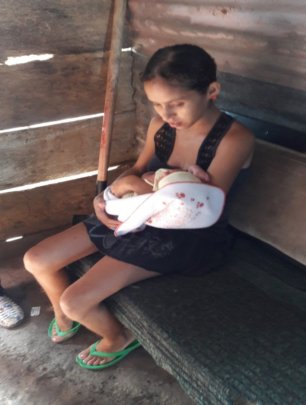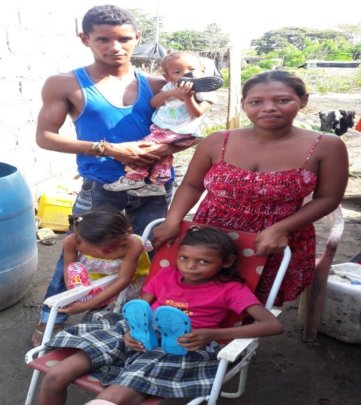 Links: