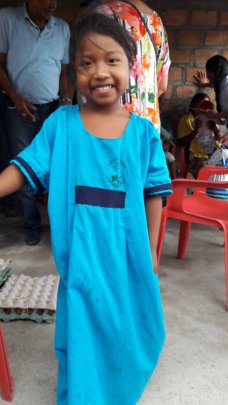 For this brief report I want to share a little about the Wayuu people, the area that they live in, and their way of life. As you read this, imagine what it is like to live in these communities, to wake up each day in the Guajira, and to make a way of life.
The department of La Guajira is located in the northeast of Colombia. The Caribbean Sea borders to the north, with Venezuela to the east. The population, just over 850,000, live in average temperatures ranging between 72° and 86° F. Temperatures in the desert can reach as high as 107°F, and as low as 38°F in the mountains. The landscape includes desert, along with wet and dry mountain forests. Rain falls in Guajira only between September and December, resulting in the typical vegetation of thorny bushes and cactus. Several rivers cross the Guajira, carrying water out to the Caribbean Sea. (Source Wikipedia).
The area has potential for development of resources, including electricity production by solar, wind, natural gas and hydroelectric means. (Source Wikipedia).
Indigenous ethnicity makes up 48% of the population, with Wayuu constituting 143,000 of the population. The level of extreme poverty, 27%, is nearly 3 times that of the national average of 10.4%.
The population are a semi-nomadic people that roam in a region with land and social and family networks between the two countries of Colombia and Venezuela. The main consequences of the drought were the disappearance of all type of agriculture from the middle of 2013, the reduction of the number of animals per family (livestock was one of the main source of income) and reduction in trade and local markets with Venezuelans. (Source: Informe Final MIRA: Alta Guajira – Uribia (La Guajira), Colombia Desabastecimiento de alimentos en comunidades Wayúu de la Alta Guajira: 18-21 de febrero 2014).
In our next report, we will explore how the Wayuu are moving forward.