Dear Friends,
We are so thankful for all that you have done to support our 'Share Joy this Christmas' campaign. We are coming up on a year for the campaign, and have decided to focus our efforts for this holiday season on bringing a desk to each student in our schools in impoverished communities in Colombia.
Gangs, violence, broken families and lack of economic opportunity are the daily realities for children and families living in the communities that we work. By providing a strong Christian education through our "School with Purpose" educational model, we are committed to address the emotional, spiritual and physical needs of each student, as well as the traditional scholastic development of knowledge, reasoning, and thinking. It is this holistic education that empowers our students to take leadership and accountability for their lives, develop their life plan, and lead fruitful and fulfilling lives.
Thank you again for your amazing support, and know that your donation will bring a smile and hope to the face of a young child this Christmas.
If you would like to learn more about our "Equip Classrooms for School Children in Colombia", please visit our project at:
https://www.globalgiving.org/projects/equip-classrooms-for-school-children-in-colombia/
May you have a wonderful holiday season filled with peace and joy,
your Conviventia Team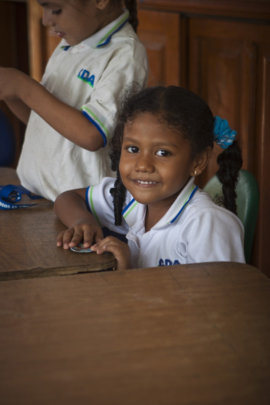 Dear Friends,
We hope you are doing well. Thank you for walking alongside us as, together, we deliver programs that help people to forge their own path out of poverty in impoverished communities in Colombia. We believe that by generating opportunities through which people can expand their capabilities, centered on strong Christian and family values, we can help people forge their own path to success.
By providing children who are living in conditions of poverty access to quality Christian education, we equip them to understand the truth about life, the world, and their place in it. The reach of our actions extend from early childhood care, through elementary, and continue through high school, enabling access to employment and higher education. Across our 4 Christian schools, we have over 3000 students working hard each day to learn and follow thier dreams.
Please consider telling your friends and family about our project - share the link on your blogs or social networks, use the tell-a-friend feature on the project page to email your network, or just bring us up in conversation. You know your friends and family best, so use your own words - tell them why you chose our project and what it means to you.
May God richly bless you,
the Conviventia Team
Links:
Dear Friends,
HOPE is a powerful word. Think about a time you may have struggled with one of life's challenges. It is that promise that things will get better, that there is HOPE, that can make all the difference. When I look at this picture of Erika, one of the students at our CDA-Conviventia School in Cartagena, what I see is the look of HOPE, even in the face of a challenging life. When you look closer at Erika's house, you already know that her family does not have a lot of resources. But it is the spirit of Hope that assures them that anything is possible. And when we watch our CDA-Conviventia senior graduates walk down the aisle to receive their diplomas each December, we see the positive outcomes that come from Hope.
Thank you so much for supporting our project this past year, bringing a smile and HOPE to a young child living in these impoverished communities in Colombia. As we begin to plan for the 2017 Christmas Season, please help us spread the word to others, so we can make this the most amazing Christmas of Joy and HOPE these families have ever seen.
We wish you many blessings, and heartfelt gratitude for your kind generosity.

Your Faithful Servants at Conviventia
Links:
WARNING: Javascript is currently disabled or is not available in your browser. GlobalGiving makes extensive use of Javascript and will not function properly with Javascript disabled.
Please enable Javascript
and refresh this page.