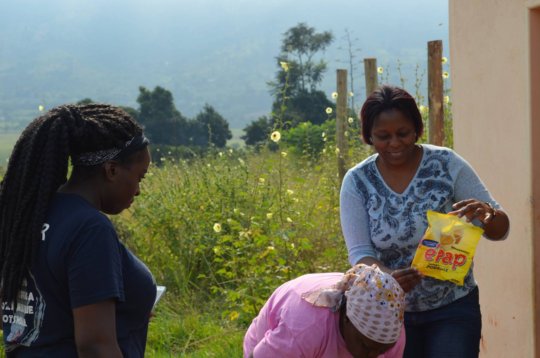 Greetings from Swaziland!!
We are excited to be sending you our first report since we've been on GlobalGiving!!
We would like to say a big THANK YOU to everyone who helped us win the Open Challenge and become a permanent member on GlobalGiving. This will enable us to continue our much needed work to provide Early Childhood Care and Education opportunities for vulnerable children who would otherwise have no access to it.
NCP Curriculum for Term 2
Our Neighbourhood Care Points (NCPs) reopened for Term 2 in the second week of May after a month-long school holiday. During the school holidays, the All Out Staff and the teachers were busy preparing the Term 2 curriculum which consists of teacher's guides and children's workbooks. These were printed and distributed to all the six NCPs with a total of 220 children in time for the first day of school! The curriculum will help children continue to learn and get ready for "big school"!
Pilot Study on Supplementary Feeding with e-Pap
We had a Nutrition Intern, Esther, join us from the UK for four weeks, who initiated a pilot study on e-Pap at Nkhanini and Mlindazwe NCPs. e-Pap is maize meal pap with all the necessary micro-nutrients for a complete diet. Many of the children attending the NCPs do not have adequate food at home, and rely on the meals they receive at the NCPs. Some of the children are stunted due to lack of nutrition. Adding e-Pap to the menu will ensure children are able to get enough nutrients every day for healthy development! The study will continue for the next few months, and we will be able to report on the results.
New Playground at Mvutjini NCP
Children learn through play. This was evident when a jungle gym was built at Mvutjini NCP and joy was written all over the children's faces. Screaming, jumping and shouting was the order of the day. This jungle gym will help the children to develop their gross motor muscles (big muscles) and help with their physical development while having fun at the same time!
These are the major highlights from the last three months. We will keep you posted on new developments in the coming months!