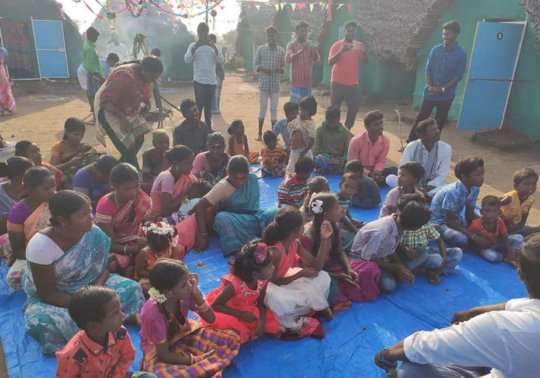 Due to crisis total work has been stopped .The lockdown made us not to move.we cannot able to think of future possibilities in work ,focus on "save life" yes we had regular contact with our target group and advise them to follow the procedures that government advised to stay home protect themselves and save lives,
Yes ,we made effort to give awareness for Irular tribe on Corono and to protect themby handwash we invited Doctors, Nurses, Paramedical staff to diagnosis and take blood samples to test them if affected, we also served food for people staying on roadside. We are raising funds to support the tribal /Irular/Gypsy people to support one month food materials.( Rice, Dall, Oil, Gram, Teapowder,
Atta etc)
Hunger for family members and childrens. Due to no income and job we like to provide one month provision to manage the lockdown period. The challenging part is due to lockdown the Indian Government gave 1000 rupees for family and rice,atta and sugar but these Irular/Gypsy has not received and not eligible as they don't have Ration card to get from Government Fair shop.
These days we supported no shelter and food for people who starved and even don't know about
the threat of Covid-19
If we get financial support we will able to support Irular/Gypsy/Physically Handicapp people in and around our villages.
1, To provide mask & sanitazier for children.
2, Awareness on public places & Villages.
3, Hygiene kits (1 liquid hand wash, 5 hand wash soaps, 5 masks, etc.)
4, Medical Supplies (Sanitizers, Masks, Gloves etc.)
5, Provision ( Rice,Dall,Oil,Atta,Tea powder,pulses etc)