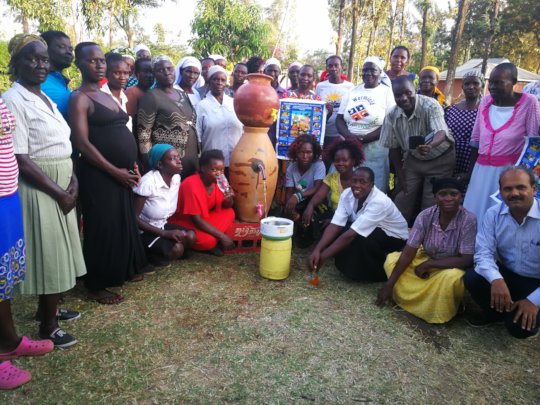 Nadi Filter Replication in Kisumo & Kakamega Kenya
Scarcity of clean water is common in this region compelling most of the people around to consume any available water which mostly is contaminated. Very few individuals here can afford clean bottled water. Cases of water borne diseases are very common especially to the women and children not sparing some men too. Due to this severe condition the training was done by Mr. Khurshid Bhatti CEO of association for humanitarian development (AHD) in rural village near Mumusia county Kaka mega.
The training was well received by the Villagers mainly women, village elders and other village leaders and church representatives were also present.

Mr. Khurshid took us through the theory part of making Nadi filter in one of the widow's house for 30 minutes. Questions were raised from different members who anxiously were in need to see the final product of Nadi filter. After the theory, the trainer took the trainee to the field for practical
The local based bio sand Nadi filter consist of
Big vessel/Pot (Nadi)
Small pot (matka)
Small Stones of different sizes
Fine sand.
All these materials are locally available or they can acquire with little strain around the area. Making of Nadi filter does not require technical knowledge and so any person can make it with ease. Through the instructions of Mr. Khurshid the members were able to make themselves Nadi filters. The steps to make the filter were easy to follow.