Dear Donors / Partners
Dear donors we are happy to change this project for shelter for poor flood victims in Thatta & Badin
We selected 100 families for lost their all houses, crops and livestock and we want to support them with one room shelter cost US $ 390 only in Pak rs. 35,100 and for 100 houses only 39,000/= US $
Hope this project will create new hope for 100 families and some 1,000 people to get residency at their door step
For more please see our project document in MS word available on this project
We are looking your quick support for the benefit of the rural poor families of Sindh Pakistan
About 5000 families from Oct 2011 to Jan 2012 received medical care, medicine help, patients from all age groups were seen by our doctors through medical amps at village level. Among the seen, patients with skin pathologies were noticeable with diseases such as folliculitis ,impetigo and scabies being their companions for an unknown time. Waterborne diseases followed next with gastroenteritis ,typhoid fever ,cholera and plain diarrhea toping among this group. Malaria continued to pose a major threat as ever with dengue as its worst and final attack.
Women in general and in their gestational periods presented with iron deficiency anemia and complained of general body weakness and fatigue.
Children mostly presented with discharging ears and otitis, malnutrition and being underweight drew our maximum attention.
The medical camps were successful. Proper assessment was done the individual problems were sorted out .Medical advice was given along with proper counseling of individuals and their families. General Hygiene awareness and health education was imparted.
Medicines such as Multivitamins,Iron supplements,Mineral supplements, specific antibiotics, skin ointments and insect repellants were provided Oral rehydrating formulas were distributed among masses at large. A lot of people were benefited from this effort of AHD.
Main Livelihood / Income sources of 10 slum areas of 5 in Lahore & 5 in Hyderabad
10 slum dweller areas near Lahore & Hyderabad belong to a lower labor class with a very low income. They are laborers; sweepers, gardeners, security guards and factory workers. Prior to the factory area nearby, most of them don't find work on regular daily basis.50% of their daily wage is utilized to buy firewood's and cow-dung cakes used to cook their food as the village still lacks sui gas. Living in the centre of government and private schools their children are deprived of quality education just because of their poor financial condition. Government schools are of very poor condition and private schools are out of their pocket power.
Due to bad sanitation and NO means of safe drinking water villagers of Guloo Kot are more at risk for different diseases. No proper dispensary is found in the village to cater the needs of poor sick villagers in case of emergency they have to rush to General Hospital Lahore that's the only nearby hospital and mostly patient dies during the process of reaching the hospital.
Lack of awareness:
People of this village lack awareness on all sectors whether its
Safe drinking water
Health & Hygiene
Girls Educations
Women rights etc
Project Progress:
10 poor slum areas selected, meetings conducted and girls of the village areas now going to schools, further in coming days AHD staff will provided school fess and books & travel to 100 girls and further survey will be conducted to finalize 500 more girls to GO SCHOOL
Thanks Global Giving donors for the support to this project, we will be happy to share reports in coming weeks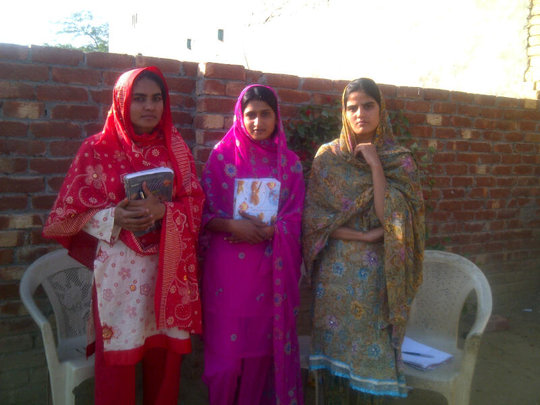 WARNING: Javascript is currently disabled or is not available in your browser. GlobalGiving makes extensive use of Javascript and will not function properly with Javascript disabled.
Please enable Javascript
and refresh this page.