Dear all donor of cooking stove for flood vicitms in Pakistan,
New Year 2012 Greetings from AHD Pakistan!
We are happy to share our quarterly report and the progress about cooking stoves construction in flood affected areas, our AHD project team facilitated and helped poor rural families in construction of 500 new cooking stoves in their household level. Please find below the case study
Case Study of Mrs Maya Jitu
Mrs. Maya Jitu age 50 years resident of village Nodhani. The village has 60 families and they are using traditional stoves for cooking. The Health of village women has been affected from major problems as smoke has affected the eyes of the women and even some women have developed the Asthma problem. The traditional stoves have got no chimney and proper space for exhaustion of smoke. Since AHD introduced their (FES) fuel efficient smoke less stoves, health of village women is improving because this stove have chimney and consumes less woods two stoves at the same time can be operated, time consumption also reduces and the major point of this is that the fire hazard in their house hold has declined.
Mrs. Maya's thanks:
I am personally very thankfully to AHD staff for introducing this stove to us and making us aware of benefits and being a village woman I will try to continue this process and train other village women as well.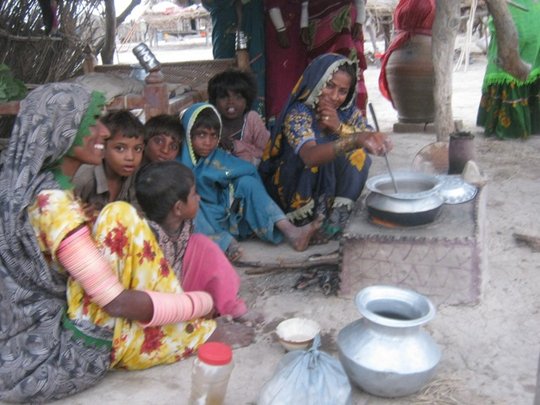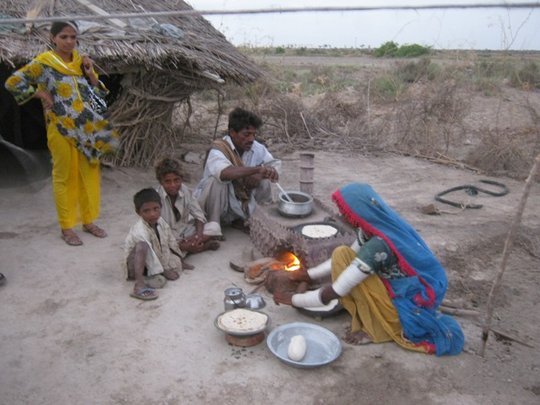 Dear Donors,
Thanks for donating US $ 185, so far this project, we conducted survey and provided awareness of safe drinking water, health and hygiene and local resources mobilization, we at AHD also creating awareness among poor village groups how to handle with future disasters if any.
we at AHD looking to utilize the future funds for Disaster Risk Reduction program, will be implemented in some 30 poor villages for the help of villages groups to take measures to deal with future disasters. Thatta and Badin districts both situated on the delta plain, near sea where sea intrusion and floods and cyclone are frequent. The past history:
Cyclone 1999
Floods 2001
Drought 2001-2003 (water shortage)
Floods 2003
Drought 2003-2007 (water shortage)
Rain Floods 2007
Drought 2008-2009 (water shortage)
Supper floods 2010
Supper floods 2011
We want to tackle this critical issue through our awareness campaign and will conduct awareness and meetings over disaster risk reduction and bring new and local techniques to build the capacity of poor villagers for the survival in the disaster prone area
Please share your idea and give recommendation if any…that we can change title of this ;project move to Disaster Risk Reduction program
For more please feel free to contact.

A. Khurshid Bhatti
President/CEO
Association for Humanitarian Development (AHD)
House # 39/b, Block-D, Unit. No. 2,
Latifabad Hyderabad, Sindh Pakistan
Ph: +92-22-3860880, Fax #. +92-22-2933236, Cell: +92-333-2661682
E-mail: ahdpak@gmail.com, ahdpak@yahoo.com, www.ahdpak.org
Dear Donors and supporters
Nov 18, 2011, we are writing thanks for your donations to this project, however we received limited donation but we organized some 17 medical camps in Flood affected areas to support poor villagers badly affected by floods 2011. We looking your more support for this project that may we reached some more families to help them with medicine treatment at their door step
Still some 10,000 families needs medical care and medicinal support in Badin & Tando M. Khan districts, hope you future collaboration and support will help us to move and support more families
May GOD bless you all
WARNING: Javascript is currently disabled or is not available in your browser. GlobalGiving makes extensive use of Javascript and will not function properly with Javascript disabled.
Please enable Javascript
and refresh this page.