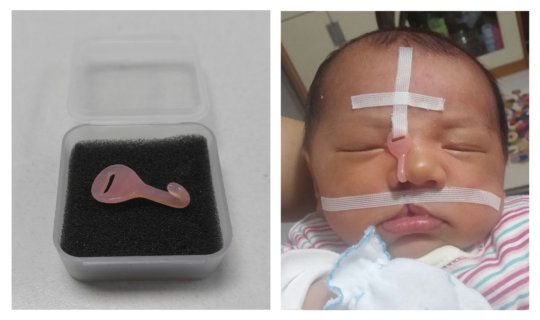 Thank you for your support to the Hong Kong Association for Cleft Lip and Palate (HKACLP) !

With your support, we managed to bring more smiles to patients with cleft lip and palate and their parents. Below are some highlights of our activities in 2016 Quarter 3.
Non-surgical Correction for Newborn CLP Babies
Recently, with the help of our maxillofacial prosthetic technician we have launched a new service as 'non-surgical correction for newborn CLP babies' which helps to reduce the severity of initial cleft lip, cleft alveolar, and nasal deformity, that may facilitate surgical repairs to achieve a better result.
Medical talk
Considering the needs of members in different stages, the HKACLP invited Dr. George Li, Honorary Clinical Associate Professor, Division of Plastic, Head & Neck Surgery, Department of Surgery, The University of Hong Kong, to give a medical talk titled "Surgeries for Cleft Lip & Palate Patients" on December 9 to broaden the parents' and patients' knowledge on cleft lip and palate surgical treatments.
New born CLP babies' parents Group
The New born CLP babies' parents Group consisted of 3 sessions. The contents of the 3 sessions covering treatment schedule & caretaking of CLP babies from birth to 2 years old, which will focus on explaining lip & palate surgical repairs, the management of scars, dental care, speech training and proper up bring of CLP children. Through veteran volunteers' explanation, experience sharing and emotional support, new parents may understand the skills of care taking affected babies and get well prepared for treatments. This can reduce the parents' anxieties and worries, and therefore help them to face up to the treatments for their children in the future positively.