Hello all,

As we begin a new year, EDV continues to grow rapidly in Haiti. We have built transitional classrooms, supplied school supplies to more than 700 children, housed 47 orphaned children, and secured the free education of more than 30 further orphans.

But what we're most excited about is the enthusiasm of the community leaders with whom we work. They have gone from simply asking us for help to proposing new projects themselves and pushing us to do more.

Our language exchange is a prime example. The community has now taken the lead and is transforming our informal exchange into a proper class. It's this sense of purpose – this empowerment – of earthquake survivors that keeps us hopeful and excited about the future.

To bring home what your donations have meant in the past year, we've prepared a report detailing EDV's success in Haiti during our first five months on the ground. It's in the links section of this update. We hope you'll take a moment to read it and consider what your donations have meant.

We also wanted to send you a recent profile of one of EDV's founders who has been featured as part of Fast Company's new series: Change Generation. It's also in the links section of this update.

EDV wouldn't be making changes in the world without your inspiring support. With your help, 2011 will be even better than 2010.

Thanks so much for all you've given, and we hope you had a Happy New Year!
Links:
Hello all,

Since we posted this project on Global Giving, the growth of our soccer programme has delighted us. With your help we've provided shoes, uniforms, balls, and goals. While we've only been able to fund a few teams to date, the results are already showing.

Teams generally play during the summer months, but this year they decided to organise a mini championship over Christmas as well. More than 100 youths turned out to compete during their break from school.

Again and again we hear the same thing from the youths who play in the league your donations support: Football seems like a small thing, but it brings hope and a positive outlet for youths who need it most.

As we move into 2011, we're hoping to provide a fresh start for all 12 of the teams your donations will support.

Please tell a friend about this project and help us keep youths playing in Port au Prince, and thanks so much for your support!

Links: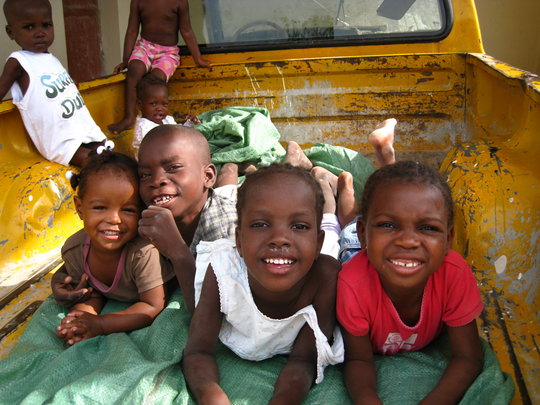 Hello all,
While it hasn't been long since our last project update, your out-pouring of support has been so inspiring we felt the need to write - again - to say thank you.

Thanks to your support we have been able to raise our fundraising goal again and again, and you have kept exceeding our expectations! When it comes to fundraising for these vulnerable kids, the sky is the limit. Any money which is not spent this year will be held in trust for their future housing, education and health needs.

So as we up the fundraising goal yet again, we just wanted to write and say thanks for making the start of 2011 a time of hope for 47 children who lost everything less than one year ago.

Wishing you the happiest new year!
Links:
WARNING: Javascript is currently disabled or is not available in your browser. GlobalGiving makes extensive use of Javascript and will not function properly with Javascript disabled.
Please enable Javascript
and refresh this page.