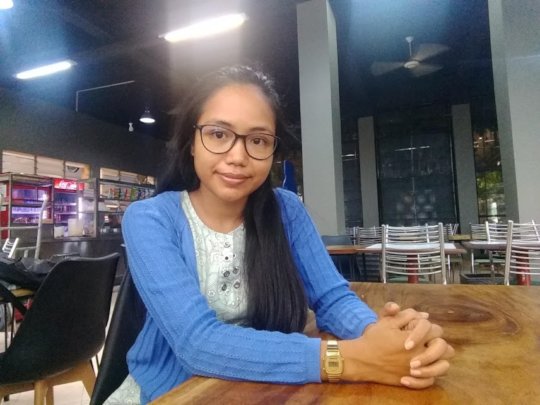 Nak is a young woman who has benefited from a Wedu scholarship thanks to your help. This is her story:
"My name is Nak and I am from Cambodia.
Due to love, sympathy and understanding the importance of knowledge, income, and standards of living with dignity, I want and plan to become an expert in Economic, Social and Cultural Rights within the OHCHR. The current goal for now towards human rights is boosting Women's Right to Education in Cambodia. I believe that through education, those women will be independent and be able to access the right they are entitled to. Through knowledge they obtain, they can dare to express their voices on what they need, and contribute to their communities and societies. I understand that improving Human Right to Education will boost women's rights directly - economic right mainly and social rights potentially.
In order to achieve my goals as well as supporting other women in this field, I earned a bachelor degree in Law in an English language program of the Royal University of Law and Economics. Having known that higher education is needed for critical thinking and professionalism, I am pursuing a dual master degree in International and Public Law in a French program within the same university which Wedu's funding helped me access.
My next and progressive plan is to write a book on my personal experiences in fighting against conventional thinking or mindset undermining women since I wish to share experiences and knowledge with them, inspire them, encourage them and lift them up. And Wedu Global is a significant part of my achievements and life. I have received leadership training, mentorship and funding for my master's degree in Cambodia. Without support from Wedu, I would not be able to see how far I can be like me today."
We want to send our deepest gratitude to you for supporting this effect and helping us by donating to the Sujata Baskota Honor Scholarship. Your contribution directly supports women like Nak by allowing them to focus on their studies and follow their dreams to create positive social change. Thanks to you we have been able to raise a total of $5,400 total in online donations to contribute towards scholarships, an amount that can provide financial support to more Rising Stars this year than ever before. Thank you again so much for your donation and we look forward to sending more exciting Rising Star updates and achievements in coming months.
Thank you for helping our Rising Stars keep rising!
With gratitude,
The Wedu Team