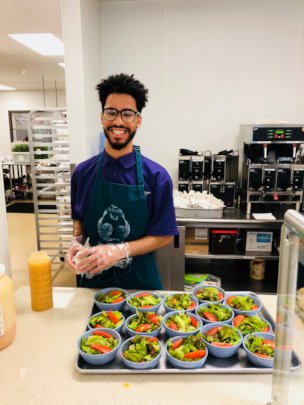 "I shall not pass this way again...
I expect to pass through this world but once. Any good thing,
therefore, that I can do or any kindness I can show to any fellow human
being, let me do it now. Let me not defer nor neglect it, for I shall not
pass this way again." Stephen Grellet, 1773-1855 French-born Quaker Minister
Dear Friend,
We are so very grateful for your generosity...it means so much!
During the month of June, we served 8,519 meals, that's an average of 110 people served each meal. Our Resource Center served 1,201 people. We assisted 58 people with transportation, 585 people with mail service, and 29 folks with eye exams and new prescription glasses. We are most grateful to you for making all these services possible! Without fail, our meal guests and clients express simple gratitude for the services you make possible. Your kindness means so much to each of them!
One of our lunch meal guests shared with me that his friend, a former client of Shepherd's Table, had just recently passed away. He was saddened by the news and wanted me to know. His sadness was tempered a bit by the knowledge that his friend had experienced the joy of not only support from Shepherd's Table, but the joy of having a home. Yes, just months before he died, he moved into permanent housing. He was so very grateful for his home and the kindness he received daily from not only Shepherd's Table but other providers in the County who support men and women as they move from homelessness to housing. We all know what a precious gift it is to have a home we can call our own!
So many people make a difference and a lasting impact in the lives of our most vulnerable neighbors. You are one of them. Through your generosity, you added joy to this gentleman's life and to the lives of several thousand people each year!
I pray that we might all remember just how important it is to show kindness now!
With much gratitude,