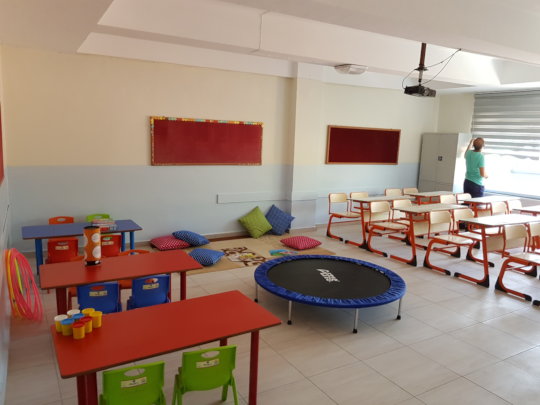 At the beginning of the summer, we received a call from a devoted teacher, Mr. M. Akif Edikli who is working as the coordinator of Temporary Education Center for Syrian Children in Turan Primary School in Kahramanmaras, Turkey. Turan Primary School has around 500 Syrian students and they were planning to arrange Turkish courses for them as the summer holiday starts. In order to improve their Turkish skills and to support their continuation of education, they wanted to create an Activity Class in coordination with school counselors. The activities would consist of counselling, orientation, integration studies including Turkish course. The classroom would be divided into two. In one half, families would be given counselling services while their tiny children can play in the other half of the classroom.
To support this brilliant idea, we started to discuss what can be done and just after a few phone calls between Kahramanmaras and Ankara, we started to work for building a classroom which will be suitable for such activities. With the valuable efforts of Mr. M. Akif Edikli and our Kahramanmaras Office Manager, Cem Ali Hamurcu, and your donations the restoration started first.
As the first step, from the floors to the walls the classroom is renewed. Walls are painted, floors are decorated with parquet strip. An air conditioner is mounted.
After creating a clean and useful classroom, we ordered the equipment which will be used by children. Tables, chairs, carpet, all course materials (such as notebooks, pencils, pens, colored papers, dictionaries etc.)playing rings, hula hoops, play dough, etc. Now, there is also a tramboline in the middle of the classroom!
In a short time, children started to use this classroom in summer period. In the opening ceremony, TRT (Turkish Radio and Television Corporation) staff visited the classroom and made interviews. It is broadcasted in TRT! TRT is the national public broadcaster of Turkey. It owns and operates 14 TV channels - of which 5 are HD - and 19 radio stations covering general entertainment, music, sports, children and news.

So as the donors of such an important activity which will be the first and only one in Turkey, you also made Syrian children's voice heard all over Turkey again, and gave us change to start this project as an example. So there is no way to thank you enough!