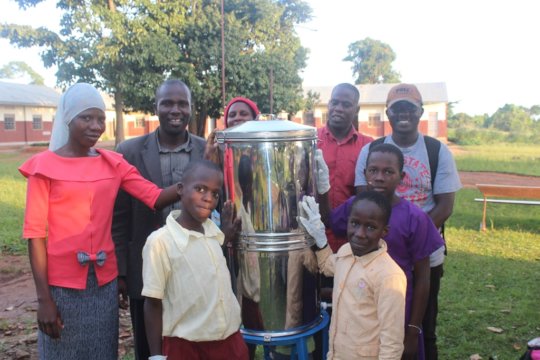 DISTRIBUTION OF WATER FILTERS IN SCHOOLS.
Deputy Directorof programs handing over a water filter to school staff and pupils of St.Jude Kabanga
Diarrhea, typhoid and many other water bone diseases are common in children that drink unsafe water. It's a child's right to have safe drinking water in order for them to be healthy. Research done in a number of schools seems to indicate that people say, It's nobody's responsibility for this child to drink safe water".
When a child leaves home to go to school, the expectation is learning and not worrying about not drinking clean water. Some of the ways a child could have safe water is to bring it from home or get some from a trusted friend. If the only option is taking unboiled water, then sickness will follow.
Because of your support dear friends, Another Hope Children's Ministries through the water life project has been able to supply water filters to schools. In return the pupils and students of those schools don't worry and also coming down with a disease. And due to this, they have enough time to concentrate on their school work.
A former pupil at St. Jude shares with us the water filters experience.
Before getting a water filter at our school (St. Jude Kabanga Primary School) every pupil had to carry a small bottle that could carry 2-5 litters of drinking water. Also, every evening we have to boil our own water at home to take to school. If we don't bring your own water, then there will be nothing for us to drink during those hot days. This always interfered with our playing time and at times revision, because we don't want to get sick.
It was so exciting the day we received this filter from Another Hope Children's Ministries, From that moment on, we never went back to the kitchen to boil water, and we had plenty to drink with no fear of getting burnt while preparing our water or even getting sick. We got our playing and sharing time back. Now every evening I never miss football games with my friends. Thank you so much Another Hope Children's Ministries for giving us safe and clean drinking water. In return we concentrate more on our class activities.
It's always a pleasure to realize a positive impact in our community brought about by a great decision you took to support our water life project. Your efforts are helping in facilitating children's education thus getting responsible adults of a future community. We are always grateful for the support rendered, Thank you so much friends.
We still need your support for this project. checki this link to support a school to improve lives of children through the water life project.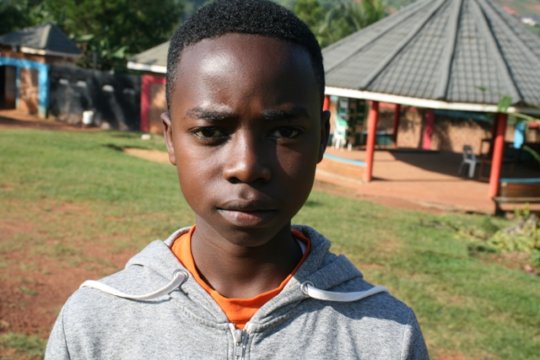 Links: