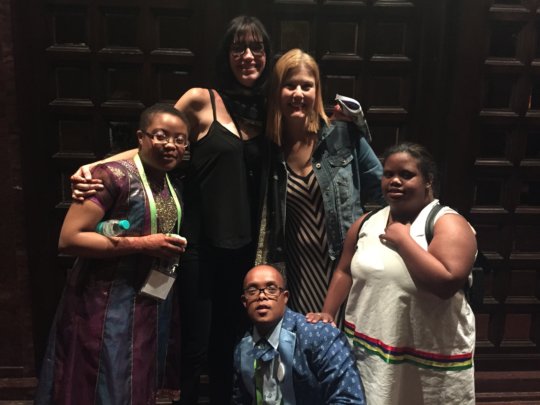 DSi conducted a 3 day workshop in India with members representing Down syndrome organisations from Botswana, Uganda, Nigeria and Mauritius. Each organisation was represented by a person who managed the organisation and a person with Down syndrome (self-advocate). The former group were invited to attend a capacity building programme. The latter group attended a self-advocacy programme.
The main aims of the capacity building workshop were to have a detailed discussion about what life is like for people with Down syndrome and their families in their country; to discuss what their organisation is able or not able to do right now to ensure good quality of life and inclusion in society; talk about what more could be done and for DSi's team to provide detailed advice based on their experience to enable them to achieve more. The self-advocates received bespoke training on how to advocate for themselves and others on issues affecting their lives and had mentors assigned to support and enable them throughout the programme.
The workshop also provided opportunities to network and have informal discussions between the organisations, self-advocates and DSi's team and was beneficial to all.
The organisation programme was divided into 4 sections: Health and Wellbeing, Development and Education, Participation in Society and Building Advocacy organisations. Prior to the workshop, participants were asked to complete an extensive questionnaire, looking closely at each of these 4 areas. The responses were used by DSi's team to prepare the programme and over the 3 days, we were able to constructively analyse the current situation and look at what can be done to improve things.
The methodology used for this programme enables DSi to look closely at the strengths, weaknesses and overall effectiveness of national organisations and tailor the advice and support we give them to bring about positive change for people with Down syndrome. We combine this with self-advocacy training to ensure that more adults with Down syndrome are able to speak for themselves within their own countries in both private and public forums.
Following this workshop, we are now following up with each of the 4 countries, so that we can enable them to bring about change on a consistent, sustainable basis. With the generous support of our donors, we are able to provide expert advice and support on a long-term basis to these organisations and their advocates.