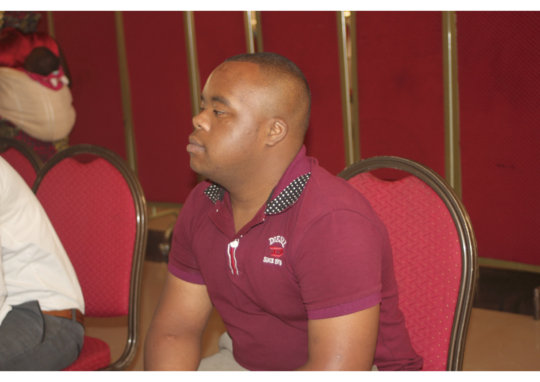 The Rwanda Down Syndrome Organisation (RDSO) continues to register more people with Down syndrome and their families, both through referrals from hospitals and a drop-in service running at the office. RDSO provides those that register with a leaflet about the organisation and is currently developing an information booklet about Down syndrome. June saw the first meeting of RDSO's newly established parent support group in Kigali, which will provide a space for parents to share their experiences and discuss important issues about their children. We continue to provide ongoing support and advice as they develop these new activities.
In May two self-advocates with Down syndrome from our organisations in Uganda and Nigeria spent a week in Kenya attending BRIDGE training, an intensive advocacy training programme run by the International Disability Alliance (which we are a member of) and the International Disability and Development Consortium. We were in Kenya to provide ongoing support to them during the training, and are now working with them to develop their advocacy activities further and put their learning to use in their countries.
The Down's Syndrome Foundation of Zambia (DSFZ) continues to push for inclusive education for children with Down syndrome and has been working with government officials to improve their education policies. We have been advising DSFZ on inclusive education best practices to inform their advocacy work.
Thanks again to everyone who has given generously to this campaign and enabled us to continue supporting Down syndrome organisations across Africa. These organisations are doing fantastic work in their countries to support people with Down syndrome and their families, and to campaign for the advancement of their human rights. We appreciate every penny donated and all future donations will be used to push our work forward across the continent.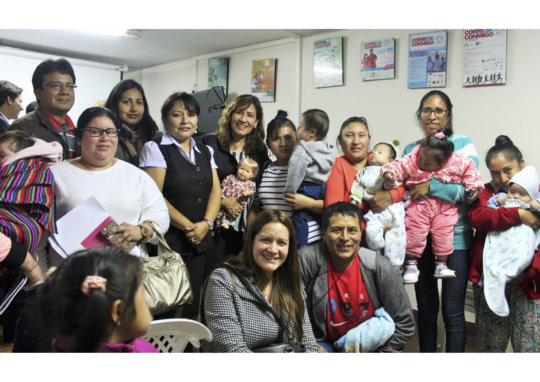 Since our last update we have provided the project funding for Sociedad Peruana de Sindrome Down (SPSD) in Peru and they have made excellent progress in implementing the project. We are in regular contact with them and have received very positive feedback about the positive impact of the project.
So far SPSD has held meetings with over 40 families of young children with Down syndrome, and there is one more meeting planned. So the project will benefit even more families than the original goal. The feedback from each meeting has been overwhelmingly positive; families have enjoyed meeting adults with Down syndrome and other families, and have gained lots of information from early development practitioners.
The production of the information kits for new parents is almost complete and these will be distributed to local hospitals and medical centres soon.
Thank you again for your generous donation, which is making a huge positive difference to the lives of young children with Down syndrome and their families in Peru. We will continue to update you on the progress of the project and also its longer term impact, which will be assessed by SPSD with our support.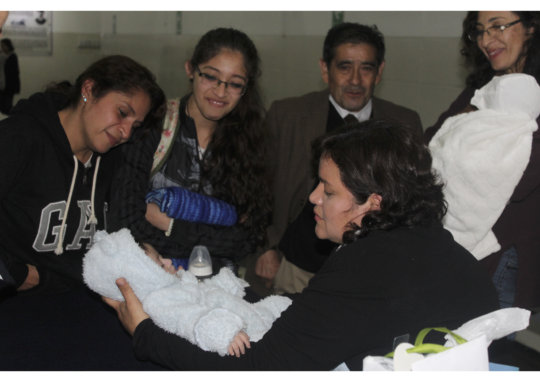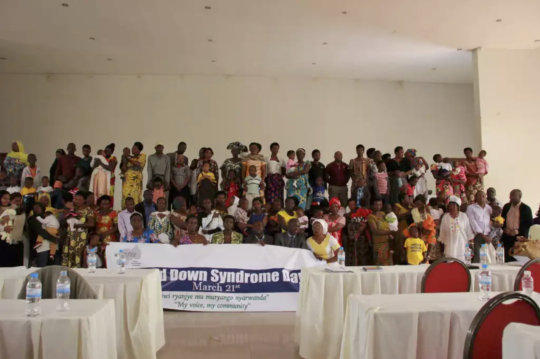 Thank you to those of you who celebrated the 12th annual World Down Syndrome Day with us on the 21st of March. Many of our partner organisations across Africa held events and organised activities to raise awareness and advocate for the rights of people with Down Syndrome. Highlights included a picnic and awareness walk in South Africa and a concert featuring musicians with Down syndrome in Nigeria.
The Rwanda Down Syndrome Organisation (RDSO) continues to make excellent progress and held a very successful event for World Down Syndrome Day. The event featured in news coverage on national television and was attended by government officials, NGOs and over 100 parents and their children with Down syndrome. Holding this event was a fantastic achievement for an organisation that has only recently started, and the number of people attending demonstrates how well RDSO have been reaching out people with Down syndrome, their families and the wider community.
Our partners at the Down's Syndrome Foundation of Zambia (DSFZ) have been developing a project on inclusive education for children with Down syndrome. We have provided support and advice on writing a project proposal to enable them to apply for funding. As well as increasing their chances of the funds they need for this project, this will enhance their skills at planning projects and writing successful project proposals, building their organisational resilience in the long term.
We have also advised the Uganda Down's Syndrome Association (UDSA) on their strategy for engaging with government ministries and civil society organisations. This included assessing levels of understanding of Down syndrome and identifying policy areas to influence. Our support will help UDSA to approach NGOs and government officials with the confidence and strategies needed to be able to build strong relationships that benefit their organisation and the people with Down syndrome that they represent.
We would like to thank our supporters for their generous donations that have enabled us to provide support to our partner organisations in Africa, and help them to reach out to people with Down syndrome and campaign for change in their countries. Any further donations will continue to drive our work forward and ensure that people with Down syndrome across Africa have their rights protected and are able to access opportunities to participate in society.
WARNING: Javascript is currently disabled or is not available in your browser. GlobalGiving makes extensive use of Javascript and will not function properly with Javascript disabled.
Please enable Javascript
and refresh this page.