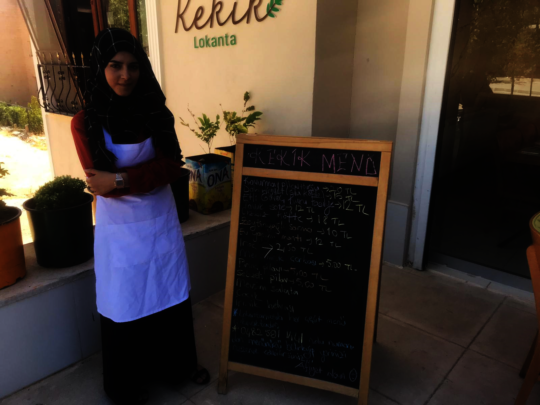 Selam is now 20, she was 14 when her family had to leave Syria and find refuge in Turkey. She is also the youngest member of KEKIK, STL's Women's cooperative that operates in Southeast Turkey -Mardin's Yesilli district. She is a skilled cooked and an ambitious worker. I, as a member of STL's communication team, recently had the privilance of having a conversation with her. I will try to give you a sense of who she is, as she is someone whose life you impacted with your donation.
Selam describes the times before the war;
"My family was well off frankly. I was a 6th grader, had good grades. Then the war broke out, we found ourselves cought in the middle of it all. It happens so fast. They took our houses, cars; our land, everything… We had to leave. Telling you all this, you taking these notes, it only takes a few minutes and there is no way I can communicate how it all felt, how difficult it all was."
"Now we've been living in Turkey for 6 years. Of course, upon arrival, our first priority was to find shelther, and then a means of livelihood. Me and my siblings all began looking. That's when I heard there were going to be gastronomy courses in Kabala district. I was thrilled."
Being determined as she is, Selam learned Turkish began taking her Gastronomy classes. She made friends too. She learned the Turkish cousine and she thought her friends the Syrian one. The cash-for-education mechanism used was instrumental in mitigating her family's financial precarity, while she was gaining new skills.
"Support to Life had a very helpful role in my life. They helped me obtain a vocation; they provided financial and moral support, enabled me to socialize. They helped us begin new lives in Turkey.
In our women's cooperative KEKIK, Turkish and Syrian women are working and producing together side by side, earning a living and building a cohesive, multi-cultural society from bottom up while doing so.