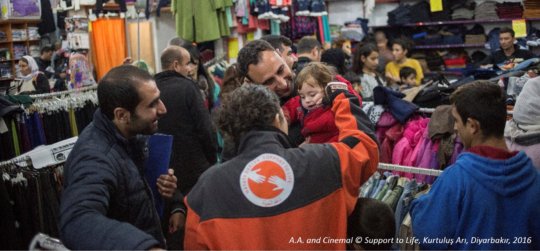 Refugees, affected by the crisis, were forced to leave their homes, land, friends behind and were only able gather their belongings hurriedly in a small bag. This campaign started to prepare the refugees from Iraq and Syria to get the winter clothes they left at a place once called home. Winter clothing shopping started with the Yazidis and Syrians located in Diyarbakr in the beginning of February 2016.
A. A. came to buy winter clothings with his baby girl Cinemal. He fled with his family to Diyarbakr, Turkey from Kandil, Iraq. H due the rising conflicts. 7-months-old Cinemal has a cognitive disability due to the high level of protin in her blood. This young father with his sparkling smile is only worried saftey of his family of six.
N. A. H. who fled from Aleppo wanted to get a discounted jacket from the store, unfortunately he could not find the right size. However, assisting him at the store was a great relief on our end. Witnessing someone enjoying the freedom of choosing what they want to wear is what we advocate for and strive to facilitate.
Syrian refugees staying outside the camps reserved by the state, usually live in weak housings again with minimal equipment. Living on their own hardens their access for aid since they are mobile and they usually reside in the most economical shelters scattered in the big cities. Unfortunately, an economical housing is not equivalent to a habitable space.
Currently in Diyarbakr Yazidi Camp, the tents are only built on wooden pallets. Refugees use their blankets as a second layer to isolate the tent from the cold. The family sizes differ; however, overall there are up to 4 to 6 refugees living in a single 215 square foot tent.
Refugees are not allowed to work and only have the very basic rights of access to governmental services in Turkey. Given this situation, every bit of money they earn, save or have is used for vital needs. In most cases a warm jacket can only be seen as a luxury item.
Thank you for supporting lives with your generous donations. In a county holding 2.6 million of the overall registered 4.7 million Syrian refugees in the world, there are still many who are in need of help.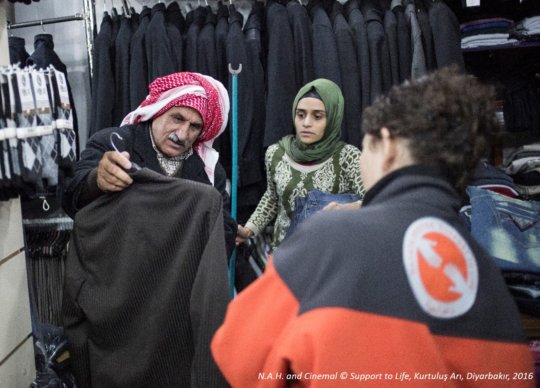 Links: