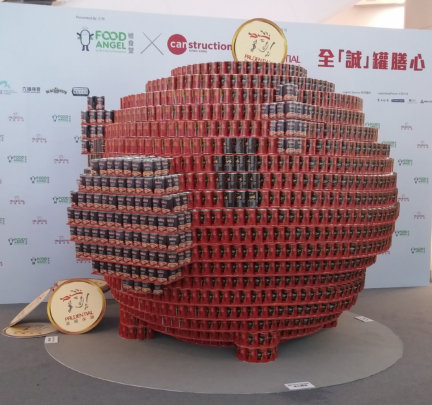 Canstruction® Hong Kong is a talk of the town charity event organized by Food Angel and supported by Prudential Hong Kong Limited this year. Combining creativity, team spirit and philanthropic mind, the event aims to raise not only canned food but also a wider public awareness of people in need across Hong Kong.
More than 300 professionals, architects, designers and volunteers gathered at Hysan Place and Lee Theatre on 25 June 2016 to build 6 cansculptures with the theme of "Childhood Memories" by using nutritious cans of food. The cansculptures exhibition was held from 25 June to 5 July to raise public awareness of hunger issues in Hong Kong.
At the close of the exhibition, all canned foods used to build the structures are donated to Food Angel, and ultimately redistributed to the underprivileged communities across Hong Kong free of charge.
About Canstruction:
Canstruction is a unique charity which hosts competitions, exhibitions and events showcasing colossal structures made entirely out of full cans of food. After the structures are built, the cansculptures go on display to the public as a giant art exhibition. At the end of the event, all food is donated to local hunger relief organizations.
Canstruction has helped raise over 25 million pounds of food since 1992. Canstruction events are held annually in over 150 cities around the world including North America, Australia, South America, Europe and Asia.
In 2012, Hong Kong became the 207th city around to world to host a Canstruction Competition. It is the very first Asian city to host this unique charity event or any competition of this kind.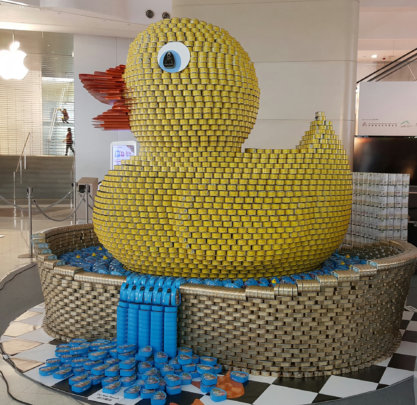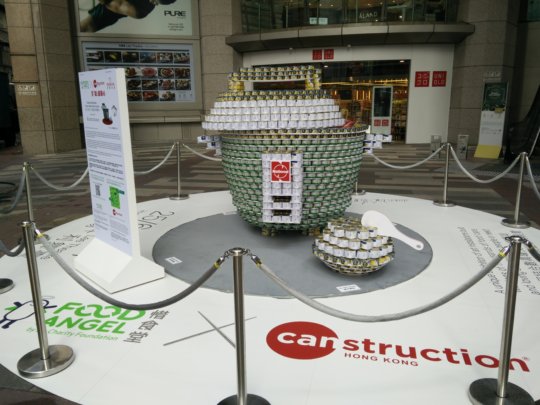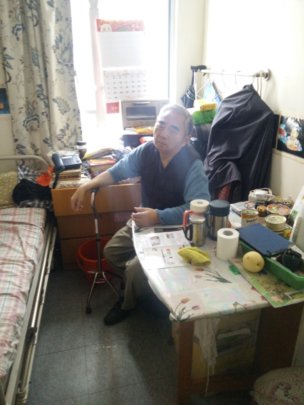 Story of Uncle Chui
When we entered Uncle Chui's home, he was sitting on the bed and trying to put on his socks. Even though Uncle Chui had tools to assist him, he still found it very difficult to put on his socks because of his age and vision loss. He spent almost ten minutes to put on his socks and shoes with the assistance of Food Angel's social worker.
In the past, although Uncle Chui could not take care of himself, his wife could help prepare three meals for him. Almost a year ago, his neighbor introduced them Food Angel's Food Rescue and Assistance Program. Since then, the couple's living standard has improved a lot.
Unfortunately, Mrs Chui went to hospital due to illness few months ago. The doctor advised Mrs Chui to stay in a nursing home after she has recovered from her illness. Since then, Uncle Chui left alone at home, feeling despaired as he was long separated from his wife.
Uncle Chui said reluctantly, "If I could afford it, I would rather cook by myself. But now I could not event walk properly, how could I manage to buy food and cook?" Uncle Chui is very grateful to be one of the recipients of Food Angel's Food Assistance Program. He would also like to express his special thankfulness to the Outreach Angel Team's support and care during his difficult time.
Since January 2014, our Outreach Angel Team has delivered hot meals to Mr Chui's home on a daily basis and help him to solve other basic needs. As of March 2015, Outreach Angel serves 112 households in need on a daily basis.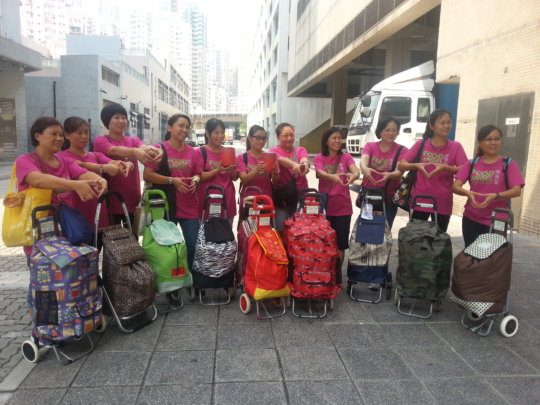 WARNING: Javascript is currently disabled or is not available in your browser. GlobalGiving makes extensive use of Javascript and will not function properly with Javascript disabled.
Please enable Javascript
and refresh this page.