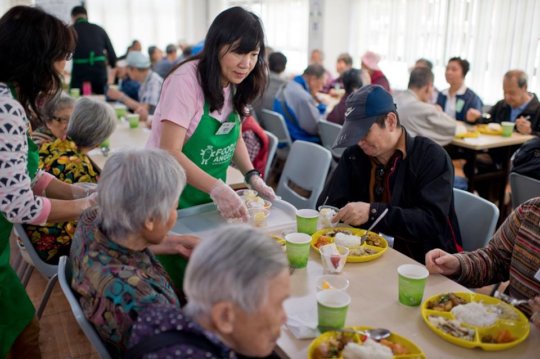 What's that lovely smell coming from the Food Angel Community Centre? It is the wonderful smell of a home-cooked meal!
A cozy crowd of over a hundred elderly and volunteers gather at the Food Angel Community Centre for early lunch and dinner every day. The elderly are regular members and they sign up for meals each week. The Centre is blessed to have some dedicated volunteers who visit regularly as well. They have all formed special bonds as they greet and meet each other daily, and they all enjoy jolly chit chats before and after the meal services.
Freshly-cooked food is brought to the Community Centre from the Food Angel Kowloon Kitchen directly for the elderly to enjoy a hassle-free dine-in meal. Volunteers portion food carefully according to individual's preference and dietary requirements, such as less rice, less meat, or low-protein without fish or mushrooms. The dishes are then delivered swiftly to the dining table to ensure each and every one of them are well taken care of. A huge thank you to our dedicated volunteers, for filling not only the elderly's tummies with food, but also their hearts with love!
In addition to making a donation to Food Angel to support our hot meal production, you may consider volunteering with us at our Community Centre, kitchens and Food Station. For more details, please visit our webpage: http://bit.ly/FoodAngelVolunteer.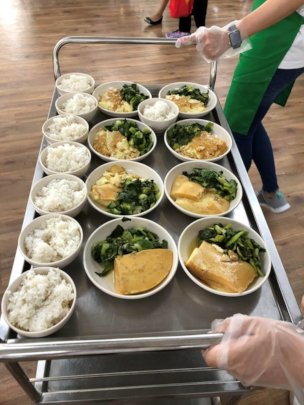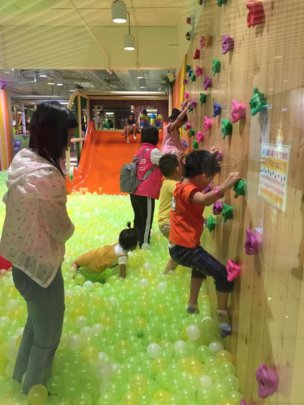 Food Angel held a Family Day, along with a birthday party, for our beneficiaries in July. They families enjoyed a splendid time at an indoor playground with their friends and parents. Sliding, climibing, jumping, and laughing, everyone had a joyful Saturday afternoon.
The children and their parents were then treated to a hearty lunch at a restaurant, where birthday girls and boys were surprised with two huge and lovely birthday cakes. The birthday stars were also thrilled to receive a present each, which were chosen one by one by our social workers. Even though the presents were nothing fancy, the children were really happy as they felt the warmth brought with it.
Food Angel organizes birthday parties for our families and elderly from time to time, and your donation would support Food Angel in continue bringing joy and warmth to our beneficiaries.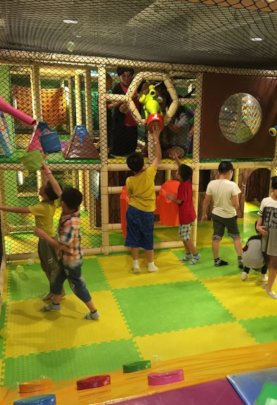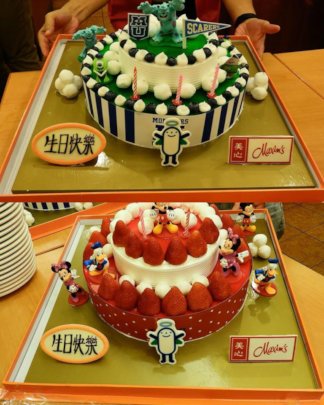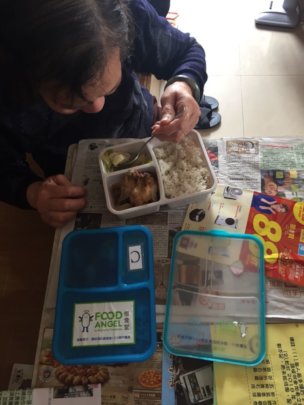 Our Outreach Angels pay home visits and deliver hot meal boxes to elderlies who are unable to leave home, but they do more than just that. They don't wear trench coats but Food Angel's signature pink tee, yet they have the ability to solve mysteries like Sherlock Holmes. The mysterious case this time is Grandma Ng's missing set of dentures.
Grandma Ng is 82 years old and lives alone, and she speaks a special Chinese dialect- Hokkien. She woke up one morning and realized she had lost her pair of false teeth! Because of this unfortunate event, Grandma Ng had trouble eating and sleeping as she was worried sick, and the delivered meal box on the previous day remained untouched. Our Outreach Angel Ah C, who speaks Hokkien too, decided to take up the challenge and solve the mystery.
After a series of detective work at Grandma Ng's flat, Ah C eventually discovered the pair of naughty teeth hiding deep in the trench between the bed and the wall! Hooray! Grandma Ng then grinned widely with her pair of prodigal teeth, and finished the entire delivered meal box with great appetite. Phew, what a relief!
Your generous donation would assist Food Angel in sending more helping hands to elderlies like Grandma Ng.
WARNING: Javascript is currently disabled or is not available in your browser. GlobalGiving makes extensive use of Javascript and will not function properly with Javascript disabled.
Please enable Javascript
and refresh this page.