During the outbreak of COVID-19 from February to May 2020, Food Angel had to suspend the hot meal services and community centre services as the venues have to be temporarily closed to reduce the risk of infection among service users, staff and volunteers. We were very concerned with the livelihoods of our members from deprived families as many faced unemployment and shortened work hours, as well as our elderly who were unable to source infection control items like masks and hand sanitizers. To cope with the situation, we tried to change our mode of production and service.
At the beginning, we served a weekly food pack with purchased food items such as rice packs, canned food and vegetables using donations and funds, and asked our members to collect the packs once a week instead of daily, as to minimize the needed journey to travel to our centre to reduce exposure and number of gatherings. We tried to maintain our outreach service to deliver the food packs to the elderly who are most fragile. With the kind donation from different companies and the general public, we were able to include masks and sanitizing items in our packs, which were precious gifts to our members. Together with our charity partners, we hoped to sustain our meal services as much as we could.
From March onward, we resumed cook-chill meal production at our Harvest Mill, so we could produce cook-chill dishes to add some variety to the weekly food packs.We were also grateful that with larger sponsorships, we could deliver meal coupons from convenience stores and fast food chains, soup coupons and supermarket coupons, so the service users could purchase necessary items.
Recently starting from June, both our hot and cook-chill meal production have resumed as the number of local cases remain low in Hong Kong. We hope everybody can stay safe and healthy. Together we can fight the virus! Thank you very much for your kind support.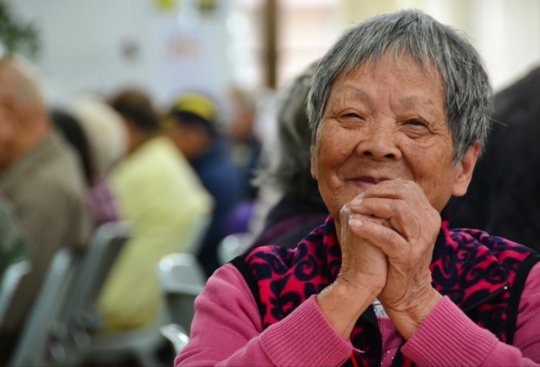 Four years ago, an elder Yuet Sim who was reaching age 80, resided alone in the makeshift 'rooftop flat' on the ninth floor at an old Chinese tenement building with inadequate facilities in one of the poorest districts in Hong Kong. The flat was without a kitchen, toilet nor a proper bed frame. As the structure was built with simple metal sheets, it got stuffy during sunny days, and water is leaked on cooler rainy days. Every day, Yuet Sim collected cardboard boxes from the streets to make a living, and life was harsh. With a small social circle, Yuet Sim saw Food Angel Community Center as her second home, as a place she can chat and hang around with the other fellow diners, volunteers and staff.
Four years onward, Yuet Sim has gained a bit of "happy weight", as she has finally been allocated a flat at a public housing estate, so she is spared from taking nine flights of stairs to reach home. She is also eligible to obtain government subsidy, thus she no longer has to collect cardboard boxes to earn a living. Although things have changed for the better, you can still find Yuet Sim at our community centre daily, making pleasant conversations with her friends there. She still sees the Food Angel community centre as her second home.
While some may say Yuet Sim's life is still rather bland, she is grateful and content for her current living, as she knows not to take love and care for granted. Yuet Sim, we hope you know that our hearts are also full with joy and contentment to see your satisfied and worry-free smile every day.
There are over 1.4 million in Hong Kong living in poverty, and among them 30% are elderly. Please donate and support Food Angel's food rescue and food assistance programme, and help many other singletone elderly like Yuet Sim.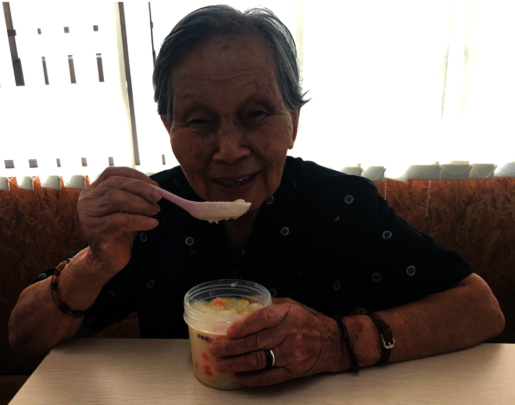 The Cook-chill soups have been very popular since Food Angel launched the 'Cook-chill Food Care Programme', as they are MSG-free yet rich-flavored with essence from various ingredients. To provide a larger variety of food products, cook-chill congee was launched in October this year. After the congee is chilled, the nutrients, flavors and quality are well preserved. They can be stored up to 4 days in the fridge, and our service-users can reheat the congee according to their desirable mealtime, which is more convenient and flexible for their consumption. The cook-chill congee is digestible and nutritious, and is especially consumable by elderly who wear dentures or have digestive problems.
Before the launch of the congee, we invited some elderly at our community centre to taste the new product to obtain feedback on the taste and texture to better understand our elderly's dietary needs and preference. Among them is 92 year-old Grandma Kam who lives alone. She has 90 years of experience on consuming congee. Her gums have receded due to old age, and it normally takes a few minutes for her to chew a tiny piece of meat, thus she prefers to eat congee. The product on trial this time is congee with corn, carrots and minced fish. Our expert consumed it quickly and was satisfied with the product. She gave us a huge grin and commented the congee to be 'Fresh, silky and tasty!'
The cook-chill congee will be offered in different flavors, such as mushroom with pork, pumpkin and sweet potato. New flavors will also be created with other suitable food types that we are able to rescue.
Support Food Angel's food rescue and food assistance programme, and spread warmth and love this winter to elderly like Grandma Kam with us!
WARNING: Javascript is currently disabled or is not available in your browser. GlobalGiving makes extensive use of Javascript and will not function properly with Javascript disabled.
Please enable Javascript
and refresh this page.