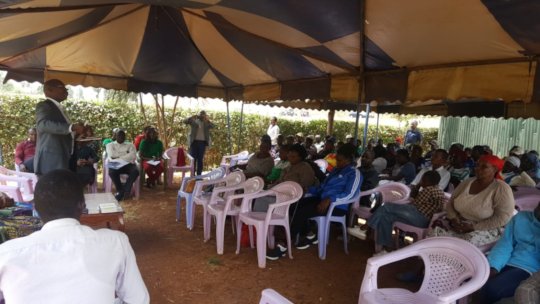 Looking back, the project has achieved tremendous milestones with a 95% success rate on the members mobilized. On 4th April 2019 we coordinated a graduation ceremony and the purpose was to mark the end of the project so as to begin the next phase of concretizing and actualizing the business concepts trained in real terms, through financial support and advanced skill support mechanisms not limited to practical on ground interactions.
Out of the 110 members trained, 105 members graduated and received certificates indicating successful completion of the training. Although the project was to mobilize 250 youth due to insufficient funds the project has actualized 110 youth.
The youth were trained on various skill and practices Including Poultry farming, Urban farming i.e. use of pyramid gardens, beadwork, mat making, soccer ball making, soap making(as shown on phot attached) all income generating activities. More to this drug and alcohol sensitization was also done
70 members have adopted to the urban farming skills using the pyramid gardens, and 12 holding a group activity of rearing chickens that stand to a total of 84 chicken so far and also a table banking activity with a revolving fund of approximately Ksh 30,000.
The main challenge experienced was lack of market for produce and so the advanced skill support would include value chain activities that include the solar drying of the vegetables and an incubator to hatch and sell the chicks.
HiH EA will still support the entrepreneurs post project through linkage on business development support services and follow up routinely the progress of the entrepreneurs.
We are grateful for the support accorded to us during implementing this noble course.We welcome further support to reach out to more youth