At Hand in Hand Eastern Africa(HiH EA) we are excited to be implementing this project.The past 2 months have been spent setting up structures for the project in terms of creating awareness on the project outcomes to the implementors on the ground .From mapping potential small holder farmers to work with to scouting for potential partners who will work with us in this project.The smallholder farmers have already gone through the HiH EA enterprise training module and will look upon this project to provide the expertise in technical terms to accelerate their poultry enterprises.The task ahead is forming the Community Based Organization(CBO) which will enable the small holder farmers to enjoy economies of scale and marketing opportunities.The CBO will be owned and run by the smallholder farmers and we envision after the project the small holder farmers will be profitably running businesses along the Poultry value chain and will harness the backward and forward linkages to earn more profit.In the months to come the project will take shape with bustling activities among the smallholder farmers ,implementing the training they will recieve from HiH EA.
We are still fundraising for the project and we encourage support from all quarters to enable the project to create Sutainable livelihoods for 220 farmers along the poultry value chain in Sotik town, Kenya
A HUGE thank you from everyone at Hand in Hand Eastern Africa for your generous contribution .Your support went towards supporting 250 youth who underwent training on rehabilitation from drugs and alcohol coupled with enterprenurship training.It is through the generosity of individuals like you, that we can carry out our work. Thank you!There are thousands of inspiring causes to support in the world, so we're grateful you chose to support our work. Thank you for being a part of our team of supporters that have made this project a reality.
Now that you are part of our team, we request you consider supporting our new project which aims at supporting 220 farmers in Sotik(Kenya) along the poultry value chain. https://www.globalgiving.org/projects/empower-220-farmers-in-kenya-to-sustainability .I hope you enjoy learning about our work and continue to stay engaged with our team.Please consider telling your friends and family about our project—you can share on social media, or just bring us up in conversation. Sharing with your community why you chose to support our organization will help us increase our impact.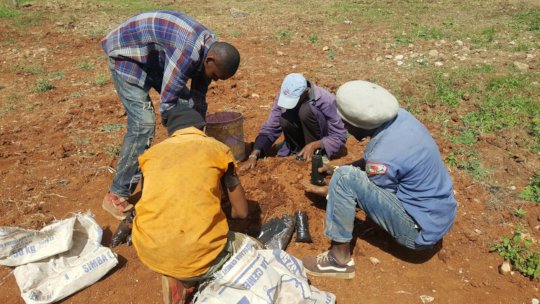 Case Study
Group name: Kaa sober youth group
Project name: Training of 250 Rehabilitated Youths in Kiambu
History
Kaa Sober is a Swahili word for stay sober. Kaa sober group composed of 10 youth from Kongo slums in Kiambu County who have undergone Hand in Hand Eastern Africa (HiH EA) entrepreneurship training .The group was formed by youth rehabilitated from alcohol addiction .HiH EA has offered both entrepreneurship support and motivation for the youth to stay sober thus the name of the group .Members of the Kaa sober group were all unemployed and depended on casual labour which pays an average of Ksh 50 /$0.50 a day. The income could not sustain their daily needs and was identified as one of the reasons causing alcoholism as a way to deal with stress.
Business Training
The entry by HiH EA was an opportunity for them to grow .During enterprise training they got inspired by the success stories and the practical nature of the training .They got a business idea and under the mentorship of their Business Trainer they embarked on the poultry business. They began by saving Ksh 50/$0.50 per month. Progressively they were able to save enough to buy each member 10 chicks. With early planning and business acumen they charted a marketing path for their business identifying possible challenges and solutions. Alongside this they were also able to start a business where they sell tree seedlings.
Training Outcomes
The group has since maintained their business and they now operate with no major challenges since all members take up their roles seriously. They sell atleast 20-30 chickens a week and the average price of one chicken is ksh 500-700 averagely earning Ksh 10,000/$ 1000 to Ksh 15,000/Ksh 1500 a week. Owing to their performance and mentorship to other youth, the area Member of County Assembly (MCA) donated 1000 chicks to their poultry project. The group members are now able to attend to their basic needs and are agents of change in their community. Rehabilitation is a journey which has been made easier through having activities that occupy their time and generate income. They plan to grow and expand their poultry business to earn more income, and employ youth struggling with alcohol addiction.
WARNING: Javascript is currently disabled or is not available in your browser. GlobalGiving makes extensive use of Javascript and will not function properly with Javascript disabled.
Please enable Javascript
and refresh this page.