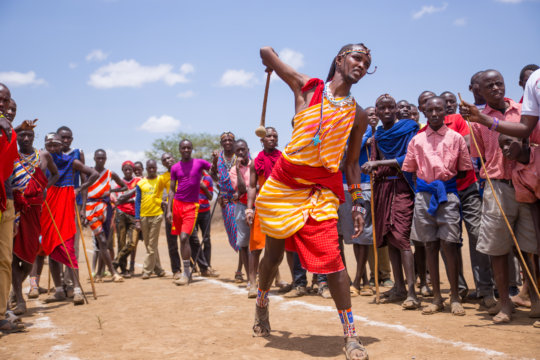 Big Life's core mission is to work on the ground in East Africa with local communities to protect wildlife and wild lands for everyone's benefit. Our area of operation in Southern Kenya is an area where humans and wildlife coexist and interact regularly. In fact, the area hosts part of the largest remaining free-ranging contiguous lion population in all of Africa, and is home to over 40% of Kenya's remaining lions. It is also home to well over 100,000 people. Those owning livestock face one of the highest rates of predator-livestock conflict reported anywhere else in Africa.
Consequently, the Amboseli Maasai have a long history of lion killing, and traditionally recognize two types of lion hunting: Olamayio and Olkiyioi. The first is a warrior's manhood ritual, which brings prestige to the warrior who spears the lion. Olkiyioi killings on the other hand are carried out by anyone in the community in response to a lion attack on livestock, particularly cattle.
Big Life manages a predator compensation fund, which compensates herders when their livestock is killed by predators like lions. This compensation fund is the overarching element of our predator protection programs, and has caused a dramatic reduction in lion killing over the years. As a result, the lion population in our area of operation has increased from less than ten to over 200.
Economic compensation is one thing. But changing culture requires another approach entirely. Which is why the Maasai Olympics were born: to provide an alternative set of activities to traditional lion hunting within a culture where warrior lion hunting has existed for as long as the Maasai have lived in East Africa.
With your support, it's working. The sports activities featured in the Maasai Olympics replicate the skills warriors previously used for lion hunts and include: 200 meter, 800 meter, and 5,000 meter races, javelin/spear throwing, rungu throwing, and high jumping. Educational meetings in the year leading up to the Olympics include a showing of the film "There Will Always Be Lions?" produced in the Maa language and reinforces the message that lion killing is no longer culturally acceptable and must stop. It also reiterates that failure to end lion killing hurts economic opportunities and is unsustainable for the future of the Maasai people.
The next Maasai Olympics won't take place until December of 2018, but your support now is critical to continuing local education programs about these conservation issues. Maintaining momentum and building on the success will help to expand the program to include more communities and protect more lions in Kenya in the coming years.
Thank you.