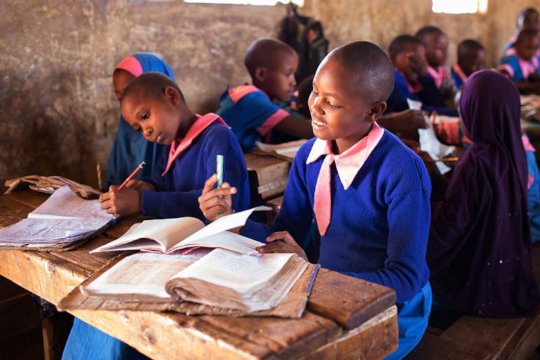 The greatest strength of Big Life's education and scholarship program is that Maasai community members in the Greater Amboseli ecosystem are given an increased chance of having full, productive, and healthy lives through access to education. Unfortunately, education continues to be one of the three most critical needs in the rural Maasai regions in Kenya, with the Maasai communities in Big Life's area of operation being amongst the most marginalized and vulnerable in the country. Big Life has witnessed families bankrupting themselves, time and time again, attempting to send their children to school.
Opportunities in the region are limited, and for boys, and without schooling, the only option at best is herding livestock. Girls typically face a bleaker future, with forced marriage being the likely alternative if funds are not available to cover school fees, books, and uniform costs. The number of additional documented positive impacts of education for girls and women are plentiful including: reduction of child and maternal mortality, improved nutrition and health, lower birth rates, and improved economic and social status.
In response, in addition to being one of the largest employers in the region through Big Life's community wildlife ranger program, Big Life invests in local Maasai communities by funding teachers' salaries and providing scholarship funding for local students.
One shining example of the truly life-changing impact of Big Life's Education & Scholarship program is a girl named Sarah. Sarah had just entered secondary school, when her father's circumstances changed, and he was no longer able to pay her school feels. After struggling to pay, he gave up and initiated plans to marry Sarah against her will. Sarah was devastated and her future looked dire. But before it was too late, through the support of Big Life's education program, Sarah received a scholarship to complete another year of schooling, and thus preventing an early marriage. According to Big Life's staff in Kenya, "her outlook on life is now bright and she has been strengthened to face the future."
With your help, to-date in 2019, we've been able to pay for the salaries of 22 teachers, award long-term scholarships to 262 students (133 girls, 129 boys). In addition, Big Life's program has strengthened the local community's commitment to wildlife by providing a mutual benefit linked to conservation. Thus, indirectly, your support for our education program gives Big Life another tool to protect over 1.6 million acres of wildlife and habitat areas in the Greater Amboseli ecosystem in East Africa. We can't thank you enough for your support.