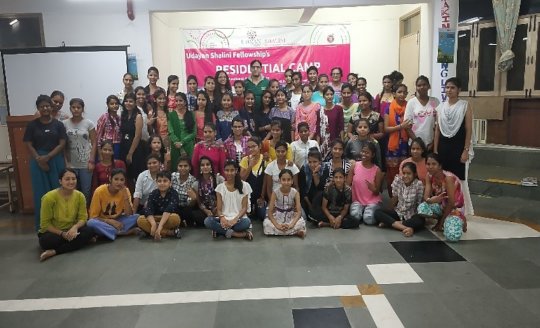 Udayan Shalini Fellowship programme of Udayan Care is a unique academic excellence and personality development programme for deserving and talented girls from weak socio-economic background aiming to turn them into empowered and dignified women or Shalinis. It is unique because it goes beyond being a usual scholarship programme by not only supporting higher education but also providing regular mentoring and leadership development and inculcating a sense of social responsibility to them.
Udayan Shalini Fellowship Programme was also able to introduce 'Employability and Placement section' for our Shalinis to help them get placements in various fields.
KEY HIGHLIGHTS
'Residential Camp' was organized for the shalinis of North Delhi Chapter to make them learn team spirit, leadership skills, boost up their confidence and make them learn about the positive mindset and other qualities through different interesting and engaging workshops.
We are grateful to Protsahan India Foundation to provide a great learning opportunity for our Shalinis to learn about Computer Technologies and its functions in collaboration of Intel and Nasscom Foundation.
Cyber thieves target children and teens more often in mediums where they are active such as online games, video streaming, chats, Facebook. They are more prone to fall, victim, because they may have high levels of trust in people and low levels of knowledge in cybersecurity. It is of great importance to organize these kinds of awareness sessions on Cyber Security for youth to make them well informed on the threats while surfing.
Mentorship Training with Mentor & Mentor Didi. The objective of the training Mentor Didis & Mentor is to make them aware of the mentorship agenda and about effective mentorship practices and at the same time get their feedback about mentoring highlighting the challenges and best practices.
Written Exam conducted for new batch 2019. In 2019-20, we have received 619 Application Forms across all the Delhi Government Schools.
JUNE
Session on 'Kathak' by Pratibha (Trained Classical Dancer)
The workshop on 'Kathak' was taken by Pratibha, a trained Kathak dancer. She explored the artistic side of each Shalini and inculcated them with a feeling of joy in them through this session. The session was designed for school going Shalinis and college-going Shalinis. So, Pratibha started the workshop by telling the Shalinis the basics of Kathak. She made the shalinis practice the foot basics of Kathak along with hand actions. Then she made them practice the chakkars in Kathak. Later the resource person showed them the Kathak on Saraswati Vandana where she actually performed the steps in front of the shalinis. Then step by step she demonstrated each step to make it easier for the shalinis to perform. In the end, she played the music section and made the shalinis perform and practice again and again. After practicing it right, Pratibha winded up the session with Bhoomi. The workshop was a learning and fun experience for all the Shalinis.
Residential Camp
The residential camp is an opportunity for the shalinis to learn, grow and participate. The camp gave every Shalini a chance to unfold the realm of their shyness through different team building activities which raised their confidence levels and increased their participation levels. The workshop on the core values of Udayan Care i.e. CIRCA values made them learn about Compassion, Inspire, Respect, Competence, and Accountability. Workshops on Self Defense made them learn the techniques to help themselves in any crisis situation and to protect themselves. The art and craft workshop drew out the artistic side of every Shalini. They made cards, bookmarks, earrings and paper bags and presented these as a token of love and gratitude to every resource person who visited them. Other workshops like positive mindset, career counselling, and English language workshop gave them a deeper insight of these terms and made them learn so much. The workshops were interactive and enjoyable. Through fun activities, an important message and lessons were taught to every Shalini followed by the sessions and workshops a cultural night was organized for the shalinis where they prepared different performances like a role-play, dance performances, singing performances, self-composed poem recitations, and group song performances. In the end, to celebrate the end of the camp of North Delhi chapter, a DJ was organized where they danced, enjoyed and created more memories to take back.
Intel & Nasscom Foundation- Free Computer Training for Shalinis
We are grateful to Protsahan India Foundation to provide a great learning opportunity for our Shalinis to learn about Computer Technologies and its functions in collaboration of Intel and Nasscom Foundation. Shalinis were called for the orientation program at Indira Gandhi Delhi Technical University for Women where other girls were also invited from different organizations. It was of four days selection process at the same venue and after each round, girls were getting shortlisted for further process. The selection was based on the active participation and good performance in conducted activities successfully. Our 6 Shalinis got through all the stages of selection process and selected for Free Computer Training organized by Intel & Nasscom Foundation. These girls are provided with the personalized mentoring to widen their knowledge about the computer technologies and help them to complete their assignments. Currently, Shalinis are completing their assignment and on 29th July they will go to Nasscom office for final testing and on 30th July the final showcase and completion will take place.
JULY
Employability Workshop on 'Assertiveness' by Garima (Sr. Manager-Training & Development)
The workshop was designed to make Shalinis understand about the significance of emotional & physical balance through assertiveness, realize the benefits of being assertive and discover ways to convey assertiveness by developing vocal quality. The session started by explaining the meaning of Assertiveness. The Workshop was very interactive, it was sprinkled with role plays and numerous activities. Shalinis enacted on the given situations and by these examples, they were explained difference between being aggressive, passive and assertive. Traits of assertive person were explained and benefits of being assertive were elaborated. After making them aware of qualities to be followed to display assertive behavior they were also enlightened on confident communication techniques. Shalinis enjoyed learning about the body language of an assertive person by enacting it and practicing the vocal quality too. Shalinis were clear of the fact that if they develop assertive behavior with time no will take them for granted and they will be able to avoid stress and create a healthy work environment.
Employability Workshop on Non-Verbal communication by Neha (Placement and Alumnae Coordinator) and Pooja (Program Coordinator)
The objective of the workshop was to make Shalinis understand the importance of creating right perception, identify traits that should be reflected, learn about nonverbal signals and apply knowledge to create a new persona. Quick tips on nonverbal communication were discussed with the main focus on appearing for interview for jobs. Shalinis were given many situations and they enacted to show how effective is nonverbal communication in inferring the person's message. It was communicated that body language, facial expression, tone & pitch of voice, gestures displayed and physical distance between the communicators were all included in Non- verbal communication. Shalinis were informed that good eye contact, a confident handshake, effective gestures, dressing, authoritative posture & presence, appropriate facial expression, appropriate voice tone, giving full attention are certain non-verbal cues which convey confidence at work. Through various activities, the concept of effective non-verbal communication was reinforced.
Quarterly Workshop on 'Cyber Security' by Rakshit (Cyber Security Expert, Consultant- Internet and Mobile Association of India)
To conduct the session on Cyber Security, Rakshit, Cyber Security Expert, Consultant- Internet and Mobile Association of India was invited by Udayan Care. He conducted an outstanding session for Udayan Shalini Fellowship Program of North Delhi Chapter. Tandon is an Ethical Hacker, certified by the EC Council, A Microsoft Certified Professional by Microsoft, Certified Computer Forensics Expert from Brain bench, USA.
The facilitator had a discussion on the following points;
Instagram and Facebook cases.
Privacy aspect of Google.
Two-way verification of Google.
Briefly, description of Voice over Internet Protocol call was given.
Describing Computer Misuse.
Revealing information about the Morphing Issues.
Shalinis were warned that as WhatsApp users they should be aware of cyber security vulnerability.
Hidden Camera Detector App information was furnished.
Shalinis were asked to visit site http://www.cybercelldelhi.in/ which has information on The Cyber Crime Cell of Delhi Police.
Shalinis were made aware of the App 'Google Find My Device.'
Towards the end, he gave details about his organization 'Hackershala' at NOIDA where cybersecurity trainings are furnished.
Employability Session on 'Awareness regarding Government Jobs' with Alumnae by Yasmeen (Volunteer, Udayan Care)
The session was held with recent Alumnae. It started with the CIRCA presentation where shalinis were told about the values Udayan Care expect them to inculcate in themselves as a Shalini by Neha (Alumnae and Placement Coordinator). It was followed by a presentation on "Awareness about Government Jobs" by Yasmeen (Volunteer, Udayan Care). The main aim was to aware shalinis regarding available Government job options. The facilitator shared information about various banking, teaching, administrative exams, state-level exams, etc. Yasmeen focused on the important dates around the exams like notification date, last date to submit the application form and no. of times exam is held in a year. She gave emphasis on eligibility criteria along with age limit, results and Admit Card. She transferred all the relevant information required to fill the form and explained the importance of Current Affairs in any competitive exam. She mentioned various websites to go through for the notification about Latest Government jobs and relevant books to prepare for the respective exams. Also, she told about some apps and channels for e-learning. It was a very interesting session as shalinis got a wider perspective on Government jobs and sources to avail more information in specific.
Mentor-Mentee Meet
Mentor mentee meet was held in this month of July'19. The purpose of the meet was to review Shalinis progress in improvement areas with their respective mentor didis. During the meeting, mentor didis provided the required support to follow the career path and ensure to give adequately advise to take necessary actions towards gaining employment skills. Through the 'Three Monthly Proforma,' mentor didis reviewed plan of the action for the quarter and worked to strengthen weak areas. Also, the emphasis was given to the social work component and ways were explored to give back to society. The mentor didis extracted learnings of the mentees through workshops and focused on their punctuality.
AUGUST
Employability Workshop on Work Place Readiness – Initiative & Enterprising by Jatin. TATA proengage (TATA Power)
The objective of the workshop is to develop thinking levels of Shalinis from functional to purposeful, develop prerogative for action and strengthen the organization by being a role model of the requirements. The session started with an introduction of the Facilitator. Thereafter CIRCA (Compassion, Inspire, Respect, Competence, and Accountability)values were reinforced. Meaning of Initiative was elaborated as going an extra mile, it is doing more than your normal work duties. It was said that taking initiative is all about tackling challenges, solving problems, helping others, inventing unique solutions to problems and thinking ahead, anticipating and preventing problems.
Group activity on the benefits of taking initiative and barriers of not taking initiative was taken up. In debrief several benefits were numerated like, it gives visibility at work, relationship becomes stronger, critical thinking skills & problem-solving skills are enhanced and personal happiness and job satisfaction are achieved. An activity citing function versus purpose was taken up. This was to reinforce the concept of taking initiative. First steps to take initiative were explained as set goals and actively participate, embrace the new opportunity, follow your values, ask an expert and make a plan. Before taking initiative for additional work, Shalinis were told to ensure they complete normal tasks and assess their risk tolerance. They were also asked not to make overpromise and under deliver as this will affect their credibility. They were advised to have a good attitude and feel comfortable to ask for help whenever they need it. Citing the comparison, they were told – be a sponge, absorb, learn and soak up knowledge.
Towards the end of the workshop ways to keep oneself enterprising were discussed. They were asked to set mini challenges for themselves, read motivational quotes, organize and decorate the work area, read about and learn new skills.
Employability Workshop on Communication 5 - Interview Skills by Anand, TATA proengage (TATA Power)
The objective of the workshop was to make Shalinis gain knowledge, enhance skill & abilities, build confidence and brighten the chances of Interview success.
The session started with introduction of the facilitator. In the beginning of the session, CIRCA (Compassion, Inspire, Respect, Competence and Accountability) values were reinforced by showing the slide and discussing the CIRCA moment. Shalinis were told that basic of interview is for them to pitch in their best and at the same time it is chance for them to determine if they would like to work for the organization. Shalinis were informed about different kind of Interviews.
Speaking about the preparation before the interview, first and foremost requirement is to update the CV. For building a strong CV, Shalinis were advised to do self-assessment. Know their career interest, career goals, special skills & competencies. Further, they were told to develop four to five stories that show evidence of most marketable & relevant skills/ competencies. Research & set salary range, know about anticipated questions and prepare. With regard to the job, Shalinis were asked to review, analyze, dissect the job description and see if it matches their set skills. Shalinis were also advised to gain knowledge about the company and the sector. In between the session, Facilitator conducted role plays. To reinforce the concept, he also made Shalinis witness mock interview where the interviewer and interviewee were from the participants. Facilitator being from the legal department of DISCOM TATA Power enlightened Shalinis about his profession and TATA culture. Shalinis too came up with numerous queries to which the facilitator attended with utmost patience.
By the end of the session, Shalinis became aware of different kind of interviews, commonly asked questions and interview procedure.
Mentorship Training
The objective of the training Mentor Didis & Mentor is to make them aware of the mentorship agenda of the Udayan Care, tell them about effective mentorship practices and at the same time get their feedback about mentoring highlighting the challenges and best practices.
The session started with introducing CIRCA values to the Mentors. After discussing their CIRCA moments, USF agenda of Mentorship was reinforced. Key goals of Mentorship were narrated as Academic Preparedness, Personality Development, and Career Orientation. Mentor Didi were specifically asked to stick to agenda and subsequently see improvement in their mentees, explained 'dos& don'ts' of mentoring, qualities and characteristics of successful mentors were discussed with examples. To reinforce the quality of active listening skills, role play and games were taken up. Towards the end, the session was summarized as, to focus on the thing in hand we need to use filters in our brain. Our changing cultures, values and beliefs shape our filters and influence how and what to notice and how we react. Filters help to focus on a particular task and ignore everything else. Mentors didis, therefore, were warned not to be judgmental, be empathetic and perceive things from other's point of view. This will help them to be a good mentor. Participants conveyed that the training was very effective and enjoyable. It highlighted so many issues through simple games and examples which otherwise would remained alien. They all ensured to follow the guidelines and give in their best to Mentoring sessions.
Written Exam of New Batch-2019
Written Exam is the initial stage of USFselection process. Screening of application form is based on the basic eligibility, criteria and the NAT (Need, Ambition and Talent) Calculator Marks. In 2019-20, we have received 619 Application Forms across all the Delhi Government Schools. To assess the 'Talent& Ambition',we set a question paper which contains objective and subjective questions based on General & Social Awareness, Logical Reasoning, English Grammar, short & Long Type of Questions. On the basis of written exam marks, girls will get shortlisted for Interview.
Success story
Yashika is a hardworking and confident girl inducted in the year 2017, scored 94% in her 12th board exams. She has 4 members in her family which include her father, her mother and her younger brother. She considers her mother to be the source of inspiration because despite having difficulties in life she always managed to give all the comforts to her children. Yashika faced a lot of difficulties in life from financial crisis to societal pressures of adjusting because of being a girl. She was always ignored irrespective of her talent of being exceptionally good in academics from society which actually make her feel to bring a change in the society which can only happen when she will have power as power possess the ability to draw conclusions of problems and especially such deep-rooted problems.
She considers former captain M.S. Dhoni as her role model as his struggles and hard work inspires her very much to reach the goal no matter how difficult the path is. Also, she did anchoring at Tyagaraj stadium. She was one of the merit students who were invited by Deputy Chief Minister Manish Sisodia at Delhi secretariat and was given some gifts. She also recites and writes very nice poetry. She even shared her voice in an advertisement for All India Radio.
She is a motivated girl who wants to help others as well by giving them a helping hand and enabling them to help others in need. She aspires to be an IAS Officer and she is well aware of the selection procedure to crack all levels.
She finds Udayan Shalini Fellowship not only a fellowship programme but it's an institution which can bring transformation in your personality and it has surely done a huge transformation in her personality and for it, she is thankful to USF.