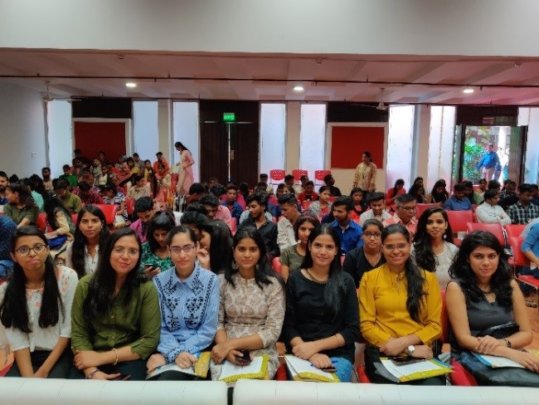 Background
Udayan Shalini Fellowship programme of Udayan Care is a unique academic excellence and personality development programme for deserving and talented girls from weak socio-economic background aiming to turn them into empowered and dignified women or Shalinis. It is unique because it goes beyond being a usual scholarship programme by not only supporting higher education but also providing regular mentoring and leadership development and inculcating a sense of social responsibility to them.
Summary
These last two quarters, from September to November 2019, proved to be extremely fruitful and enriching for our Shalinis. There was a great mix of Induction process, workshops, focusing on personality development and employability simultaneously to facilitate their overall growth. For instance, there were workshops on emotional intelligence, CV preparation, personality development etc. These workshops gave Shalinis some indispensable tools which they can deploy to become more efficient and self-aware individuals. The best part however, was to see the fellows implementing their learnings from these workshops. They are truly transforming into more socially responsible members of the society, committed to passing on the knowledge they acquire as a part of USF. In addition, North Delhi chapter welcomed 70 new shalinis in program.
Overall, it has been observed that there is a visible growth and development in the Shalinis; they are becoming more confident, self-assured and independent with each passing day.
Key Highlights
In order to assess the desire to excel in life, family support & involvement, social sensitivity and general awareness, Interview was conducted wherein each panelist has to ask questions by referring a set questionnaire provided by USF Team.
Microsoft CSR Team initiated a session with North Delhi Chapter Shalinis. The facilitator spoke about personal and professional attributes, etiquettes and nature of working environment.
The North Delhi Chapter of Udayan Shalini Fellowship conducted its orientation and induction ceremony for the 18th batch on 5th October 2019 at Mahavir Senior Model School.
Government has taken various steps to encourage skill development and entrepreneurship in India. The scheme has been initiated by Vishwa Yuvak Kendra. The approach was extended to Udayan Care and it greatly benefited our beneficiaries. The seminar was held on 18th October at Vishwa Yuvak Kendra and the topic covered was "Skill Development and Entrepreneurship".
SEPTEMBER
Interview of New Batch - 2019
In 2019-20, we have received 619 Application Forms across all the Delhi Government Schools. Screening of application form is based on the basic eligibility criteria and the NAT (Need, Ambition and Talent) Calculator Marks. Through the written exam, the talent and ambition are assessed and based on the set cut off, the shortlisted girls were called for Interview. In order to assess the desire to excel in life, family support and involvement, social sensitivity and general awareness each panelist ask these questions by referring the set questionnaire of USF.
Microsoft Session by Sridhar (Part of Enterprise Services Delivery at Microsoft)
Microsoft CSR Team initiated a session with North Delhi Chapter Shalinis. The team is basically from technical background in customer facing roles. Sridhar, took the session on Career and current scenario in working culture. It was started with an introductory round and the general discussion on Microsoft was happened. Facilitator mentioned three important things in his discussion to give a good start to the session; Knowing Yourself, Managing and Growing. By referring these points, he covered, likes & dislikes, motivators and de-motivators, cultural difference, background, values & beliefs, personality (introvert & extrovert), reaction & response of any individual at work place. He further explained about key highlights of managing yourself. A role play was also included to understand the challenges a team faces and via good strategies & communication, these challenges modifies into a positive work culture and team work. Overall, the session was interactive and relevant for the Shalinis to become a better individual and leads towards success.
OCTOBER
Induction Ceremony 2019 for the 18th batch
The North Delhi Chapter of Udayan Shalini Fellowship conducted its orientation and induction ceremony for the 18th batch on 5th October 2019 at Mahavir Senior Model School. It was a moment of great joy and pride for our organization as we welcomed the new batch into the Udayan Care family and started off their journey as Shalinis. We were pleased to have Manu, Dentist at Modi Dental and Prosthodontic Clinic as our Chief guest, and Kailash, a prominent social activist, as our Guest of Honor. Additionally, we were also lucky to have Kiran (Managing Trustee of Udayan Care), S.L (Convener), Aneesha, Faheem, Prashant, Ashish, Atul, Mona, Ruchika, Aparna and many more people to further support and motivate our program and the Shalinis.
Quarterly Workshop on Emotional Intelligence for all batches by Ashish (Core-committee member)
Quarterly workshop was held for all the batches of North Delhi chapter on 13th October 2019 at Mahavir Senior Model School. This session was more special for the Shalinis of Batch- 18th it was their first workshop at USF. There was above 220 strength gathered to attend QW. In total, three sessions were conducted.
First, the workshop was held on 'Emotional Intelligence' by Ashish. He highlighted the importance of being aware of not only the differences between IQ and EQ, but also how necessary it is for us to work on enhancing both of them. Thereafter, Ela and Ruchika (Volunteers) have distributed reusable sanitary pads along with the complete kit to all the Shalinis at free of cost. They also demonstrated how to safely use the sanitary pads, and the things included in the kit. The kits are made under 'The MoonCatcher Project.' Finally, YWCA (Young Women Christian Association) organized a session discussing all the courses open to the Shalinis, which they can choose to pursue after their school.
Seminar on "Skill Development and Entrepreneurship"
Government has taken various steps to encourage skill development and entrepreneurship in India. There are lot of schemes supporting aspiring entrepreneurs. The attempt to create bridge that lies between the beneficiaries and the scheme has been initiated by Vishwa Yuvak Kendra. The approach was extended to Udayan Care and it greatly benefited our beneficiaries.
The seminar was held on 18th October at Vishwa Yuvak Kendra and the topic covered was "Skill Development and Entrepreneurship". Shalinis found the session really interesting as it focused on enriching the youth with an extensive awareness about various facets of building an enterprise through various interactive sessions on idea generation and evaluation, scenario analysis and other business activities. Shalinis came across the ways to utilize their skills and enhance them in a way it transforms into market driven skill. They felt the inner strength to generate different employment opportunities through their caliber. Various official dignitaries were invited to the program. The guest speakers were G.K, Sanjay, and S.S who spoke about statistics of employment status in India, about the Ministry of Skill Development and various schemes associated with it.
Session 1: The session was covered by three speakers Satwinder, Chief General Manager (Technology Overseas Project), H.P, Senior faculty at NIESBUD and Shefali, Member at Ministry of Skill Development. Shalinis got exposure to various portals, incubation centers, training modules, training institutes and various relatable functionaries which paves path to become an entrepreneur.
Session 2: The segment truly inspired our shalinis as Nidhi and Dinesh, Members at National Skill Development Corporation explained the training undertaken by NSDC and also shared different success stories to give holistic overview of success of their initiative. Shalinis found the session very informative and was overwhelmed to see their success rate. Shalinis also got an idea of their functioning through their Youtube channel; Josh Talks. Dinesh spoke about National Deposit Loan and various partners associated with them.
Session 3: Last segment was devoted to success stories where two girls spoke about their journey of becoming entrepreneur through the government schemes and how it has transformed their lives. Shalinis were amazed to hear their stories and got inspired to set up their own venture through some need based creative ideas. The confidence and energy in Shrishti and Ramsa was clearly visible which did transfer to the shalinis.
"The joy of transforming an idea into a successful enterprise is unbeatable but it takes courage, conviction, creativity, and confidence to realize this dream of being a "Successful Entrepreneur". It was a useful workshop for me, I learnt to generate and assess scalable business ideas, develop a business model and competitive strategies. – Dimpika, USF Alumnae.
NOVEMBER
Employability Workshop on CV Preparation for 14th batch (3rd year) by Neha (Placement Coordinator)
The workshop threw light on the meaning of CV and the impact it can have on our careers. The facilitator, Neha, explained how CV increases the chances of getting face to face interviews, and why it should be made specific to the jobs we are applying to. Facilitator then discussed the guidelines one should follow while preparing CV. The Shalinis were given a sample CV, where one side was kept empty and one side was filled to serve as an example. All the headings included in it were discussed in detail, followed by some important do's and don'ts.
The facilitator also gave Shalinis the task to make their CV's after collecting email id's from them and asked them to send it to the facilitator's email id for review and correction if needed.
Employability Workshop on Goal setting for the 18th batch (11th class) by Bhaskar (Vice president at Contract Advertising)
The workshop on Planning Vision Creation & Goal setting was organized at Model Town at Delhi. It was attended by batch 18. The objective of the workshop was to make Shalinis understand the need to plan, steps of planning & use planning for life events. Further it was to guide them to set goals in the smart format create a plan to achieve the goals. Before beginning with the session trainer asked all the Shalinis, how did they begin their day. Did they plan yesterday to sleep on time and wake up early. Did they keep their things organized so that there is no hurry in the morning? He got mix response. Taking the session further he explained with examples that adherence to time and a plan can do amazing things. You feel confidant and in control of things whereas if things are not planned then one feels upset, angry and thing keep getting delayed. Shalinis were given example of very successful people in their field whether it be sports or cinema. The reason behind their success was quoted to follow a strict regime daily.
The Concept of smart goal was taken up. To make the goal S.M.A.R.T., it needs to conform to the criteria of Specific, Measurable, Attainable, Relevant and Timely. It was said that SMART goal setting creates verifiable trajectories towards a certain objective, with clear milestones and an estimation of the goal's attainability. Thereafter number of role plays were taken up to reinforce the concept of SMART goal setting.
Soon after 6 steps of planning What, Why, When, Who, How and Celebrate were elaborated. An activity was taken up where Shalinis were to think of small term achievable goal and make a plan for it. Shalinis were divided into pairs and each devised the plan and discussed with each other.
By end of the session it was clear to Shalinis that setting goals and reflecting upon them will make their priorities align. Shalinis became aware that goals are good for motivation andGoal setting is associated with achieving the optimal conditions for flow state and can aid to success.
Employability Workshop on Emotional Intelligence by for Batch-17th (12th class) by Garima (Sr. Manager-Training & Development)
The workshop on 'Emotional Intelligence' was organized at Model Town at Delhi. It was attended by batch 17. The goal of the workshop was to recognize the existence of emotions in each interaction, understand emotional strengths and shortcomings use the core values to rewrite the emotion blueprint and communicate to convey a sense of balance. The workshop started by asking Shalinis how their mood is on that day. Were they happy to wake up early on Sunday or were little upset to wake up early? Most of the Shalinis responded they were very happy and excited to come as they would get to meet their friends. Negative emotions and Positive emotions were numerated while differentiating and evaluating emotions, it was mentioned that neither all bad emotions are bad for them nor all good emotions from bad deeds are good for them. This was further elaborated with examples. Emotional awareness was illustrated as knowing about feeling while Emotional Intelligence was explained to manage the emotions or behaving appropriately to the environment. Soon After REBT (Rational Emotive Behavior Theory) was dealt in detail. In explanation it was narrated, first to know largely ones thinking about events that leads to emotional and behavioral upset then Identify self-defeating thoughts, challenge these feelings and finally replace them with productive beliefs. Many situations were given to Shalinis where they were asked to respond. First time reflex and second after evaluating the emotions. Each and every Shalini narrated a recent incident where there was emotional outburst and they realized after the session that they could have handled the situation in better manner.
By end of the session Shalinis realized that to become aware of ones' emotions and have capacity to control, and express these emotions will make them capable to handle interpersonal relationships judiciously and empathetically.
Success story
Chanchal belongs to a middle class family which includes her two older siblings and one younger. Her father got separated while she was in class 11th and her mother had to take the complete responsibility on her shoulder. At a very young age Chanchal faced lot of problems where her brother met with an accident and suffered a brain injury due to which she was compelled to start earning in order to meet her family needs and to pursue her higher education.
Despite these challenges she never gave up and joined Udayan Shalini Fellowship Programme in 2013. USF programme provided the financial support to pursue her higher education and taught her how to tackle the challenges she was facing in her family. Chanchal, believes that USF has completely shaped her way of life, and gave her the courage to chase her dreams.
Due to USF Program and her family's unwavering support she not only graduated from Delhi University, but also passed CA Intermediate Exam and preparing for next stage. She is also preparing for SSC competitive exam. Chanchal shows gratitude towards the program through various ways where she has opened a 'Coaching Centre' to give back the program and society in a partnership with a local person. USF has a component of giving back to the society so she thought to connect this with Shalinis where they can provide tuition classes at minimal cost.
When asked about her goal for life, she says "I want to become a respected government officer (AAO). And after that I want to open an additional educational institution, only for the less fortunate children. I also want to sponsor a USF Shalini."