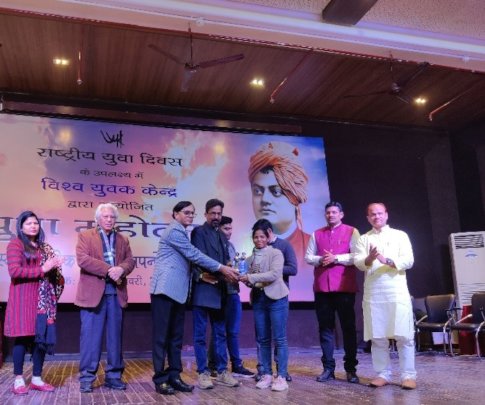 Background
Udayan Shalini Fellowship Programme of Udayan Care is a unique academic excellence and personality development programme for deserving and talented girls from weak socio-economic background aiming to turn them into empowered and dignified women or Shalinis. It is unique because it goes beyond being a usual scholarship programme by not only supporting higher education but also providing regular mentoring and leadership development and inculcating a sense of social responsibility in them.
Summary
Udayan Shalini Fellowship Programme were also able to introduce 'Employability and Placement section' for our Shalinis to help them get placements in various fields.
The last quarter, from December 2019 to February 2020, proved to be extremely fruitful and enriching for our Shalinis. There was a great mix of workshops, focusing on personality development and employability simultaneously to facilitate their overall growth. For instance, there were workshops on Team work, managing workplace bias, self-defense, cognitive skills etc. These workshops gave Shalinis some indispensable tools which they can deploy to become more efficient and self-aware individuals. They also got to attend external sessions such as workshop on WASH at Vishwa Yuva Kendra. The best part however, was to see the fellows implementing their learnings from these workshops by engaging themselves in social work at a personal level. In addition, North Delhi Chapter has received award for good participation at Vishwa Yuvak Kendra event and organized 9th Grand Alumnae Meet.
Key highlights
The workshop on 'Self-Defense' was taken by Manshi, an International Taekwondo Champion and Black Belt in Taekwondo.
Vishwa Yuvak Kendra Invited "Udayan Care" for its "Youth Festival" on the theme "Vivekanand ke Sapno ka Bharat" held on 10th and 11th January 2020. Where Shalinis got prizes in different category and North Delhi Chapter received best participation award.
North Delhi Chapter organized 9th Grand alumnae Meet. It is always a special occasion when the alumnae of the program come together, not only cherish the time they spent together, but also look forward to build stronger associations with each other.
DECEMBER
Employability workshop on Team work on 1st December 2019 by Bhaskar (Vice President - Contract Advertising)
The objective of this workshop was to make Shalinis understand the importance of Team Work, be able to resolve conflicts and adopt the skills of being a good team player. Facilitator explained the meaning of Team as group of individuals working together to achieve same goal. Team Work was said to be to combine skills of team members and work together to achieve common goal in positive atmosphere.
Thereafter an activity was taken up, the class was divided into four groups and each group was given the topic to discuss. The topics were 'Importance of Team Work', 'Challenges Faced by Team', 'Basic Team Skills' and 'How to Make a Good Team'. After elaborated discussions, dealing with Diversity at work place was taken up. It was communicated that teams at workplace are a diverse group of people. They ensure diverse point of view, experiences and numerous ideas to solve a problem at hand. At work place people are from different backgrounds, ethnicity, ages, genders, ability levels and experience. This creates an advantageous situation to work as team as they all provide fresh points of views on the task given. After this the steps of team development were Forming, Storming, Norming and Performing. And our Shalinis were divided into 4 teams and each team has to work on the steps mentioned in Team work. The task given to them was to identify the activities taking place during the step given to them and enact the same. This activity reinforced the concept of team work among the participants.
By end of the session the Shalinis were clear that Team work is positive on every level. They understood while team work allows us to work on our strengths which is a great opportunity for personal development, it allows to experience differences providing fantastic learning opportunities.
Employability workshop on Managing Workplace Bias on 1st December 2019 (Sunday) by Jatin from TATA
The aim of the workshop was to introduce Shalinis to existing biases and to enlighten them about three essential laws that protect women's rights, against sexual harassment, for remuneration and maternity benefits. The meaning of bias was explained as 'lack of objectivity or an inclination to favor one thing or person over another'. Shalinis were made to understand Gender bias in particular as discrimination towards people based on their gender rather than their individual merits. Taking example of women, it was explained gender bias is belief like, women are expected to be homemakers, wives or mothers first and professionals second, and how pay gaps are still an issue for females.
To equip the girls to deal with bias at workplace they were educated on the subject. Acts like Sexual Harassment of Women at Workplace (Prevention, Prohibition and Redress) Act, 2013, Equal Remuneration Act, 1976 & Maternity Benefits Act, 1861 were elaborated.
It was advised to deal with bias at workplace to do so first step is to acknowledge the biases and try to guard against influences. It's vital to keep each other in check and support those who are victim of bias. Thereafter, Sexual harassment at workplace was explained. Shalinis were made aware that certain behavior such as telling sexist jokes or displaying sexist or suggestive materials, talking behind women's backs, making condescending remarks on women, providing another unwelcome physical, verbal or non-verbal conduct of a sexual nature will determine sexual harassment. Shalinis were apprised that sexual harassment may not only professionally affect the worker but personally may affect their mental health. They were encouraged to always stand up for themselves as well as for others, and be aware of their rights.
Session on Self-defense on 1st December 2019 (Sunday) by Manshi (Shalini)- International Taekwondo Champion
The workshop on 'Self-Defense' was taken by Manshi, an International Taekwondo Champion and Black Belt in Taekwondo. She is gold medalist at various level (International, National, State & School) and she has won Gold Medal in Delhi Olympic Games. The session was designed for school going Shalinis. In which all the Shalinis were gathered in an open area to learn the techniques of protecting oneself.
Manshi started the workshop by warm up exercises to make everyone relaxed and energetic. Then, she demonstrated some self-defense techniques to all the Shalinis present there. For example, she showed Shalinis the technique of hand grip unlocking with action which allowed them to learn how to free themselves if someone has attacked them by gripping their hands. Another technique she taught was back grip unlocking where Manshi demonstrated to free yourself if someone has attacked you from behind. Next, she talked about the usefulness of the scarfs we use and how can we utilize it for our defense, and some attacking techniques with scarf were demonstrated to all. The next technique which was demonstrated was of knife attacks and how to take help from it for defense. Weight putting technique was also demonstrated where trainer made the Shalinis practice it by putting weight on certain areas to free themselves from the attacker. The workshop ended with the cool down session of Yoga to make them relaxed and calm. Shalinis really enjoyed this session as it will be very useful for them, and give them the confidence that they can protect themselves in case of any emergency.
Session on WASH (Water, Sanitation and Hygiene) at Vishwa Yuvak Kendra on 14th December 2019
A workshop on 'Water, sanitation and hygiene (Leave no one behind)' was organized by Vishwa Yuva Kendra in collaboration with FANSA (Freshwater Action Networking of South Asia) on 14 December 2019 at Vishwa Yuva Kendra, Chanakyapuri. Young people from various organizations across different states in India attended this workshop, which threw light on several important issues, primarily with respect to depleting water resources. Following were the objectives of this session:
Awareness generation about water, sanitation and hygiene issues;
Awareness generation about safe WASH practices;
Awareness generation about Swacch Bharat Abhiyan;
Role of Govt., CSOs and other stake holders in ensuring SDG 6
The workshop has created a vision in the minds of participants to achieve sanitation and hygiene by the help of saving water and then to use it carefully. This workshop was an attempt to aware people about WASH and it was successful in spreading the word. The participants got to know about various practices and techniques of water conservation being followed in various states in the country. Information regarding various types of water- black, grey, yellow, white, saline, etc. was shared, and techniques/ tips for reusing water were also shared. The participants also got to know about right usage of the toilets, various types of toilets which conserve the water and how to maintain the cleanliness in the public toilets.
JANUARY
Employability Workshop on Adaptability & Learning held on 5th January 2020 (Sunday) by Garima (Sr. Manager (Training, Development & Placement)
The workshop on Adaptability & Learning was organized on 5th of January at Mahavir School Delhi. It was attended by 14th Batch of Delhi Chapter. The objective of the session was to make Shalinis understand the need for change and project a positive image towards change. The session started by explaining the meaning of Adaptability. It was stated that Change is law of life and one cannot avoid it. Resisting change will only make life tougher. Further, it was conveyed that employers look for Adaptability skills among the prospect applications. It is very important skill to get hired. With advent of technology and changing environment of the workplace it becomes employee to be flexible and have positive attitude. Strategies for adapting for change were elaborated. First and foremost, Shalinis were asked to change their mindset as they have the power of choice. and the more they focus their mindset on positively adapting to change, the more resilient they will be to dealing with impact that change will bring to their life. Then they were asked to find meaning in life, once they are sure of what they want they will be able to focus and adapt to achieve the goal. For dealing with change, Shalinis were advised live a balanced and healthy active life this will enhance to build their resilience and ability to successfully manage the disruption that change can have on their lives. Various activities on adaptability were undertaken where shalinis were given different situation and they had to do role play or give their reactions. In debrief the importance of embracing change was elaborated. It was said that one cannot avoid the unexpected events (crisis) in ones lives, as it is these events that challenge them and force them to step out of our comfort zone. If we ignore or hide away from the challenge of change, we deny ourselves the opportunity to learn and grow. Shalinis were in end informed about benefits of having strong adaptability skills and its importance at the workplace.
Employability Workshop on 'Problem Solving and Conflict Management' held on 5th January 2020 (Sunday) by Neha, Alumnae and Placement Coordinator
The aim of the workshop was to make shalinis aware of various methods involved in problem solving and conflict management. The topic was relevant to shalinis as they were able to relate to the topic. The facilitator started the workshop with defining the process of "Problem Solving". Shalinis came up with various statements and stated some examples. Shalinis got exposure to 7 steps of problem solving and realized the need to follow same in case they encounter any problem. Each step was explained in detail covering two to three examples. Shalinis also shared their own experiences where they felt they have followed the steps andwhere they did not. Different ways to solve a problem were discussed and shalinis realized the importance to solve problem with assertiveness and by avoiding fights. In the second phase, facilitator described about "Conflict Management" and gave an overview to explain the term with various examples. In order to explain the causes that give rise to conflicts, the facilitator divided the whole group into two and gave the topic "Social Media" on which one group spoke in favor of social media and other spoke against it. Ten minutes were given to shalinis and they debated really well. Some were able to put their thoughts forward where as some preferred to keep quiet, some felt their voices were not heard whereas some voices were at ease to identify. After debating, the conflicts that arose at the time of discussion were dealt and its management was discussed. Conflict management is very important as it helps to resolve conflicts effectively. Conflict management has various reactions associated with it, all were discussed and best one i.e Collaboration was highlighted with pros and cons of all the stated options. Later, some shalinis gave example from their real life and represented thoughts towards their plan of action. Overall the session brainstormed the minds of shalinis and they got exposure to various ways to tackle problem and conflicts. It was an interactive session and shalinis brought practicality to their thoughts which will help them to shape up their decision making and reactions towards uncertain event.
2 Days (10th & 11th January) -Youth Festival" at Vishwa Yuvak Kendra
Day 1 (10th January 2020):
Vishwa Yuvak Kendra Invited "Udayan Care" for its "Youth Festival" on the theme "Vivekanand ke Sapno ka Bharat" held on 10th and 11th January 2020. In purview of that "Udayan Shalini Fellowship Program" participated in the event and 24 participants from Udayan Shalini Fellowship Program (North Delhi Chapter) were present at the festival. Chief guests presented their views and respect towards Vivekanand's life and achievements. They intended to enlighten the visions of youth. Moni (Batch 12), (Batch 14) and Anjali (Batch 15) from North Delhi Chapter participated in the Painting competition, Flower Pot Painting Competition and Public Speaking Competition respectively. The competition was held on 10th January 2020 and results were announced on 11th January 2020. Shalinis had put their best efforts forward and created a beautiful output. Shalinis did exceedingly well in their zones and made USF proud. It was a great experience for all the shalinis.
Day 2 (11th January 2020):
The event started with Kavi Samelan where different poets from various fields were invited to address the gathering. Poets presented their thoughts beautifully with a message inculcated in them. Thereafter Cultural program started where different group participated to perform. Dipti, Swati, Ayushi, Aanchal, Nandini, and purnima, Shalinis of North Delhi Chapter from Udayan Shalini Fellowship Program participated to present a Dance performance on the theme "Women Empowerment". Shalinis presented the theme very thoughtfully and showcased strength of women in their own beautiful way. There were different cultural acts from various NGO's involved such as role play, dance performance, song etc. It was very interesting to witness the program with such diverse thoughts and versatility.Some shalinis also became part of the program by being the participant to witness the program. Lastly, prize distribution was held where Moni (Batch 12) secured 2nd prize in Painting Competition and Anjali (Batch 15) secured consolation prize for Public Speaking Competition. Overall it was great experience for the shalinis, some shalinis won the competitions, some had shown their talents through dance and the others got exposure to cultural performances and motivating speakers. Vishwa Yuvak Kendra also awarded "Udayan Shalini Fellowship Program" for its support and enthusiastic participation in the youth festival (10th-11th January 2020).
Testimonials
"It was very motivating and inspiring to know that Swami Vivekanand popularized India in the whole world by his wit. From Swami Vivekanand's birth to end, everything was covered by the guest speakers. Every person present there participated with great zeal. Overall it was great experience." – Bhoomika, Batch 15
"It was my great honor to receive second prize for painting competition from great such dignitaries on the stage. I enjoyed participating in the competition and got an opportunity to learn a lot. I was happy that I was able to make USF proud. Thank you USF for providing me with this opportunity."- Moni, Batch 12 Alumna
Quarterly Workshop on Cognitive skills to overcome fear and anxiety held on 12th January 2020 (Sunday) by Ashish (Mentor & Core Committee Member – North Delhi Chapter)
Quarterly workshop was conducted for all the batches of the North Delhi chapter of Udayan Shalini Fellowship on 12th January 2020. It was conducted by Ashish. He started the session by distributing forms that required the Shalinis to answer questions such as how often they sing in the shower, engage in day dreaming, etc. While answering these questions the Shalinis realized how they behave differently when there is nobody around them, when they know that they are not being judged for their actions, and realize their imaginative capacity.
The facilitator then moved on to explain how fear and sadness are "learnt behaviors". He gave the example of how a young child is unaffected by the marks he scores in school, while a teenager tends to get very upset in case he/she falls short of expectations. He therefore explained how we observe everyone else around us and learn to get upset or be scared of things, and how we can unlearn them if we want to. It was followed by a very engaging group discussion among everyone present, as they tried to come up with ways in which they can become braver and happier.
FEBRUARY
Ernst & Young (EY) –Corporate mentoring orientation program held on 2nd February 2020 (Sunday)
On 2nd February 2020, the North Delhi Chapter organized a corporate mentoring orientation session with Ernst & Young, one of the most well-known MNCs across the world. Approximately 100 employees of the company will be working as volunteers with the USF program, serving as mentors for the Shalinis. Considering mentoring is one of the core components of the program, this is a huge opportunity as now the Shalinis can be provided with appropriate guidance and support during their journey. Some of the volunteers will also be mentoring Shalinis from other chapters in Delhi-NCR, i.e., Gurugram, Greater Noida, and Noida. EY has also approached chapters in other cities such as Bengaluru and Mumbai. The event was even hosted by two of their employees.
The event was attended by Shalinis of all five batches, some mentor didis, USF Team, USF-Associate Director, Founder & Managing Trustee, Executive Director of Udayan Care, Convener of Gurugram Chapter, Senior leaders from EY and their employees.
The program was started by the Associate Director of the USF Program, Faheem who addressed the gathering by giving the volunteers a brief overview of the program, and mentorship specifically. This helped the employees from EY to gain a deeper insight into the program, its vision, mission and values, and most importantly, what role they will play in the life of a Shalini as a mentor. A few of the leaders from EY also spoke about their respective journeys with the company, and why they decided to volunteer with Udayan Care.
Post this, our Shalinis shared their experiences with USF and mentors. Some of them also shared poems written by them, and sang. This gave the volunteers an opportunity to get to know the Shalinis on a personal level, and bond with them. The event ended with a group picture taken as a memento, and Shalinis giving the volunteers handmade thank you cards as an expression of their gratitude.
Mentoring session with TATA volunteers held on 9th February 2020 (Sunday)
TATA CSR Team has shown willingness towards the social cause. In this regards, TATA employees across the India have signed up in different organizations. Udayan Care has also got volunteers for different work area. The core component of Udayan Shalini Fellowship Program is mentoring and volunteers have shown interest in mentoring Shalini girls. On 9th February, the first mentor-mentee meet was conducted wherein facilitator first introduced each volunteer with the present Shalinis. Later, assigned mentees to understand mentoring process in a better way. The first meeting was basically organized to build communication channel, develop understanding with each-other and make action plan. The USF Mentoring includes three major pillar; academic help, personality development and career counselling. Volunteers were extremely happy to meet such vibrant and aspiring Shalinis for whom they want to make effective career path so that they will not face any hurdle. Apart from this, a few volunteers did general introduction with all the present Shalinis which gave them a different perception and it proved a great source of inspiration for them. Overall, it was a fruitful session with quality mentoring.
9th Grand Alumnae Meet held on 16th February 2020
The North Delhi chapter organized an Alumni meet on 16th February, 2020. It is always a special occasion when the alumnae of the program come together once again to not only remember the time spent together, but also look forward to building even stronger associations with each other. Especially the alumnae of North Delhi chapter have been instrumental in not only helping the current Shalinis by assuming the role of Mentor Didis, donors and resource persons, but also in bettering the structure of the USF program and Alumni Association as a whole. Their insights have helped the program in becoming even more efficient. Maintaining a close bond with them is therefore absolutely essential.
The event was attended by alumnae, USF team, core committee members who have been associated with the chapter right from its inception, Faheem (Associate Director USF), Kiran (Founder and Managing Trustee), Arun (COO), and Aneesha (Executive Director). The alumnae retook the oath they had taken as a student of class 11th, and recounted their experiences as a Shalini. Some alumnae were even accompanied by their husbands, who also spoke about the role played by USF in their lives. The meet started with a lot of ice-breaking games, and short plays depicting the journey and values of USF program. Alumnae even paid a tribute to Faheem, and expressed their heartfelt gratitude for all his efforts.
It was due to the relentless efforts of the alumnae committee and Shalinis who made this event a huge success. Everyone present had a great time taking a walk down the memory lane, and strengthening their resolve to contribute to the growth and success of the USF program.
Success Story
Arushi is a Shalini of North Delhi Chapter Batch 8th inducted in the year 2009-10. She belongs to a low socio-economic background and residing in Kanhaiya Nagar, Delhi. She has four members in her family which includes her mother who is a homemaker, father has a small business, elder sister is working in TCS Pune as a Chartered Accountant and her younger brother is in B. Tech 1st year. Contribution of her sister in the family is strengthening their financial condition.
Her journey of becoming a Chartered Accountant wasn't easy with limited resources and some de-motivational elements. But her elder sister kept her motivated throughout the journey. Positive attitude and patience helped her to face challenges and overcome failures. She believes everything happens for something good and she was firmed on it.
The intervention of Udayan Shalini Fellowship Program in 2019 was a turning point of her life. She feels the best thing about USF Programme is the utmost support it provides to you.
'Whenever I faced any challenge and felt low, I prefer to attend USF workshops. There was a time when I have started attending the group discussions which enhanced my ability to speak with confidence. USF has brought spark in my life to do something good for the society. I also remember how the presence of Kiran Ma'am and Faheem Sir inspired me to tackle the things in life.' ~ Arushi.
She wants to do something for society to make a positive difference in the lives of people. She is very thankful to her family and USF for supporting her, believing in her and making her a successful and confident woman who is ready now to take upon her responsibilities.
Arushi is currently working as an Accounts Manager in Corporate Chartered LLP. Her long term goal is to get a job in a well-reputed MNC company where she can utilize her skills.