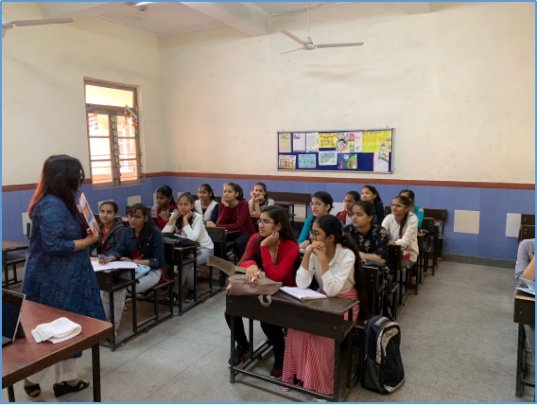 Summary
In 2020, the April month, proved to be extremely fruitful and enriching for our Shalinis. There was a great mix of workshops, focusing on motivational, skill based and employability simultaneously to facilitate their overall growth. For instance, there were workshops on Career awareness, email writing, stress management, interview preparedness, financial management etc. These workshops gave Shalinis some indispensable tools which they can deploy to become more efficient and self-aware individuals. The best part was to see them engaging themselves into mock-interview, mentoring cum career counselling sessions (subject-wise), online competition, online courses and mentorship trainings (existing & new). Moreover, social awareness campaign conducted on Women's Day and during this lockdown Udayan Care initiated a noble step to give additional support apart from fellowship so that Shalinis could buy ration for their family. In addition, North Delhi Shalinis took an initiative to spread awareness in their locality on COVID-19, important precautions and donated necessary items & food.
Key highlights
Need Assessment: Udayan care initiated a noble cause. Through a need assessment survey, identified Shalinis who are in need and struggling in getting proper ration. The money during this lockdown brought smile on their faces. In this regard, Faheem (Associate Director) conducted an online parents meet to give them positivity and support.
Employability sessions by TATA Volunteers: TATA volunteers came forward to extend their support in taking virtual sessions. They took session on various topics individually and are ready to help Shalinis through any fruitful way.
Online competition/courses: It is important to keep Shalinis stress-free & productive during this lockdown. An online competition was organized to showcase their hidden talent in following fields; arts, writing, poetry, drawing, sketching and painiting wherein 51 Shalinis took part. In addition, 140 Shalinis got enrolled in Englishbolo app for free 25days of learning and some Shalinis are enrolled in online language/trendy courses.
Genpact virtual sessions: Genpact joined hand to provide virtual sessions to Shalinis during this lockdown. Ashish happily conducted two sessions with Shalinis and gave useful tips.
Mentorship Trainings: Mentoring is an essential part of USF programme. Employability cell initiated virtual trainings for existing and new potential Shalinis. Garima and Neha have successfully trained 40 new potential and 47 existing Shalinis.
Mentoring cum career counselling sessions: TATA Volunteers and USF alumnae initiated virtual mentoring cum career counselling sessions for shalinis (subject-based). It proved very informative and useful for addressing their career and subject related doubts.
MARCH
Employability Workshop on Positive Language by Garima (Sr. Manager-Training & Development) – 1st March 2020
The workshop on "Positive Language" was conducted by Garima with Batch-18th (11th class) Shalinis. The objective of the workshop was to make Shalinis understand the meaning and means of communication, recognize the need for effective communication and apply ideas on internal and external communication. An interaction with the Shalinis on what did they understand from 'communication' was also done. Also the focus was paid on 'Interpersonal Communication' which is diminishing nowadays because of the increase in the use of social media. On the other hand, different activities were conducted where Shalinis were told about the importance and effectiveness of listening. Another activity was done to make the Shalinis understand about interpersonal and intrapersonal communication. The session came to an end with the facilitator talking about positive thinking. It was further said that thoughts are automatic, deeply ingrained and suddenly one cannot change negative thoughts overnight but can change them slowly. With the end of the session our Shalinis had an idea of understanding the importance of developing communication skills for personal and professional growth.
Financial Management by Pooja (USF North Delhi Program Coordinator) – 1st March 2020
The workshop was conducted at North Delhi Chapter on "Financial Management" with Batch-16th (First Year) Shalinis. It was designed to make Shalinis understand about the importance of saving. Which was included information about the various tools available at bank and how to become aware of the working of these tools. Also, our lifestyle requirements and in absence of budget we become unable to save money out of our earnings.
The session was started with a simple question on 'What do you understand by Saving? and what are the various tools which build financial strength? Responses of Shalinis were quite relevant but they were not much familiar with the financial tools. The session gave them an insight regarding various financial tools and it's uses. Shalinis found the session highly informative. Having knowledge about banking tool is important and saving methods. Our expenses should not be exceed to the savings we have. Being a student is also important to know money management, track daily expenses and invest money wisely. Facilitator advised to do budgeting at least on monthly basis and self-control is must. Our lifestyle effects our budget, reduce unnecessary expenses and save to avoid future risk. It was suggested to gather more information on discussed areas, explore options and adopt advised methods. Overall, Shalinis were happy to receive useful information and they took pledge to follow the same.
Mock Interview- 1st March 2020
Mock Interviews were conducted for final year students of North Delhi Chapter. The aim of conducting mock interviews was to give shalinis exposure to interview process so that they become interview ready before they pass out of the college. The process intended to build confidence in shalinis and perform better in any interview process they face. The interviewers were professionals from different fields and their expertise gave motivation to shalinis to present themselves best way possible. They were divided into panels where each panel was given 4-5 shalinis to interview. The panelists were provided with assessment sheets where they marked each shalini based on some parameters so that shalinis are able to identify their weak and strong aspects and work upon it. Each shalinis was given 10-15 minutes followed by group discussion which was assessed too. Shalinis found the interview process relevant to them and realized importance of self-assessment before appearing for an interview. The evaluation consists of parameters with explanation for each point resulting in overall performance of shalinis and outcome generated. Shalinis also got de-briefing from their panelist where they were explained the ways to improve their skills and confidence required for an interview. Also, all the relevant points were highlighted to enhance their performance for longer run. Overall mock interviews helped shalinis to see bigger picture and realized the need to practice ad prepare for an interview.
USF: Social Awareness Campaign on the theme of Women Empowerment - 8th March 2020
North Delhi Shalinis walked together to give strong message on Women Empowerment. They covered Budh Vihar Phase 1 and Avantika Sec 1 (Market area Specially). Shalinis held posters, banners and chanted slogans to create awareness among women about their self-empowerment. With the immense support of AAP (Aam Aadmi Party) MLA Secretary,Deepak, the campaign got successful. He even recommended Soniya (Samaj Sangathan-Director) and Satish (School Management Committee -Coordinator Rithala) who joined hands with our Shalinis and walked for the campaign. Delhi Police assisted the Shalinis and made sure of their security. Shalinis also did Role Play and spread awareness towards Girls Education and their rights. Shalinis tried to impart that it become important for a woman to be self-aware and more important for the society to accept them as empowered women. We would like thank AAP MLA Secratary, Police Department and all the dignitaries who supported our shalinis in this cause.
APRIL
Need assessment 2020 (UC-Emergency fund)
Udayan Care initiated a noble step to help needy Shalinis during this lockdown situation who are struggling in getting ration, have less ration available at home and there is no source of income available to survive further. Keeping the precautions in mind, withdrawing money on a frequent basis is also not possible. The process was started by the assessing needy Shalinis whose family are in difficult condition & have less past savings. During this assessment, North Delhi Chapter identified needy ones as per the three decided categories - High, Medium and Average. 13 Shalinis were identified to be falling in the category of 'High Need.' They each were given 2000/- through direct bank transfer to survive in the crisis. With this money, they could buy enough ration for their family. In the next phase, direct money transferred to 32 Shalinis who are falling under medium category.
Employability workshop - IT Skills: Email writing with Batch-14th on 14th April 2020 by TATA volunteers
Session 1:
The session was conducted with Batch-14th (Final year Shalinis) on the topic of IT Skills: Email writing by Nitin (Senior Manager, TATA Communication). He started session with an introductory round, took few examples of CIRCA Values from Shalinis and explained purpose of conducting this session on Email writing. He said, most of us are not aware from mail etiquettes and to be globally connected it is important to have proper knowledge. He further explained the definition of email, other email providers (Yahoo! Rediff mail etc), advantages of email as it is cheap, time effective, accessible to maximum people at one time, very fast & easy to send with attachment but there are some disadvantages like; it requires internet connectivity, one can easily forward ahead etc. Meanwhile, he discussed about the components (to, cc, bcc) of email, abbreviations, guidelines of using email (pre-write, draft your mail before sending, organize your mail into 3 parts-Opening, Middle & Closing then revise, refine and send).
He displayed a format to make Shalinis understand about email writing. He further explained to use short paragraph while writing any mail, explain your matter in bullet points (in case of long mails), in short, he advised to use formatting guidelines. While writing a mail, it is important to be aware from unacceptable norms. A mail is an electronic medium of communication, your actions and words reflects your personality. He explained Albert Mehrabian's model, 55% Visuals, 38% Tone and 7% Words. Be yourself while writing a mail, stand out as a person not robert. He covered all the important points and answered some of the questions asked by Shalinis.
Session 2:
The session was taken by Jatin (Executive Trainee). He addresses final year Shalinis with a different group. He spoke about the benefits of using email and it is easy to use. One should know how to use email properly and what guidelines we need to keep in our mind while sending an email. Be alert on social platform, do not share any detail without proper research. He explained job portal, etiquettes of using email and how to be conscious on social platform. He concluded the session by addressing some of the queries. Shalinis found it useful as they got to know about it thoroughly.
Employability workshop - IT Skills: Internet for jobs with Batch-15th on 15th April 2020 by TATA Volunteer
The employability session was conducted on the topic of Internet for jobs with Batch-15th, 2nd year Shalinis. It was taken by Kunal (DGM I HoG (Business Excellence – Operations, TATA Power Delhi Distribution). Facilitator firstly introduced himself, discussed CIRCA Values, asked some examples on implemented values, and talked about some general questions on Online surfing, advantages & disadvantages of using internet. Taking forward to the session, he instructed some important points as before you go online, make a list of your preferences to avoid unnecessary things. Internet is useful for many reasons like; creating LinkedIn Profile, Maps, online communication, online books, online news, research, entertainment, fitness, self-education on internet, online video based on your hobby etc. Internet has world overreach and it is also useful in searching jobs. One can see many online job portals but all are not trust-worthy & registered. He told about some trusted online job portals. He took example of Naukri.com and explained each tab through a PPT. Meanwhile, he talked about job scam and employment frauds, some fraud companies attract through its high play scale, high commitments, ask to pay money etc. Be alert and do research before going ahead. However, there are some limitations but have many benefits to apply online, just be aware from scams, view procedure of online application and safely use internet. Internet has its own benefits; with precaution you can get maximum benefits out of it.
Employability workshop - IT Skills: Internet for jobs with Batch-15th on 16th April 2020 by TATA Volunteer
This online employability session was taken by Shubham (Executive Trainee, TATA Power Delhi Distribution) with Batch-15th (2nd year Shalinis).He introduced himself to Shalinis and created a familiar environment and asked Shalinis to share some of examples of CIRCA. He asked about benefits of having internet. He further explained, internet is useful in searching online jobs, it provides easy access to reach out to employer. But everything has its bad side also. Do not accept any offer blindly, do research about company and then go ahead. He talked about some renowned job portals, online job scam, frauds and what are the guidelines. Internet is also beneficial in terms of alternative usages. One can adopt any hobby like; cooking, dancing etc and learn via online classes/videos. E-library is useful for online study, people can watch movies & online news. Internet has multiple usages. Meanwhile, he advised to keep their personal and professional life intact on social media platform, avoid distractions, avoid online activities while studying and working. He concluded the session with some suggestion and advised Shalinis to be safe during the lockdown situation.
Employability workshop - Values with Batch-16th on 16th April 2020 by TATA Volunteer
The session was conducted on 'Values' and Shubham (Executive Trainee, TATA Power Delhi Distribution) took this session with first year Shalinis. He asked, what do you want to become? When did you decide it? What made you feel to choose that field? Meanwhile he added, we usually inspired/influenced by someone in our life and aspire to be like him/her. Every individual has its own struggle. People fail and come out as an inspirational story, they add some values to their life and disciplined. To follow the same path, implement those values in your life and be strict to it. It is easy to think, but very difficult to replicate same motivation, schedule and values to accomplish goal. He shared life journey of eminent personalities from diverse fields like; politics, entertainment, sports, defense etc. Not only men, women are also touching sky with same spirit. Taking forward to the session, he shared some core values like; compassion, creativity, risk-taker, loyalty, disciplined etc. These are some values which everyone should possess. Match your values to your role model and implement those in life. Give your life a purpose and be strict to it.
Genpact session - Stress management with Batch-18th on 21st April 2020 by Ashish (Genpact)
The session was organized with class Batch-18th Shalinis, 11th class Shalinis on the topic of Stress-management. It was conducted by Ashish. The purpose of the session was to talk about useful tips which needs to be applied during this lockdown situation to remain mentally, physically & emotionally balanced and healthy. Facilitator engaged them through various relevant examples and answered some of the questions asked by Shalinis in the end of the session. Via online method, facilitator timely covered all the important topics and is happy to answer queries even after the post session. Overall, it proved an effective way to teach them about managing stress.
Here are few important points shared by resource person:
Stress in general prepares the body for either 'flight' or 'fight' (relevant in pre-historic times, when physical dangers were more relevant compared to today's life)
The 'flight' or 'fight' readiness is possible due to secretion of hormones which prepares the body for survival
Stress in humans is chronic vis-a-vis animals in whom it is episodic (which means it is there till the time the danger is there, once it is over, they return to normalcy)
Chronic stress leads to chemical imbalance in the body due to over secretion of hormones
The chemical imbalance is the genesis of physical ailments, symptoms of which are being jittery, clenching of hands/feet, feeling exhausted all the time, headache, stomach
upset, high blood pressure, chest pain, loss in appetite, loss of concentration, a general feeling of nothing is going well, extreme stress can also cause death
Good stress Vs bad stress and how good stress helps us in achieving all success in life by motivating us and pushing us forward
However, there is a thin line and over analyzing or being too much involved with the past or future and this topple the line and good can become bad stress
Bad stress needs to be managed through behavioral changes and changes in lifestyle and attitude, a few examples are
A positive attitude helps-glass half full or half empty
Instead of changing the world, let us change ourselves
Stop taking things personally.
Listen more, act instead of reacting
Be assertive instead of aggressive
Live in the moment- past has gone, future is yet to come
Nourish your physical, mental and emotional health.
Spend time with your family
Pick up a hobby- write, paint, raise a garden, teach, write a blog
Practice gratitude- count your blessings
Get enough rest-min. 7-8 hours of uninterrupted sleep (no TikTok time)
Exercise, yoga, meditation, walk- keep your body fit
Break the taboo, talk to family and seek medical if required
Motivational session by Pankaj (TATA Volunteer) as on 23rd April 2020
The motivational session was conducted with Pankaj (AGM, TATA Power Delhi Distribution). During this lockdown, it is important to keep ourselves positive and stress-free. Everyone is at home therefore, use precautions and help government in impactful implementation. He talked about team building, having a motivational leader in team and how a leader influence whole team and direct to accomplish a task. Individually, no one can succeed without a supporting team. Be in present, do not let work pending for next day, do quality studies, explore options and scholarship opportunities. During this lockdown, we should feel privileged as we have family, USF and many more well-wishers to take care of us. He concluded session by answering some of the questions. Be positive &emotionally stable when you hear bad news, sometimes, we need to take a pause in life and look towards those who are less fortunate than you. It will give you strength to live life fullest with joy, do not look towards upper class. It will make you feel low and more competitive to reach there. It is good for positive motivation, but don't let yourself down. In the process of accomplishing your goal, you face different challenges and perception of people. Be focused and you will succeed.
Mentoring session- Physics class with Nitin (TATA Volunteer) as on 27th April 2020
The session was taken by Mr. Nitin, he addressed physics students. He talked about how to be be productive during this lockdown and stress-free, what method should be adapted in order to adopt new skills. Meanwhile, he answered some of the queries related to physics concepts with examples, he suggested to practice numeric with illustration, observe activities around you and take live examples.
Mentoring session- Economics, History and Political Science class with Jatin (TATA Volunteer) as on 27th April 2020
Jatin took session with Batch-18th Shalinis who needed guidance on Economics, Political Science and History subjects. He addressed Shalinis via Google hangouts meet. He answered following questions; Government 5 years plan (Planning Commission from Indian Economy), Literacy rate, Macro Economics (Money & Banking), how to study during this lockdown, old war & did some general discussion. It was an interactive and knowledgeable session and he is ready to address further queries of Shalinis.
Session on Cyber Security - by Naina & Neha (Batch-14th Shalinis) with 1st year Shalinis as on 27th April 2020
On 20th April, Naina Gupta and Neha from Batch-14th, North Delhi Chapter attended an online workshop on Cyber Security.*They both took initiative to take an online session with Shalinis. Firstly, they've prepared PPT (individually) and put all their learnings together in a summarized form. Before conducting this session, they did a demo with each other for the better coordination on online platform.
Throughout the session they have covered following topics:_*
*1.* Meaning of Cyber Security.
*2.* Why do we need this?
*3.* How it impacts our lives (Mentally and Economically).
*3.* Types of Cyber-crime (hacking, phishing, malware, DoS, spam mails).
*4.* Strategies to secure our data.
*5.* If cyber-crime happens, in what ways we can report?
(Offline and online modes)
*6.* Miscellaneous
Naina and Neha conducted this session very sincerely and are happy to address any further queries. Shalinis found it very informative, useful and upto the point.
Genpact session on Interview Skills with final year Shalinis by Ashish as on 28th April 2020
Genpact is initiating virtual sessions for Shalinis during this lockdown. Ashish took Interview Preparedness session with our final year Shalinis. He started the session with some general guidelines about session and shared following type of questions an interviewer can ask;
Tell me about yourself
Why you are interested in this job?
What are your strengths & weaknesses?
What leadership projects have you handled?
Any crisis situation that you have handled well?
What are your interests?
Where do you see yourself after 3yrs/5yrs/10yrs?
Who has influenced you most in your life?
How proficient are you with technology?
What is your expected salary?
How soon can you join?
He explained all interview questions with relevant examples. In addition, talked about other important things to remember while going for an interview which includes interview etiquettes, body language, punctuality, dress-code, your behavior and overall impression. At the end of the session, he answered most of the questions asked by Shalinis.
Mentoring session by Gayatri (TATA Volunteer) with mentees as on 29th April and 30th April 2020
Gayatri (TATA Volunteer) took a virtual mentoring session with the Shalinis allotted to her. She asked about their well-being and lockdown situation. What methods have adopted during this lockdown to keep themselves engaged & productive. She asked about learnings on subjects and share their feedback with time. Overall, she conducted a general session and both sessions were
Mentorship Trainings with existing and new potential Shalinis by employability cell - April 2020
Mentoring is an essential component of our USF Program which mainly focuses on three areas; Academic Preparedness, Personality Development and Career Orientation. Mentoring starts with building trust, developing communication channel and committment. These qualities and knowledge must be inculcated frequently. In order to train our existing Mentor Didis and new potential identified mentor didis, Employability Cell conducted "Mentorship Trainings." 40 new and 47 existing Mentor Didis have been trained so far. During the training, objectives, characteristics, stages of mentoring, framework and goals were discussed. In response, asked their personal experiences and challenges to strengthen the process. It was a satisfactory feeling to see them engaged with USF Program in their busy schedule during this lockdown. The delivered content and question-answer round proved helpful for them.
Online course- during lockdown (April 2020)
Our Shalinis got enrolled in different online courses provide by Harvard University. Following are some topics of the courses; Introduction to Full Stake Development, International Women's Heath and Human Rights, Child Protection: Children's Rights in Theory & Practice, Animal Behaviour and Welfare, Hinduism and the scriptures, Contract Law, Humanitarian Response to Conflict and Disaster, Entrepreneurship in Emerging Economies. Apart from this, 140 Shalinis got successfully enrolled in Englishbolo app and getting regular classes. It is benefitting in enhancing communication skills (written & verbal).
Success story
Archana is a Shalini of North Delhi Chapter Batch 8th inducted in the year 2009. She belongs to a low socio-economic background. She resides in Azadpur, North Delhi. She has 6 members in her family which includes her mother who is a homemaker, father is an accountant, elder sister is in HR at Tatras Data, one elder sister is a engineer and eldest is having own boutique. She gets inspired by her father, mother and elder sister, but more so by her father, who is a heart patient but has never been seen sitting leisurely at home even on holidays. Even then he choose to help and do household chores. He is always satisfied and content with the life he has and has nurtured all his children with beautiful values. Despite the many financial constraints, Archana was always wanted to be a social worker and dancer.
"I started working at a young age. Since then, I have faced so many of hurdles. Sitting in the Police Station, getting letters full of abuses, fighting with own community and people. It's been 9 years now, I have quit my job and invested my saved money in my NGO. I look upto Kiran Ma'am and Sushmita who are inspirational for me.
Udayan Shalini Fellowship Program gave me many wonderful opportunities. I remember, how residential camp, workshops, mentoring and unconditional support throughout my journey have made a big impact on my life. I could make myself more trustworthy and committed towards my family and society.
I recently visited Vishva Yuvak Kendra for two days training program where I had amazing learning experience, which was also initiated by Udayan Shalini Fellowship Program. I received a lot of useful information and I was able to influence professionals, experts and other people to come forward for good cause of society. Everyone was having expertise be it in the field of CSR, finance, and working on ground."
She is glad to share that she received State Award for the best social worker in the individual category, NextGen award for inspiring women, National Excellence award, Narishakti award, Abhudaya Shree award, youth Icon award from Satyawati College and O Ubiri award.
Currently, she is running her own NGO named 'Connecting Lives' at Azadpur and is working in D.L D.A.V Model School, Shalimar Bagh.