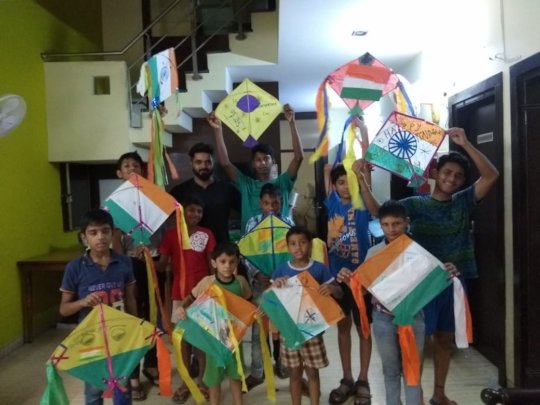 Udayan Ghar Programme
Udayan Care had set up its first Udayan Ghar (Home) for children in 1996 and created its own model of LIFE: Living in Family Environment. This model enables erstwhile children in need of Care & Protection in to grow in a loving family environment. In these homes, the children are loved and cared for by a group of Mentor Parents-socially committed individuals (volunteers) who groom the children with a team of Coordinators at homes, along with resident Care Givers, Supervisors, & Volunteers.
These homes are located in busy, middle-class neighborhoods, so children can reintegrate themselves into society through direct community involvement which helps to mainstream the children ahead. Our children and young adults are receiving quality education in some of the best educational institutions such as: The Sagar School at Tijara, Alwar, Mata Bhagwati school, Genesis Global School, Tagore International School, East of Kailash, Banyan Tree School, Global Indian International School etc and colleges/ universities like College of Vocational Studies, University of Delhi, Hi-Tech Institute of Engineering, Ghaziabad, Punjab University, Lingaya's University etc.
Since inception, Udayan Ghars have nurtured over 930 children with love, care and protection in 14 Homes across 4 states of India. Presently, there are 189 children across all homes. 34 of our young adults are also being supported through our After Care Programme.
Workshops/ Activities during this Quarter
During the period of July - August 2018, the team continued working for the betterment of children and the programme. The quarter went well with children engaged in productive activities during their summer vacation. Workshops being a monthly affair addressed several concerns pertaining to Children, Care-givers, Mentor Parents and Coordinators and also served for building their capacity.
Workshops were held with all the programme stakeholders (mentors, coordinators, caregivers, and children). In order to strengthen the stakeholders the following workshops were held during the quarter:
1. June


Workshop on "Care Giving, FAIRSTART Training Session XI" with Caregivers and Supervisors.
2. July
Workshop on "Transition and Resilience" with children
Workshop on "Care Giving, FAIRSTART Training Session XII" with Caregivers and Supervisors.
Session on "A Manager's Journey: Udayan Ghar Programme 2010 to 2018 and Way Forward" with Mentor Parents and Coordinators.
3. August
Workshop on "Life Skills for Everyday Life" with children
Workshop on "Care Giving, FAIRSTART Training Session XIII" with Caregivers and Supervisors.
Workshop on "Importance of Life Skills Education for children in Child Care Institutions (CCIs)" with Mentor Parents and Coordinators.
Children don't naturally know how to make good choices. Life skills help children know what to do in everyday situations as well as how to make good decisions about more abstract, long-term choices. Since, in a constantly changing environment, having life skills is an essential part of being able to meet the challenges of everyday life, Life Skill workshops at home were also held like every other quarter which focused on various subjects like self-awareness & self-identity, coping with emotions, relationship building, healthy & unhealthy relationships, knowing self, decision making, stress management, healthy habits; family & community, communication, and problem solving.
The boys at Mayur Vihar Ghars are growing and grooming well in the ghar environment. Kritika, a psychologist has been regularly conducting like skills workshops with the boys. The topics covered during the quarter include Relationship Building and Recognizing Healthy &Unhealthy Relationships.
Life Skills Workshops on Relationship Network, Ideal Person & Me and Healthy & Unhealthy Relationships were conducted in Greater Noida Girls Ghar.
The girls at our newly established ghar in Faridabad are getting their share of love and required care & protection. The psychologist and the ghar coordinator leave no stone unturned in grooming and nurturing the girls and provide for the opportunities to grow and develop. During the quarter-life skills workshop on Relationship Identification and Relationship Building were carried out with girls.
Likewise, life skills workshops on a range of topics covered under the broad theme of Relationship were conducted in other Udayan Ghars.
Opportunities, events, and outings are some of the things that never end for our Udayan Ghar children. The major recreational and co-curricular events that took place during the quarter include –
Udayan Care Annual Summer Camp, 2018,
(Summer Surfers: Let's Make Summers Fun Again!)
Summer Camp is the time when children across our all Udayan Ghars come together for fun & learning and showcase their talent. It is the time filled with lots of surprises, gifts & awards and delicious treats. It is also the time where mentor parents, social workers, and caregivers get a wonderful opportunity to revive & beautify their relationship with the children. Summer camp brings along the opportunity for everyone to come together to a common platform for becoming a part of collective and collaborative learning with fun.
This time, 14 Udayan Ghars, 180 children, 25 young adults & 40 staff members came together to be a part of 5 days Udayan Care Annual Summer at Jagshanti Udayan Ghar, Greater Noida with the theme, Summer Surfers: Let's make summers fun again, set right to beat the sizzling heat. No doubt, the scorching heat wasn't strong enough to stand against everyone's highly raised spirits and excitement. The camp was scheduled from 5th to 9th June'18 with the last day culminating into grand finale throwing some spectacular performances and a wonderful exhibition.
Visit to National Museum
The participants in the Artroom programme went to the National Museum on 17th June'18. The children took a curated walk-through in the museum around the ongoing exhibition 'India and the World - A history in nine stories'. The exhibition was about stories of different objects and artifacts that traveled around the world offering insight into two million years of history. Using Plaster of Paris (POP), they made Indus valley seal replicas.


Adidas v/s Udayan Care (Football Match)
This year has been marked as the 12th year of commitment of Adidas towards Udayan Care in protecting and nurturing the lives of vulnerable children. Having a core belief that "through sports, we have the power to change lives", Adidas has organized a football match for Udayan Ghar children at their Gurugram office on June 20, 2018. Children from Gurugram, Sant Nagar (both homes), Noida Boys and Greater Noida Homes participated in the event. A total of 90 children & aftercare young adults and 7 staff members were there.

While beating the heat, the children displayed their full energies, all set to play a game of football with the Adidas Team. With, Dave, MD(Adidas-India) addressing the children and giving them a warm welcome, the spirits of all those present rose to high levels. Children in the football team were given Adidas studs & Jerseys.

Moving ahead with the program, children were briefed about the rules and regulations of the football match and were directed to take safety position in case of urgency. With a boost in the confidence of Children's, the event began with all taking their positions in the field. Both the Adidas Group and Udayan Care teams took their respective position along with their team members. Udayan Care won the match by 3-2.
International Day of Yoga Celebration
Children across different Udayan Ghars celebrated International Day of Yoga on 21st June'18. They were made aware of the importance of yoga and meditation in today's busy life where every one of us is on a run. The country commemorates this day every year to spread awareness about how yoga is an important physical, mental and spiritual practice that each and every one should practice.
2 Days Workshop on Basics in Photography by ArtReach India Foundation
Two days workshop on Basics in Photography was organized on 23rd & 24th June at Sanskriti Museum by ArtReach India Foundation. The workshop aimed at teaching the participants to demonstrate artistry through pictures, to apply the principles of lighting and color theory to a variety of photographic scenarios by measuring, evaluating, and adjusting light and color to create quality images and much more.


6 Days Workshop on Film Making by Tuning Fork Films
Being winners at the 3rd edition of Robyn Beeche Award for Best Short Film, themed on "A day in my life", organized during the Udayan Care's Annual Summer Camp'17, 4 of our children from Sant Nagar, Mehrauli & Gurgaon Ghar were invited by Tuning Fork Films for 6 days filmmaking workshop in Bir, Himachal Pradesh as an award. It was a great opportunity for them to get exposure and learning in professional filmmaking and explore their career paths in the same.
Art Workshop by ArtReach India Foundation
On 14th July'18, a workshop on the theme of music & dance was conducted by ArtReach India Foundation for the participants of Artroom Programme. The workshop led by the artist, Nikhil taught the participants about connecting art with music & dance. The children also got to learn composing EDM (Electronic Digital Music).
A Day in Jurasik Park Inn
Boys from Udayan Ghar for Boys in Mayur Vihar (Home 2 & 8) and Gurgaon went for a day-long trip to chill at Jurasik Park Inn, Water & Amusement Park on 22nd July'18 and likewise, Girls from Udayan Ghar for Girls, Mehrauli (Home3 & 12) &, Sant Nagar Home 1 on 5th August'18. The trip was organized in response to the special prize received by a couple of children from each of these homes from International Children's Network (ICN) who decided on to take the rest of their friends with them.
The children enjoyed themselves to the fullest in the pool, water slides and other rides and, the special lunch organized at the venue itself.

I Sing for My Country Campaign with Knox Artiste
Girls from Jagshanti Udayan Ghar, Greater Noida were featured in a Song by Knox Artiste that was released on 15th August'18 on youtube.

Knox Artiste, a rising star on social media having always been passionate about serving the less fortunate and contributing to many causes visited the Jagshanti Udayan Ghar on 10th August'18 with his team as a part of their "I Sing for My Country Campaign" to interact with the girls and celebrate the 72nd Independence Day thereby, recording the video for Knox's song "Dil Se."
Art Workshop by ArtReach India Foundation
On 11th August'18 a workshop led by artist, graphic designer and musician, Pratyush was organized by ArtReach India Foundation. The artist did a visual-musical demonstration with his pop-up book on classical music 'Swarpeti'. He then taught participants multiple ways of creating pop-ups through techniques of folding paper. Each participant created their own pop-up shapes and birds.
A brief presentation was made by the artist, Mr. Pratyush on graphic designing, he showed examples of info-graphics, animations, his own posters and other design work.
Independence Day Celebration
It was a cool, breezy morning of 15th August 2018, where the children woke up with a patriotic spirit and an excitement for the day's activities. At the Udayan Ghars, the preparations for the celebrations were in full swing with children rising early and dressing up in their best outfits.
The day was an amalgamation of fun-filled activities which included quiz and kite-making activity that was conducted at all the Homes. The quiz based on general awareness about facts of India's independence was found to be interesting and a mind flexing exercise. The kite making activity, gave the children, the full freedom to apply their creativity and scientific skills to make decorative kites. The kites were then flown high in the sky, giving the children, a sense of pride for their country. Children also engaged in role plays wherein, by emulating our freedom fighters, the core values were revived.
Success Story (anyone)
"You May See Me Struggle But, You Will Never See Me Quit"
Komal and her four sisters were left to themselves after their mother died soon after giving birth to her youngest sister and their father sank into severe depression due to the trauma. The dark clouds of trouble grew bigger when the father was diagnosed with tuberculosis due to which the sisters had to shift from one relative's home to another for shelter and support.
Komal was 8 when she along with her sisters was transferred to Udayan Care from some other organisation. Separation from parent, neglect, multiple changes in several dimensions of early care, the absence of a reliable adult to take care and, rejection from extended family; Pal sisters had seen it all.
Komal lacked confidence in her abilities and had a weak educational base which made her vulnerable to the risk of falling through the gaps in the educational system. But, the mentors and ghar staff, with their strong determination to transform children's lives, devoted themselves to nurturing the tender brains of these little girls, offered unconditional love and helped them overcome the stress and trauma they had experienced.
Komal grew-up to be a dedicated, hardworking and kind-hearted young woman who was adored by all. Not only did she excel in academics, she also established herself as one of the best swimmer and squash players in the reputed Sagar School, Alwar. She went on to complete her BBA from the renowned Galgotias University with a whopping score of 82.65% in 2017 and later on joined Vanity Cube's HR department. Her dreams do not finish here; she aspires to pursue MBA and become an entrepreneur. We are sure she'll achieve everything she wants in life.