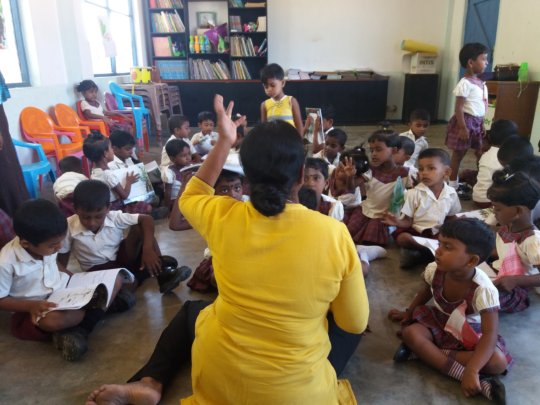 Storytelling is one of the oldest teaching methods used to educate children. Whether it be to teach cultural identity, a country's history, health care and hygiene, peace and conflict resolution or even cooking and gardening etc, storytelling as a communication tool can have a lasting impact on children and adults. Storytelling helps to heal the wounds of prejudice, injustice and poverty inflicted on children. According to UNICEF's Unite for Children publication, storytelling can restore dignity and give due respect to culture and tradition.
Sri Lanka's population is culturally diverse. While it is composed of four main ethnic communities, there are also many minority communities. The island is representative also of four major religions, Buddhism, Christianity, Hinduism and Islam. Although the people live a harmonious life interacting culturally and socially with one another, sharing stories and beliefs, there have been quite a few stumbling blocks over the years chiefly due to political intrusion and meddling.
Based on the current global and local trending thoughts on inter-cultural understanding, a story which we needed to tell particularly to children in Sri Lanka is the story of cultural identity; whether they belong to any of the majority communities Sinhalese, Tamils, Muslims, Burghers or, minority communities like Malays, Parsis, Sindhis, Borahs, Colombo Chetties, Indian Tamils or any other, the country belongs to all of them equally. This is the story which the trustees of The Sunshine Charity facilitated at the storytelling workshop conducted for the Sunshine Children.
Having given each participating child the book, One Country and One People, we read the story to the children, asked them to read in-between and interacted with them on the narrative page by page. It was a fun and engaging morning for both the children, staff and facilitators. They loved listening to the story!
Childhood is a time for storytelling. Most young children need to hear a story many times in- order to understand both the narrative and to be able to relate to the story emotionally. The Sunshine Children attending the day care centre are between the ages of two and five. Keeping this in mind, the staff plan to repeat the storytelling workshop. Obtaining feedback at this stage is not important. It was more important to instil in their young minds, the cultural diversity story. The stories they hear now, can translate into changes in attitudes as they grow older. Exploring the idea of mutual trust, understanding Sri Lanka's cultural diversity, respecting the difference are among the areas explored. Rasing awareness at a young age can allow the Sunshine Children to become that agent of change in the transformation process and use story to create a multicultural and diverse community.