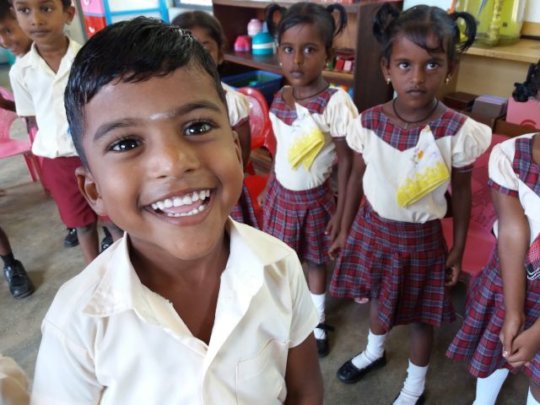 As one year ends and a new year begins, I would like to take the time to thank you for your generous donation and support to 45 Vulnerable Sri Lankan Children living in the Eastern Province of Sri Lanka. When we started our campaign on 1st December 2015 to raise funds to provide health care, pharmaceutical drugs, worming treatment, foot-wear to prevent worm infection, a nutritious and wholesome meal, educational tools, uniforms and creative opportunities for the 45 children attending the Sunshine Day Care Centre, we did not expect to be an active partner on Global Giving's platform for more than a year. Your generosity helped us to move into a second year. It encourages us to continue with the challenge in getting closer to our goal in 2018. Thank you for making this possible.
The Sunshine Charity's programmes are sustainable, focused, strategic and long-term which makes our organization's philanthropic work social rather than only charitable. By seeking to eliminate injustice, prejudices and inequality through the programmes we implement, The Sunshine Charity has over the years helped to improve the status of the vulnerable children and their communities.
2017 brought together mothers of the children to discuss their hopes, challenges and concerns. Benefitting them most was a Q & A on the nutritional needs of their children. The discussion lead to developing a new meal plan by a consultant nutritionist. For some, these discussions marked a tipping point in nutrition, leading to preparation of nutritious meals at home using home grown vegetables.
Among the creative opportunities enjoyed was story-telling, drawing and painting especially talking about their art, reading and articulating in English. Appreciating the diversity of the country and the multi-cultural identity of Sri Lankans was another workshop conducted using the book, 'One Country and One People'.
Your giving provided critical support for these programmes and helped address the root cause of poverty and vulnerability among our communities followed by the lack of child care facilities, the lack of educational tools, lack of reading and writing material and the absence of nutritional food.
The Sunshine Charity strongly believes that giving can impact both directly and indirectly. Hand-outs maybe good in the short-term but sustainable social philanthropy impacts individuals and communities long-term, which is the objective of our work.
Your participation and support played an important role in our campaign's success and we hope you will continue to partner with The Sunshine Charity in 2018.
From all at The Sunshine Charity and The Sunshine Day Care Centre, we take this opportunity to wish you a wonderful holiday season and a joyous and peaceful 2018!