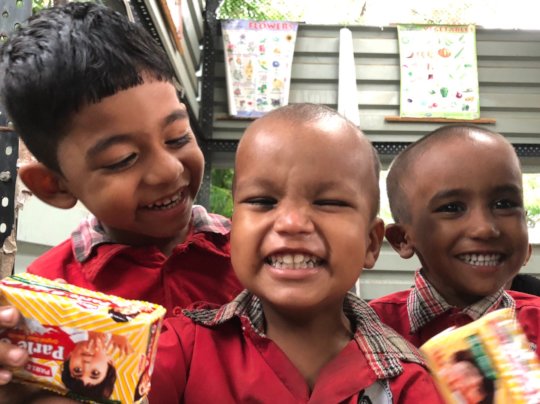 SEASONS GREETINGS from team Freedom For You
Our current academic year started on June 11, 2018 with over 55 tiny-tots in our play school, Bal Niketan Vidyalaya, a Child Learning Center imparting early education in the slums of Rabale, to 2-5 years, mainly from the families of rag-pickers/daily labourers in the community. This is an all-time high till date at the start of the new academic year, and it portends we would enroll over 90 marginalized children by Nov/Dec 2018, when parents return to the slums after the harvest in their hometowns 800-1000 kms away.
Early education, as you all know, not only imparts basic education, linguistic and mental development, but also helps the child in becoming humane, compassionate, caring and a team player with other children.
We have created all basic education related infrastructure required for these children, as planned in the beginning of the year, even though we had long delay in inflow of donations till greater part of this academic year. We could complete the infra needs thru gracious donation from you all as well as from a local corporate recently.
As on date, we are having a fully functional play school with two class rooms that can accommodate over 120 children.....that BRINGS JOY to team Freedom For You Foundation & its associates and we plan to enrich the family that these tiny-tots belong to by empowering the mothers in sustainable skill development in the afternoon session, post monsoon.
We have distributed Uniforms, school bags and stationery, lunch box and water bottle to these tiny-tots and have started the mid-day meal from day 1 of this academic year. This meal is the main attraction to these Moms in sending the tiny-tots to our play school, not the least the quality education we impart.
Your generous donation would go a long way in providing all-round development of these tiny-tots through our early education in our Child Learning Centre.
In the last two months, we had celebrated a few 'inclusive celebrations' of birthdays of caring young children from middle class families in our play school; These children have travelled over 10 kms to celebrate their birthday in style with our tiny-tots by distributing sweets, savories, juices, cakes and some gifts like stationery items. Such positive & caring behavior in these modern children from well-to-do families portend a robust and healthy change in the middle class population in our community.
As reiterated earlier, we are starting a 'used-toy' library in our center , collected from neighboring middle-class homes.
Like children from middle class house-hold, their Moms too are collectively planning to help us through their latent skills, by organizing music and singing lessons to our tiny-tots.
Our Humble Appeal....... from team Freedom For You!!
A monthly recurring donation, as you would appreciate, always help us in our fixed monthly expense budget. We URGE YOU to contribute smaller amounts in recurring monthly donations & this would go a long way to meeting the increasing operating costs.
As you are aware, Freedom For You,
Is ranked "SUPERSTAR" scoring over 115 points in the Reward Point Scale of GlobalGiving.
Enjoys unique status of "TOP-RANKED ORGANIZATION GlobalGiving 2017 and VETTED ORGANIZATION GlobalGiving 2017", one among a few dozen non-profits in the country

Recipient of a prestigious 'Champion Level PLATINUM Seal Certification from GUIDESTAR INDIA. The PLATINUM SEAL awarded to us signifies 'adoption of comprehensive Transparency, Accountability, Good Governance procedures by our NGO, with exemplary level of public disclosure'.
Was awarded "BEST SOCIAL ORGANIZATION-2017 in Navi Mumbai, in May 2017
is also a Qualified non-profit under Charities Aid Foundation, America
These awards/recognitions/certificates strengthens our belief in our mission, systems and processes and has been a passion-booster to all of us and also our esteemed stake-holders/ associates, primarily donors like you who have all the comfort of multiple third party independent rating organizations to help you support our CAUSE.
We are also happy to inform you that we have continuous interaction with GlobalGiving expert team and attend all webinars which are contemporary and good learning for effective management, focused on community engagement and enrichment. One such program is visit by "In-the-Field" traveler Mr Cibi J U Poonguntan from GlobalGiving in June 2018 to our non-profit. GlobalGiving's site visits are an important part of our work too, and GG's team is always so excited to be able to meet, support, and learn from their nonprofit partners like us, in the field.
We reproduce the 'note and quote' from the In-the-Field Traveler Mr Cibi for your information, below:
Note from the In-the-Field Traveler
It was a really warm experience. Dr. Ravi is a really friendly and energetic person. He gave me a tour of two of his project sites. Apart from that I was also treated with a sumptuous lunch, a refreshing home-made coffee and a lot of snacks. Did I mention the farm- grown tasty mangoes?
Quote from the In-the-Field Traveler
Freedom For You Foundation is working towards creating an impact on the lives of some of the most marginalized communities in Navi Mumbai. Apart from providing early childhood education they are also focused on the holistic development of these communities in order to lead them against poverty and hunger.

Freedom4U urges you to be our 'Champion' and spread our CAUSE with your like-minded friends and relatives too.
Your generous contributions for this noble project can be made here. Please do click on this link to TOUCH the lives of these tiny-tots and bring 'light in the lives of these marginalized children'.
Every contribution, big or small is very important to us. Thanks for your generous support & continued cooperation in this academic year too.