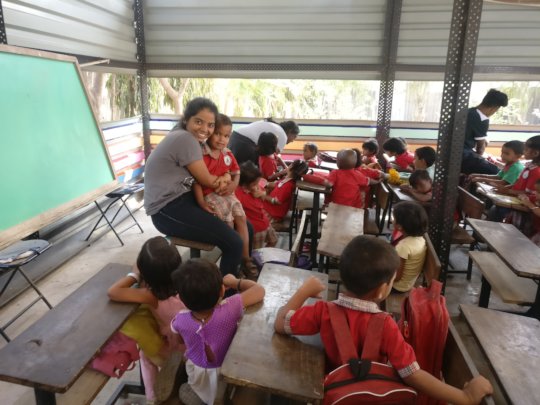 SEASONS GREETINGS to all our well-wishers like you, and beloved family members too.

Freedom4U is PROUD to announce that GlobalGiving has recently, in Jan 2019, awarded the following FOUR prestigious badges to our non-profit:
EFFECTIVE ORGANIZATION
SITE-VISIT VERIFIED ORGANIZATION
VETTED ORGANIZATION
TOP-RANKED ORGANIZATION
This an exemplary achievement, only a very few non-profits have been fortunate to receive this SEAL-of-Approval, that gives COMFORT to DONORS like you, that Your 'hard-earned & donated' money is well-spent on the CAUSE close to your Heart.
Our tiny-tots, 2-5 years, from the marginalized background, are being empowered by imparting the most essential early-education in our slum-based Child Learning Center (CLC), supported by patrons & well-wishers like you. Not only we educate such deserving children year after year, we are working towards empowering this marginalized community, especially the women folks, by imparting sustainable livelihood skills so that they can be brought to the mainstream over the years.
Our nation celebrates "Educate the Girl Child" Week during the last week of January; we are happy to inform you that in our CLC, over 60% of tiny-tots are Girls; we are proud to be a part of this noble activity to strengthen the nation by laying a strong foundation for the future by imparting free education to these marginalized and deserving girl children from the slums.
Your timely donation in the recent past have helped us set-up this vital CLC; after the morning play-school hours, the same space is being utilized for community development activities, by imparting sustainable livelihood skills, health and wellness programs etc. to the women folks from this marginalized community around our CLC.
Recently, we conducted free eye check-up camps and gave away free spectacles to all detected with eye power, and carried out free cataract surgeries too, after cataract was detected in senior citizens from this community.
We had recently carried out a free heart-surgery on a 7 year young girl child, detected with abnormal valve function, in a near-by reputed hospital, saving the family of this girl an expense of Rs.250,000/- on the surgery.
Also, we are pleased to inform you that there are over 25 women registered for our basic tailoring course, which will enable them to design and stitch nighties, petticoats, blouses, frocks for girls, and basic level designing of ladies dresses etc.
Besides, we continuously empower the adolescent girls & women in the community by conducting regular personal and menstrual hygiene camps through our lady doctors and experts in the field & promote use of 'sanitary pads', as a part of our Health and Wellness mission. We recently distributed free sanitary pads, sometimes donated to us or sponsored by donors.
During such health and wellness camps, we have distributed the re-usable clothes donated by employees from companies where we are the implementing partner for their CSR projects for engagement of marginalized and rural communities. These companies had promoted our Non-profit and collected reusable clothes, re-usable toys, stationery items etc. from their employees during the Christmas Joy-of-Giving week and it is encouraging to share with you all that we have received over-whelming response from these employees in that we collected almost new clothes and toys from these happy donors.
Our Humble Appeal....... from team Freedom For You!!
Your generous donation would go a long way in providing all-round development of these tiny-tots through our early education in our Child Learning Centre.
A monthly recurring donation from you, however small always help us in better planning our fixed monthly expense. We URGE YOU to contribute smaller amounts in recurring monthly donations & this would go a long way to meeting the ever increasing operating costs of our play school for our tiny tots from the rag-picking/daily laborer community.
As you are aware, Freedom For You,
is ranked "SUPERSTAR" by GlobalGiving.
enjoys status of "TOP-RANKED ORGANIZATION GlobalGiving 2019 and VETTED ORGANIZATION GlobalGiving 2019".
As stated above we received 4 badges from GlobalGiving: "Effective Organization, Site-Visit verified organization, Vetted organization, and Top-Ranked organization
Recipient of a prestigious 'Champion Level PLATINUM Seal Certification from GUIDESTAR INDIA. The PLATINUM SEAL awarded to us signifies 'adoption of comprehensive Transparency, Accountability, Good Governance procedures by our NGO, with exemplary level of public disclosure'.
Was awarded "BEST SOCIAL ORGANIZATION-2017 in Navi Mumbai, in May 2017
Qualified under Charities Aid Foundation, America till Nov 2020 to receive donation of funds, estates etc. from employees /organizations from the America..
Freedom For You urges you to be our 'Champion' and spread our CAUSE with your like-minded friends and relatives too.
Your generous contributions for this noble project can be made here. Please do click on this link to TOUCH the lives of these tiny-tots and bring 'light in the lives of these marginalized children'.
Every contribution, big or small is very important to us. Thanks for your generous support & continued cooperation in this academic year too.