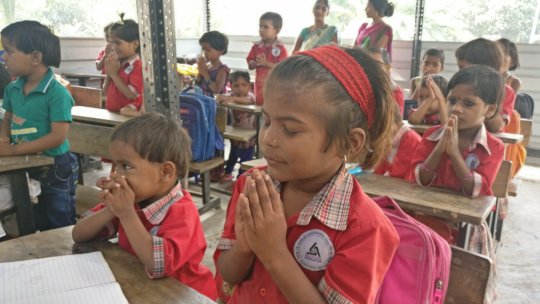 HAPPY MOTHERS DAY TO YOU ALL, from team Freedom For You
SEASONS GREETINGS
Our tiny-tots play school, Bal Niketan Vidyalaya, a Child Learning Center imparting early education in the slums of Rabale, to 72 tiny-tots, 2-5 years, mainly from the families of rag-pickers/daily labourers has closed for annual vacation this academic year in mid-April, and shall open in mid-June 2018.
All Moms, and of course dads too, are very happy with the all-round progress of their children in our play school. As many as 30 children shall be successfully moving out to Class-I in a neighbouring school, since they shall be attaining age 6.
Early education, as you all know, not only imparts basic education and mental abilities, but also helps the child in becoming humane, compassionate, caring and a team player with other children.

We have created all basic education related infrastructure required for these children, as planned in the beginning of the year, eventhough we had long delay in inflow of donations till greater part of this academic year. We could complete the infra needs thru gracious donation from you all as well as from a local corporate recently.
In the new academic year starting from mid June 2018, we shall be having a fully functional play school with all amenities, class rooms that can accommodate over 125 children.....that BRINGS more JOY to the caring Moms of these Tiny-Tots, and to ALL of Us, including YOU too.
Now, we require funding for the new academic year operational expenses pertaining to providing Uniforms, shoes/socks, books, bags, salary to the staff and last but not the least, the mid-day meal. This meal is the main attraction to these under-privileged Moms, hoping to feed their children with one good square meal, in sending the tiny-tots to our play school.
Your generous donation would go a long way in providing quality early education to these tiny-tots. For Your generous donation, click here.
This quarter too, like in the recent past, we had a few 'inclusive celebrations' of birthdays of caring middle class families in our play school; These really portend a robust and healthy change in positive behavior among the middle class population to include our tiny-tots in their birthday & seasonal festive celebrations. We had our local Rotary Club of Satellite City celebrating World Women's Day at our premises by organizing Women Health & Personal Hygiene Camp, for all the MOMs of our Tiny-tots, and neighboring women-folks too. A couple of young Doctors, who are paediatric surgeons 30 kms away, donated whole lot of children books to create our first library at our play school
This year we are also planning to get our TOYs Library for these tiny-tots, and are seeking donation of reusable toys, new toys etc; YOU too can partake in these activities and CHAMPION our CAUSE with your kith and kin
Our Humble Appeal....... from team Freedom For You!!
Monthly recurring donations always help us in our fixed monthly expense budget. We URGE YOU to contribute smaller amounts in recurring monthly donations & this would go a long way to meeting the increasing operating costs.
As you are aware, Freedom For You, already enjoys status of "TOP-RANKED ORGANIZATION GlobalGiving 2017 and VETTED ORGANIZATION GlobalGiving 2017". We were also recipient of of a prestigious 'Champion Level PLATINUM Seal Certification from GUIDESTAR INDIA. The PLATINUM SEAL awarded to us signifies 'adoption of comprehensive Transparency, Accountability, Good Governance procedures by our NGO, with exemplary level of public disclosure'. Besides we were awarded "BEST SOCIAL ORGANIZATION-2017 in Navi Mumbai.

These awards/recognitions/certificates etc strengthens our belief in our mission, systems and processes and has been a passion-booster to all our esteemed stake-holders/ associates, primarily donors like you who have the very comfort of a third party independent rating to help you support our CAUSE.

You can continue to Be our 'Champion' and promote our CAUSE with your like-minded friends and relatives;
Your generous contributions for this noble project can be made here.

THANKS to our MOMs we could GET quality EARLY EDUCATION !!!!!! We are all successful professionals in our respective domains ONLY because we received the most crucial foundation i.e., early education.
We wear different HATS in different situations. Now 'Be the MOM to our tiiny-tots' ... :) :) GRANT them Early Education, like YOUR MOM did to YOU. THAT will help them become a successful caring citizen, like YOU are NOW.
Please do click on the link above to support, donate and bring 'light in the lives of these marginalized tiny-tots'.
Every contribution and support that you give is big for us. We welcome it, irrespective of it being big or small.

Looking forward to your continuous patronage !!
Thanks for your generous support & seek your valuable cooperation in the years to come.