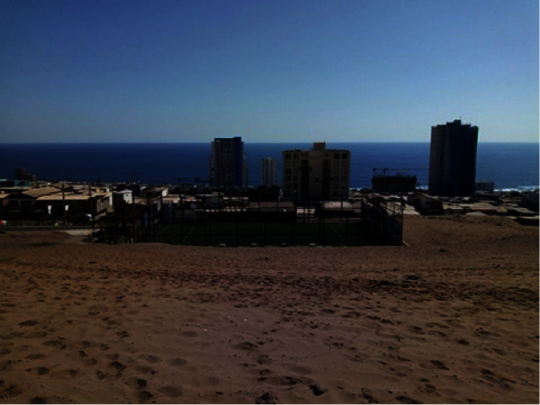 ASK for Choice team members Abigail Gibbons, and Lina Restrepo, reflect on their time working with CAC ASK for Choice partner Futbol Mas in Chile, as part of a team of 3 CAC women. ASK for Choice curriculum and methodology impact 6,500 youth across the country through Fútbol Más programs.
From Abigail:
Before my departure to Chile and Peru as a Global Citizen, I had no idea what to expect. I have a passion for sport and using it for social impact—which is the reason I was initially captivated by Coaches Across Continents, conversational Spanish (more or less) and was waiting to see where the following weeks would take me.
The first training was an eye opening and learning experience for me. The opportunity to finally work on an all female team, especially in the space of athletics, was (and is) an incredibly empowering feeling. I took the initial days to learn and absorb the process and planning it takes to host a training. (If you think hosting a training is easy, think again.) It takes a lot of research, intuition and understanding to properly run each session and it was certainly more intense than I imagined it to be. After hours of preparation, I was excited to see how all of the work off-field would play out on field.
The first city we landed in was Iquique—a beautiful town with a beach that resembles Rio de Janeiro or the California coast on one side and blissful mountain deserts on the other. In Iquique and all throughout Chile, we would be working alongside CAC partner Fútbol Màs, a global organization that uses sport in communities to recover public places and create safe spaces for children to train and grow.
For me personally, this first training was amazing, challenging and overwhelming all at the same time. After being so adjusted to my life in the States, the reality that I was now an outsider—who couldn't properly communicate or understand the local language—quickly led me to begin to think differently, become more aware of those around me, have greater empathy and change my previous perspectives of what life is like for a foreigner living in a new culture, city, country and community.
One of my greatest takeaways from this first training was how grateful I was to be welcomed, as a stranger, into the lives and communities of the participants and Fútbol Màs. I began to develop a clearer understanding that we are all humans who want to help each other, learn from each other and better our communities by encouraging new ideas and evolution from tradition.
From Lina:
Chile, Quatro Ciudades: Iquique, Copiapó, Santiago y Concepción
Durante esta experiencia de dos semanas, puedo decir que tuvimos (Nora, Abby y yo) el privilegio de compartir con personas maravillosas de diferentes ciudades de Chile. En cada desplazamiento se observaba los contrastes en sus paisajes, las dunas, el mar, lo árido, lo verde, las montañas, el frio, el calor y esto se reflejó en la fuerza de su gente con el "exceso de pasión" para cada momento.
Durante las dos semanas pudimos trascender el deporte más allá de la alta competencia (Ganar/Perder), a través de juegos direccionados a temas de impacto social: inclusión, equidad, respeto al otro, interculturalidad, derechos humanos, educación sexual y medio ambiente. Al compartir metodologías se nos pueden abrir oportunidades para ampliar nuestra comprensión. Gracias por hacerlo posible, CAC, Ask for Choice, Fútbol Más e Inder Medellín.
Chile, Four Cities: Iquique, Copiapó, Santiago y Concepción.
During this experience of two weeks, I can say that we (Nora, Abby and I) had the privilege of sharing with amazing people from different cities in Chile. At every move you could see the contrasts in the landscape, the dunes, the sea, the desert, the green, the mountains, the cold, the heat and this was reflected in the strength of the people with their 'excess of passion' for every moment.
During the two weeks we were able to transcend the highly competitive nature of sport (Winning/Losing), through games directed at themes of social impact: inclusion, equity, respect for others, interculturality, human rights, sexual education and the environment. Sharing methodologies allows us to open opportunities to amplify our comprehension. Thank you for making this possible, CAC, ASK for Choice, Fútbol Más and Inder Medellín.