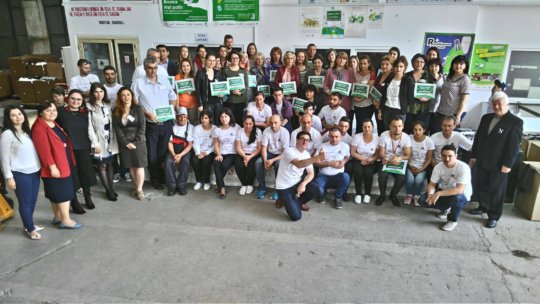 8.500 children and youngsters from Romania's most disadvantaged communities have benefited from 500 refurbished computers, with ECOTIC's support.
45 kindergartens, schools, NGOs and other educational institutions have received today, on May 15th, 500 IT equipment collected from various responsible companies and refurbished by Ateliere Fara Frontiere, with the support of the EPR Scheme ECOTIC.
On Tuesday, May 15th, representatives of the beneficiary schools and NGOs have taken part in Educlick 1/2017's final ceremony. The best 45 projects have received today 500 plug-and-play computers with the proper software and warranty.
Since then, the schools have plugged in the computers and are now ready to start, fully equiped, the new school year.
The project started on april 3rd, when Ateliere Fara Frontiere invited the Non Profits and foundations all over the country to apply on www.educlick.ro with their projects using IT to support equal access to a modern education and thus reduce Romania's digital and educational gap. 245 applications were uploaded on the website and 45 of them were selected by an independent online jury composed of 25 partners and experts on May 3rd. Congratulations to them!
The Educlick 1/2017 project is part of the national digital solidarity program Educlick, through which 10.000 computers have been donated to more than 2.000 projects since 2008 and benefited to 300.000 people, mostly children from disadvantaged target groups.
Thanks to all our donors to be a necessary part of the solidarity chain!