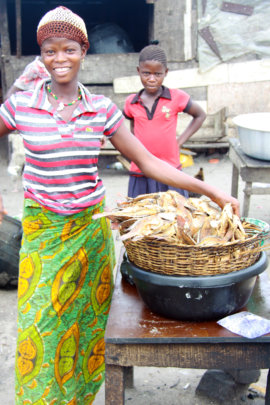 Through sponsorship raised via GlobalGiving for the 'Start Businesses for 10 HIV/AIDS widows in Nigeria' project, a business has recently been opened for Mrs. Olayiwola Omonike, a 45-year old HIV-positive widow who has three children. She had already trained as a hairdresser when she was younger so opening a small hairdressing salon was an easy choice for her.
Before becoming a beneficiary of the project, she was having a very difficult time making ends meet as her husband had passed away and she was relying on charity from relatives, who have very little themselves.
Her new business will give her a sustainable way to support herself and her three children and she is extremely grateful.
She attends the monthly support group for mothers with HIV/AIDS and has already participated in a short workshop where she was taught basic business management skills. Through the funds raised via GlobalGiving, Development Africa has provided the initial cost of setting up the business (rent, hairdressing equipment, initial stock of hair products etc.). Development Africa, in collaboration with 'Centre for Child Health and Education', another local NGO, will support Olayiwola with regular educational training programs and workshops on the development and management of her business as well as regular checks to monitor her business.
Thank you to everyone who contributed towards Olayiwola's shop! Your donation has enabled a woman and her family to become self-sufficient and independent. The far-reaching results of your contribution are yet to be seen but for now, Olayiwola and her children are eternally grateful.
We hope you have a merry Christmas and Happy New Year!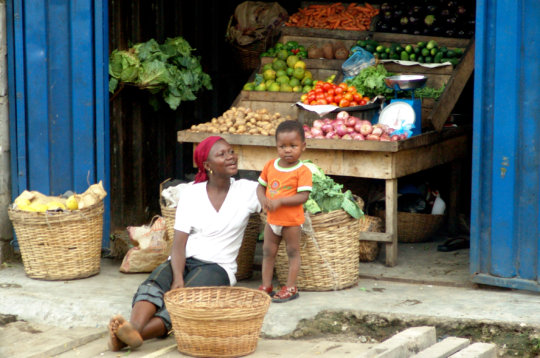 Mrs. Olalere is one of the beneficiaries of the Small Businesses for HIV/AIDS Widows Project and here is her story.
Mrs. Olalere married at a very young age and had her first child at 18 years old, with another 4 children over the years. Tragedy hit her at the young age of 34, as her husband died of AIDs and she was then told by doctors that she was also HIV positive. She was recently referred to CCHE, DA's Ibadan partner, and when she showed up for her first support group, she was very sick, depressed and struggling to feed herself and her five children. Once she started to feel better and had attended our workshops, she received sponsorship from DA to open her own hair salon in December 2015. We visited her in February and she has gained a new lease on life and is putting her energy into making her salon a success. She is so thankful for all the help and support she has received and wants to thank everyone for their part in helping her and her children.
On a recent visit to Ibadan, Oyo State, Nigeria, Development Africa (DA) staff delivered a truckload of donated food supplies, second-hand clothes and shoes for women and children, schooling supplies and household items to be distributed to participants of the support groups and workshops for mothers with HIV/AIDS. Each support group has around 80–110 women who attend with up to 200 children participating in a separate children's support group. At each support group, the women involved in the Small Business Scheme have a thirty-minute workshop, training them in basic business management skills. In collaboration with 'Centre for Child Health and Education', a local NGO, Development Africa provides widows with HIV/AIDS with small shops that sell a variety of products or services (food provisions, hair-dressing, catering, etc.). DA provides the initial cost of setting up the business (rent, initial stock, etc.) and supports them with regular educational training programs and workshops on the development and management of their business. In addition to the donation of goods, the team visited five shops that had been sponsored in December 2015 to assess progress. The shops have already made a substantial impact on the women's lives through generating a sustainable income. The shop owners will continue to attend the workshops and be monitored throughout the year to make sure the shops are operating effectively.
Mrs. Ogeroju's Story:
Mrs. Ogeroju is a 44-year-old HIV-positive widow who is a part of the DA Small Business Scheme in Ibadan, Oyo State. She has attended two shop-keeping workshops so far in 2016 as in December 2015 she was given sponsorship to rent her shop, buy a sewing machine and other tailoring items. This shop has provided her with the means to keep her 3 older kids in boarding school after her husband passed away from AIDs and the income enables her to afford decent housing for herself and her two younger children. She is the sole provider for her 5 children, and her goal is to stay healthy and work hard to provide a good education for her children, and help put them through college. Mrs. Ogeroju already had basic training in tailoring, so in addition to the start-up costs for the shop, DA sponsored a refresher course to update her skills and train her in current fashion and preferred styles. Since she is on a main road in a densely populated area of Ibadan, she has also started selling car and motorbike spare parts and oil in addition to tailoring. This new endeavor is successful so far and she hopes to expand her products in a few months after she has saved enough capital for further stock.
*Face blurred due to privacy regulations
WARNING: Javascript is currently disabled or is not available in your browser. GlobalGiving makes extensive use of Javascript and will not function properly with Javascript disabled.
Please enable Javascript
and refresh this page.