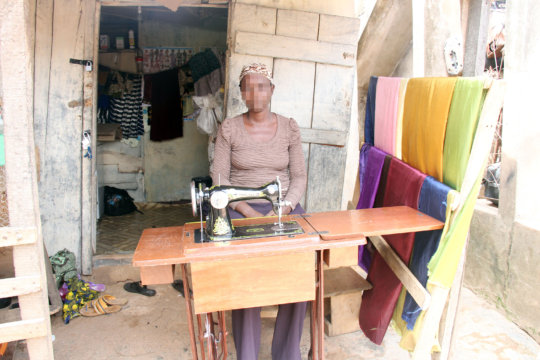 Empowering women to participate fully in economic life across all sectors is essential to build stronger economies, achieve internationally agreed goals for development and sustainability, and improve the quality of life for women, men, families and communities. unwomen.org
Update on Mrs. Ogeroju's small business in Ibadan, Oyo State:
Mrs. Ogeroju is a 45-year-old HIV-positive widow who is a part of the DA Small Business Scheme in Ibadan, Oyo State. She has attended workshops to expand her business skills throughout 2016 and 2017 to date, and has expanded her tailoring business to include selling retail items such as car and motorbike spare parts, oil and other car accessories. The workshops taught her to look at her location and analyse which projects/business opportunities could be relevant to potential clients in her area. As her shop is situated on a main road in a densely populated area of Ibadan she decided to try supplying parts/consumable items to the motorbike and car taxis surrounding her and it has been successful so far.
As the workshops teach the business owners about budgeting and saving for expansion, she had generated the capital to expand her business without needing any external assistance. She is excited by the success of her first expansion and hopes to start expanding her product range further in the next few months.
The empowerment of women is essential for effective development, both at a community level and in society as a whole. For almost 10 years DA has been working with women who are HIV positive in Ibadan, Oyo State, Nigeria. These women come from poor backgrounds with low levels of education and due to the virus, have become ostracized in their communities and struggle to provide for themselves and their families.
Little has been done in the areas of rehabilitation and creating income methods for these women. This has become a key target area for DA. Each support group has around 80 – 110 women that attend with almost 200 children coming for their own children's support group. At each support group, the women involved in our 'Women Empowerment' scheme have a thirty minute workshop, updating them and training them on basic shop keeping management skills.
In collaboration with Centre for Child Health and Education, a local NGO, we have developed a programme that provides the women with small shops that sell a variety of products or services (food provisions, hair dressing, catering, etc.). DA provides the initial cost of setting up the business (rent, initial stock, etc.) and provides consistent educational training programmes and workshops on the development and management of their business.
Currrently there is a group of women who have been identified as potential business owners and are on the waiting list as funds become available to finance their start-up. They regularly attend the support groups with their children and are eagerly anticipating when it will be their turn to open a business.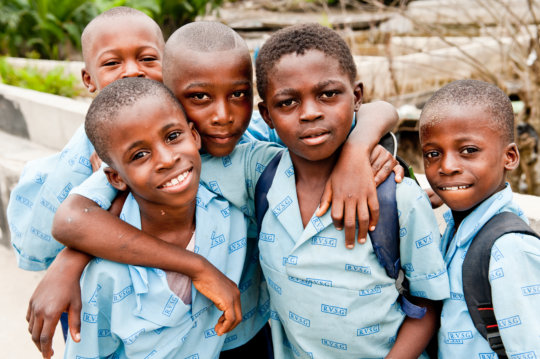 Empowering Women Reduces Poverty: Making a Difference One Woman at a Time
"There is no tool for development more efficient than the empowerment of women" Kofi Annan
Women living with HIV and AIDS who are also widows stand little chance at livelihood survival in Nigeria. UNAID's HIV and AIDS Estimates (2015) states that 3.5 million people are living with HIV in Nigeria; 2.4 million of this are women.
The trickle-down effects of women having equal access to participate fully in income-generating activities could be a key driving force against poverty. Women with access to economic generation activities have healthier children and stand a better chance of educating their children.
In 2007, Development Africa began a Women Empowerment Project working with HIV-positive and widowed women in Ibadan, Oyo State. Over the nine-year period, our project has empowered over 3,000 indigenous women directly and indirectly in Oyo State through SME scale start-up capital and investments based on needs and soft-skills training for running successful small businesses.
Till date, Development Africa has opened 47 small businesses that are still in business and running profitably. In 2015 and 2016, 11 new businesses were set up and beneficiaries are trained and mentored for a period of one year to ensure continuity and sustainability.
The shop that was opened through sponsorship raised in the 'Start Businesses for 10 HIV/AIDS widows in Nigeria' project for Mrs. Olayiwola Omonike is steadily growing. She is expanding her business knowledge with regular training provided by DA and our local partner 'Centre for Child Health and Education' and on-the-job experience. She remains extremely grateful to everyone who contributed to her shop and the results so far have enabled her to make changes in the way she lives as well as the opportunities for education, nutrition and quality of life she is able to provide for her children.
WARNING: Javascript is currently disabled or is not available in your browser. GlobalGiving makes extensive use of Javascript and will not function properly with Javascript disabled.
Please enable Javascript
and refresh this page.