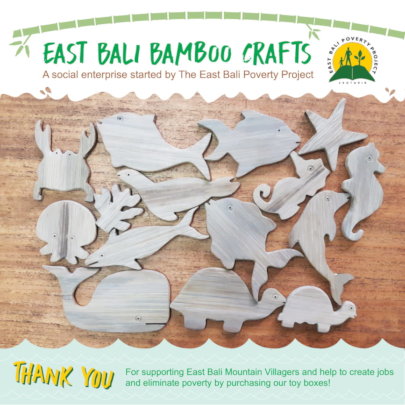 We've had a great start to 2020 and in this report I'll update you on all these initiatives and developments, including the creation of a set of unique bamboo children's toys, the start of bamboo hands-on skills training courses for Ban village youth and the handover of our third bamboo wheelchair for a severely disabled boy
New Craft Product: Bamboo Children's Toys
These toys were the brainchild of our German International Culture and Business Studies intern, Laura A, whose main role with us during her 3 months internship was to assist in marketing and communications for our Bamboo Social Enterprise to identify new products and markets. She saw great potential in the German craft market and some fine-tuned research found small toy animal sets – but machine madefrom wood, and all by commercial toy companies. Our bamboo products comprise 15 different species of fish – all that can be found in the oceans north of our village, and have a unique story behind them which is told on the simple flyer we created to accompany the toy boxes, shown here. Laura is now back in Germany marketing the toys and we are excitedly waiting to receive the first orders!
Bamboo Hands-on Skills Training for Local Village Youth
We launched our bamboo social enterprise with thegoals to not only create beautiful products hand-crafted from sustainable locally grown and harvested bamboo, but also to create employment and improve the livelihoods of rural youth in our East Bali mountain village by giving bamboo craft training in various type of bamboo craftsto local youth, especially EBPP high school graduates who could train local people in their respective communities and be ready to receive bamboo craft orders, that would be facilitated by East Bali Poverty Project (EBPPP).
In late 2019, we were contacted by a newly established charitable Trust in Singapore that was keen to support our mission of helping local people to help themselves and finally in January 2020, we received a one-year grant that enables us to recruit and train a total of 12 motivated local youth, in groups of 3each group from a different Ban village community, that will have intensive bamboo craft skills training for 3 full months each group, to give them expertise in developing many types of handicraft – all of which have different skills and tools, as well as bamboo bike frames. After completion, they'll return to their communities and train others in their community, who will effectively start learning from the 3 trainees within a month of their course starting.
The grant also included hiring a local marketing consultancy company to create a comprehensive marketing strategy with the target to get the right customers of our products to increase the selling volume so we can give bamboo craft orders to the youth/community groups that we have trained.
We will update the progress of this great project, which started on 10th February, in our next report.
Handover of Third made-to-measure Bamboo Wheelchair
There is a tragic tale to this boy, Ardi's, disability because he was the first born of triplets with normal births and starting to talk until at 15 months old, suffered extraordinarily high fever followed by severe seizures which, when under control left him effectively paralysed. The other 2 children are healthy 4 year olds! As with our earlier wheelchair, our dedicated bamboo artisans took all of Ardi's measurements and built the wheelchair with the flexibility to make adjustments as his body grew. Ms Twone, who together with her husband Brad and their company Bali Beach Wheels find sponsors for the wheelchairs, joined us to personallyhandover this hand-crafted wheelchair on Wednesday 26th February and directly talk with Ardi's parents to understand the additional supports he would need to ensure he could be as comfortable as possible and enjoy a significantly improved quality of life.
For any further information and enquiries for bamboo bikes, sponsoring wheelchairs or bamboo toys, please email me on david.booth@eastbalipovertyproject.org