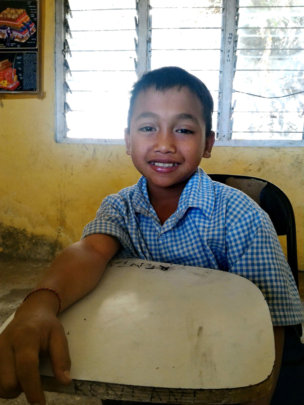 Story from a Jatituhu Primary School Student who needs your help to continue school: "If children my age didn't attend school, I would teach them myself!"
When asked what Ketut would say to someone of his age who didn't attend school, Ketut replied, "I would encourage them to come along and learn with me and if they refused to, I would teach them myself."
Ketut is the first generation in his family to be able to read and write.
He is highly motivated and attends school because he would like to gain the knowledge and skills necessary to lead his family and his community to a brighter future.
When asked what Ketut's favorite subjects are, he begins listing subjects as he enjoys school so much he cannot choose just one subject.
But, the sciences are most important to him as he aspires to one day become a doctor.
For Ketut, school is not just a place to learn, but also a place to build relationships and play with his friends.
He spends his break time in joyfulness with his friends as they play football in front of the school.
At home, Ketut regularly helps his parents with daily chores such as collecting food for their livestock prior to leaving for school. Both his parents are farmers and they own a variety of crops as well as some livestock.
Although Ketut aspires to be something different than his parents, he too enjoys farming and realizes its importance in sustaining his community and staying healthy.