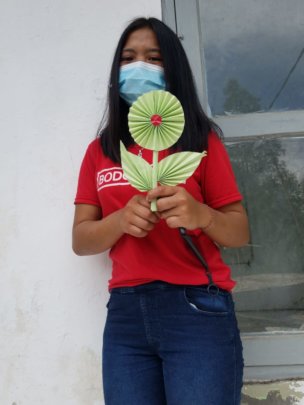 Entering January and starting the second semester of the 2020-2021 academic year during the Covid-19 pandemic, all students are still learning from home: high school students online and offline for primary. We're pleased to report that they are all learning more independently at home and use their spare time to both help their parents and, to relieve their boredom, they've enjoyed developing creative activities that vary according to their interests and potential in each hamlet where they live.
Through this opportunity they've been producing some pretty good and interesting works. Many have enjoyed learning to create origami art crafts after training and guidance from our teachers, making some unique shapes and a wide range of flowers, etc. Some of our students work in groups (of course by following all health protocols) with friends who live close by, creating some very beautiful origami flower bouquets
In addition to origami, they came up with several creative activities that recycled items such as used plastic bottles, which often litter the environment where they live, with Jatituhu students making flower pots from used bottles and, as it was still the rainy season, they also planted various types of fresh flowers and made attractive home gardens.
Meanwhile, Pengalusan School studentshave been making various handicrafts from bamboo, which is easy to find around their environment, such as dragonflies, steamers, and windmills. In addition, quite a few students have created some very beautiful works of art, according to their interests and also the supporting resources in the environment where they live. Some students also channel their talents through caricature art, drawing caricatures according to their imagination which contain messages to be conveyed to those who see them.
In March, it was time for mid-semester learning evaluation! Tests weredistributed online for junior and senior high school students, while for primary students,test papers are distributed to each house and done individually.
Students' extracurricular activities, sponsored by EMpower – The Emerging Markets Foundation: The Girl EmpowermentPhotovoices program, for all junior and senior high school girls: students using smartphones to take photos of their family and communities' activities during the COVID-19 pandemic and conducting basic research on common problems that exist in their respective hamlets; then with the photos, documenting these problems for presentations in an online exhibition. It is hoped that the various government agencies invited to the event can provide the best solution to each problem.
Even though they only learn from home, the spirit of the students is still high. They also continue to work and improve themselves through EBPP's comprehensive, integrated and relevant programs.