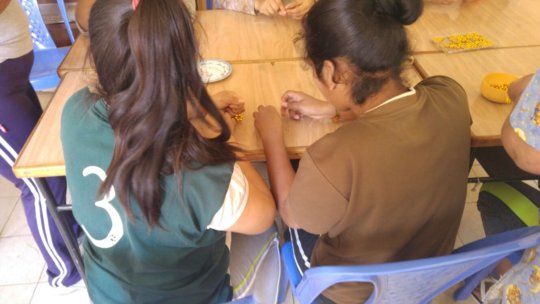 As the time pass, thanks to your donations the girls who benefit from the Diseñando Sueños project can improve more and more their abilities and capacities. Remember the introductory workshops of natural cosmetics? It was really productive, and the girls were so happy to learn new things that we decided to give them more knowledges and opportunities to reinforce and go beyond what was thought: first, by helping them gaining more independence, but also giving them a bigger range of choice in their education.
Therefore, we are providing them some cosmetology's class to help them learn some recipes based only on natural, food and local ingredients. In that way, the girls will be able to produce natural cosmetics to sell them and to use them in the centres where they live, saving money and respecting the environment. As the Diseñando Sueños project aims to provide long-term results, we also decided to form some educators that work in the centres where the girls live. In this way, every girl that comes to the centre can take advantage of this knowledges without depending from the arrival of volunteers, which will still develop the educators' knowledges. It's also a better way to optimize your donations.
Moreover, we don't leave aside the older projects. The manual abilities of the girls are astonishing! The production of bangles, purses, earrings and pendants increases and these hand-crafts are often sold during local fairs, so that the centres can gain some funds. But there's another more important issue related to this sale: knowing that their products are sold and so appreciated by someone grows their self-esteem and the estimation on their abilities to product and make something beautiful. We recently decided to create an online sale of these products in order to accompany the centres' independence but also to allow them to follow the girls after their leaving, which represents one of the most important issues at the moment. Here are some photos of their incredible work...
New projects are starting right now thanks to other volunteers! The girls will soon be able to practice Capoeira in a self defense way, a martial art that combines element of fight, acrobatics, dance, music and rituals in a very elegant and magnetic way. Alongside with that, another volunteer will teach them yoga and pilates to better know and love their bodies, but also to manage their emotions and gain an emotional stability.
Thank you again for your support!